Chocolate Chip Banana Cake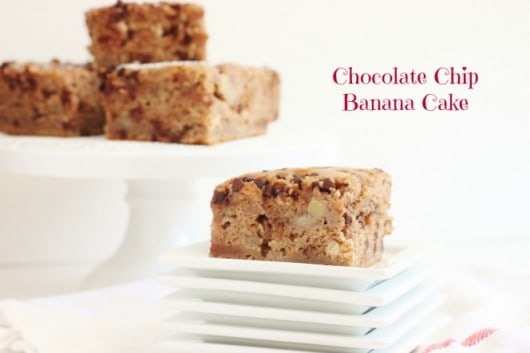 Oh my gosh don't you just HATE it when….
bananas go ripe too fast?
By hate I really mean LOVE!
Because then you get to make this
I usually have trouble on where to file banana bread, is it a bread or cake?
Well not to worry on this one, I figured since there are chocolate chips in it, I'd call it cake.
You're with me on this, right?
Last  night on my counter sat 4 ripe bananas, not overly ripe and brown or anything, I don't even like to touch those. Just nice and ripe and I just knew my oven was going to be happy it got some attention and my belly too.
That is why I work out you know. You do the same thing, right? Work out to be able to eat all the goodies.

Chocolate Chip Banana Cake
Ingredients
4 ripe bananas (about 2 cups)
2 cups flour
3/4 teaspoon baking soda
1/2 teaspoon salt
1 cup sugar
1/4 cup butter (softened)
2 eggs
1 cup milk
4 tablespoons dry buttermilk
2 teaspoons vanilla extract
3 tablespoons Nutella
1 1/2 cup mini chocolate chips (divided)
2 tablespoons flour to mix with chocolate chips so they don't settle to the bottom.
Instructions
Preheat oven to 350 degrees
Spray a 9X13 no-stick baking pan with baking spray.
In mixer beat butter and sugar until it's well blended.
Add the eggs one at a time, combining at each addition.
Add milk, dry buttermilk,Nutella, and vanilla and mix to combine.
Add the bananas sliced in 1/2-1 inch chunks, then mix.
Add the four, baking soda and salt,mix to combine.
Mix chocolate chips with flour and sift off extra flour.
Stir in one cup chocolate chips and then pour batter into prepared baking pan. Top with remaining 1/2 cup chocolate chips.
Bake for 40 minutes or until golden in color and set up so toothpick comes out nearly clean. It will be a bit sticky as this is a moist cake.
Notes
I don't mash up the bananas, I just mix them in once they are cut into 1/2-1 inch pieces.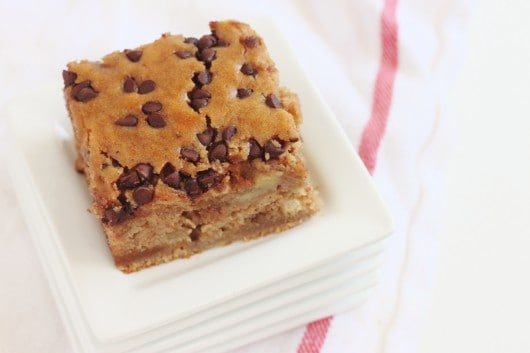 So yes after my workout last nigh, I ate dinner. Then I made this and needed to be sure it was good, quality control and all, you know!
So it's delicious really warm out of the oven, like really 2 minutes out of the oven. And of course I left plenty for everyone else this morning. But I'm not telling how many pieces are left. I just hope no one notices how many I ate, maybe they'll think I had a few friends over!