Strawberry Banana Bread with Chocolate Chips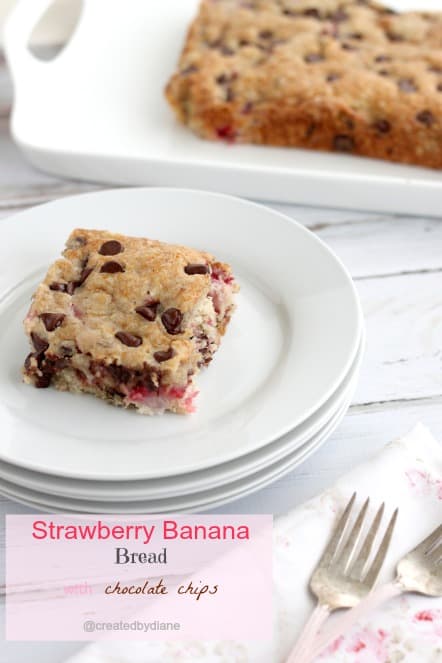 There are always so many items on our to do lists, right?
Well this made it to the top of mine, and I'm glad it did.
I attended Big Traveling Potluck a few weeks ago and really couldn't wait to bake with the beautiful California Strawberries I received. They were super sweet and delicious.
I just loved the Big Traveling Potluck it was right here in my town so I didn't have to travel at all, lucky me! I  have read so many great write up of the weekend, but have so much trouble compiling that type of thing myself, so if you are interested in hearing more about the super fun weekend take a look here on Foodie Crush, Bake Your Day, Rustic Garden Bistro, Kevin and Amanda, Savour Fare, Reluctant Entertainer, Two Peas and Pod and you HAVE to click on Picky Palate's post, you'll get to see the cake I made. Thanks Jenny for posting it! I haven't posted about the cake yet, but I hope to soon.
Yeah, some things are so important that they make it to the top of the list before all the boring stuff. Like housecleaning, laundry, and even shopping. Shopping seems to take all day. Once you leave the house it's running here and there and remembering all the little stops along the way. By the time I know it, the day is practically over.
So getting up and baking this should definitely be at the TOP of the list, that way you can bring some with you to make all the shopping more enjoyable.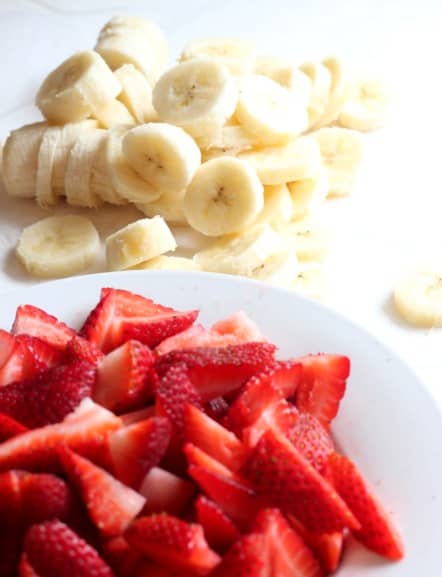 Strawberries and bananas are so good together!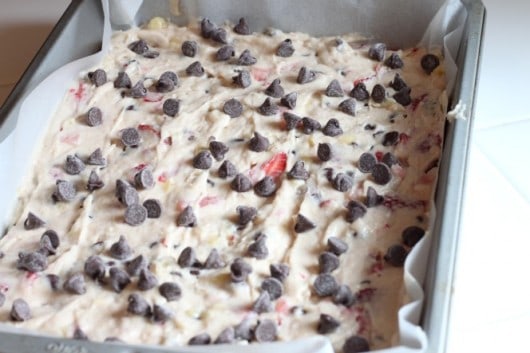 And they are even better with some chocolate chips thrown in.
Strawberry Banana Bread with Chocolate Chips
Ingredients
1/2 cup butter
1 cup sugar
1 egg
2 bananas sliced
2 cups cut strawberries
3 tablespoons milk
2 teaspoons vanilla extract
2 cups cake flour
1 teaspoon baking powder
1/2 teaspoon baking soda
1/2 teaspoon salt
1 cup chocolate chips
Instructions
Line a 13x9 pan with parchment paper and spray with a baking spray.
Preheat oven to 350 degrees.
Cream the butter with sugar in mixing bowl with paddle attachment.
Mix in egg until combined.
Stir in milk and vanilla.
Mix in the flour, baking powder, baking soda and salt.
Stir in bananas, strawberries, and 3/4 cup chocolate chips.
Spread batter in pan, place remaining chocolate chips on top.
Bake for 30-35 minutes or until toothpick comes out clean.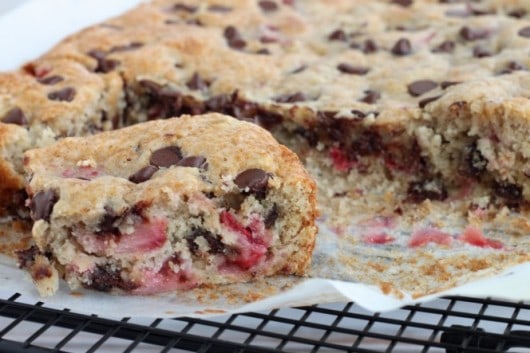 It's hard to wait for this one to cool off to cut it, it's so yummy!
So try not to devour it all before you need to head out shopping, you will DEFINITELY want to bring some with you.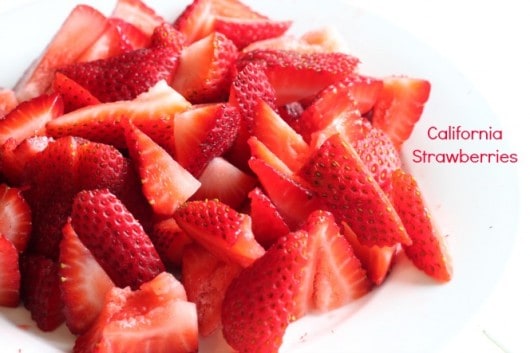 Yeah, these California Strawberries and wonderful. I'm lucky to live in California and enjoy them most of the year. There are roadside stands with fresh picked strawberries everywhere this time of year, I just love it.