Pumpkin Pecan Banana Cake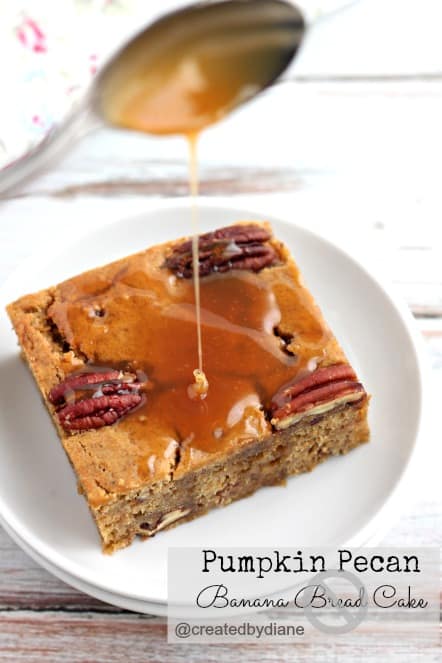 I struggle with calling bread cake.
I know quick breads can be sweet, but I guess I'm just more of a cake girl,
and saying I can have cake for breakfast is….well…..
FUN!
I couldn't resist drizzling caramel all over the tops of this one,
really trust me it was worth the sticky fingers!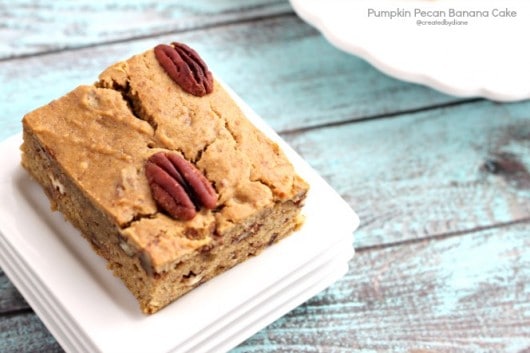 If you don't like sticky fingers, don't worry it's super delicious all on it's own.
Pumpkin Pecan Banana Cake
Ingredients
1/2 cup butter
1 cup brown sugar
1 egg
3 bananas sliced
1 cup pumpkin
3 tablespoons milk
2 teaspoon vanilla bean paste
2 teaspoons pumpkin pie spice
2 cups cake flour
1 teaspoon baking powder
1/2 teaspoon baking soda
1/2 teaspoon salt
1 cup pecans chopped+ 16 whole pecans for the top.
Instructions
Preheat oven to 350 degrees.
Line a 1/4 sheet pan with parchment and spray with no-stick baking spray.
Cream butter with brown sugar with mixer and paddle attachment.
Mix in egg, then add banana, pumpkin, milk and vanilla and pumpkin pie spice.
Mix in flour, baking powder, baking soda, and salt.
Stir in pecans.
Spread into pan and top with whole pecans (I staggered the pecans across the top)
Bake for 40-45 minutes or until toothpick comes out clean.
Notes
Drizzle with Ghirardelli Caramel Sauce and serve.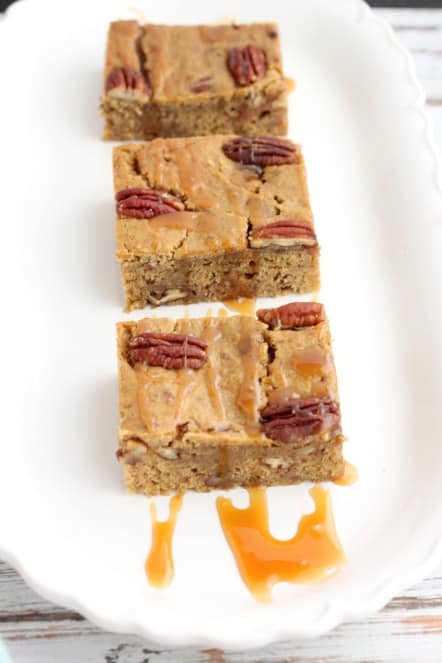 This will sure be on the breakfast table again, after all, it does have bananas in it…so that clearly makes it breakfast food….right?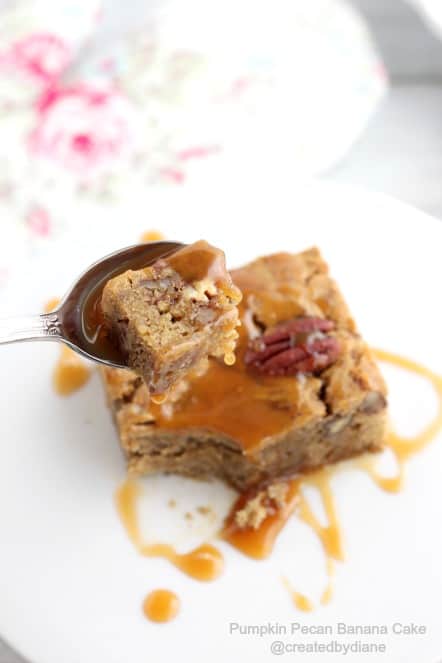 I couldn't wait to scoop up a piece with a spoon to get all the caramel too.
Yes, this is the cake you can eat with a spoon if you like….or your weird like me and can't resist caramel.