If you like gingerbread and chocolate together like I do you will really want to sink your sweet tooth into this delicious banana bread with a gingerbread and chocolate.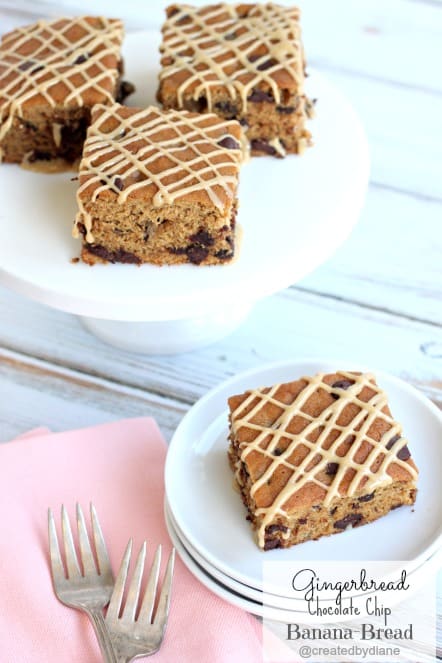 I bought some extra bananas just so I could make this.
If I didn't plan it out that way I was afraid the bananas would  be all disappear.
Does that happen in your house?
Just when I think I'll have enough bananas to make something I turn around and they are all gone.
I didn't want that to happen with here,
I couldn't wait for my kitchen to have that wonderful gingerbread aroma again.
I made Gingerbread Biscotti and Gingerbread Scones along with Gingerbread Snowman Cookies recently and well I just haven't had my fill of all things GINGERBREAD yet.
Grab some bananas and join me in my latest bite of deliciousness….
Gingerbread Chocolate Chip Banana-Bread
Ingredients
½ cup butter
1 cup sugar
1 egg
3 bananas sliced
3 tablespoons milk
3 tablespoons molasses
2 teaspoons vanilla extract
2 cups cake flour
1 teaspoon baking powder
½ teaspoon baking soda
1 1/2 teaspoons pumpkin pie spice
½ teaspoon salt
1 1/2 cups chocolate chips
Instructions
Cream the butter with sugar in mixing bowl with paddle attachment.
Mix in egg until combined.
Add in sliced banana, milk, molasses and vanilla.
Mix in the flour, baking powder, baking soda, pumpkin pie spice and salt.
Stir in chocolate chips.
Line a 13×9 pan with parchment paper and spray with a baking spray.
Spread batter in pan and bake at 350 degrees for 30-35 minutes or until toothpick comes out clean.
Gingerbread Icing
Ingredients
 
Gingerbread Glaze Icing
1 cup powdered sugar
1 teaspoon corn syrup
½ teaspoon pumpkin pie spice
1 tablespoon molasses
1 teaspoon vanilla
3 tablespoons water
 
Instructions
Mix all ingredients together until it smooth and creamy. Adjust consistency needed by adding more water or powdered sugar.
It's really great all by itself, but trust me the icing puts this one over the TOP, in a good way of course!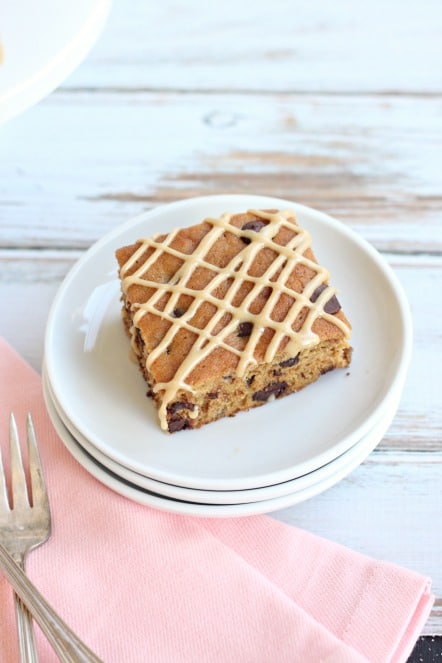 We may not get snow here, but nothing beats the warm oven this time of year with something delicious just waiting to come out.
I'm sure in no time I'll share some salad posts seeing as January is all…Get Healthy, Start the New Year on the right track, but I think I'm just a few days away from coming up with an all new to me salad…but I have a few ideas, now to just finish off the rest of this yumminess first then I'll get started on them.