Chocolate Blueberry Cheesecake Cupcakes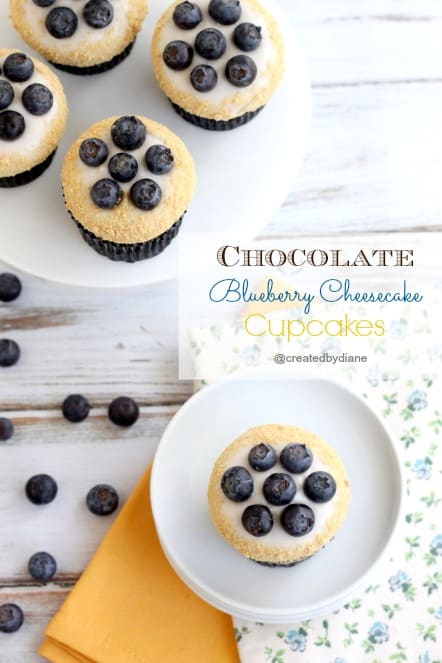 I just love that the large warehouse stores sell the big clamshells full of blueberries.
No dinky little clam shells, I have no use for those tiny things.
I need the GIANT clam shells!
And I usually pick up at least two of them every time I go.
…Yes, I'm pretty obsessed with blueberries.
I blame it on my mother, that's what any good daughter would do, wouldn't she?
Why do I blame it on my mother? My mom used to take me blueberry picking….every summer.
We would also frequent the blueberry store that they had several times a season and stock out large freezer with 5-pound boxes of blueberries.
She makes the best blueberry items, trust me.
I really miss those 5-pound boxes of blueberries, they were bright yellow and they meant there was happiness inside.
I haven't seen a box of blueberries that big in YEARS!
So big clam shells will just have to do.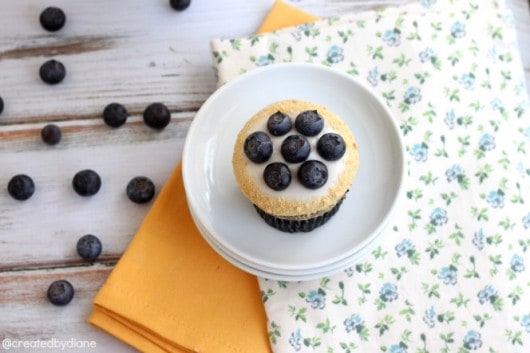 When I was first dating my husband we used to go to this diner that had the most delicious cheesecake and they added a blueberry sauce that we just LOVED, I can remember each and every bite of that cake like it was yesterday.
These remind me of it just a little bit, just enough to get the image of us going to the diner after a wedding…late at night and getting a piece of that delicious cheesecake and sitting there talking for hours.
I add blueberries to just about everything, like Blueberry Basil Lemonade, Brie, Dessert Pizza and even here is my mom's blueberry pie….which is one of my all-time favorite recipes.
These cupcakes have all the wonderful flavors of the cheesecake I remember the graham cracker crumbs, the wonderful sweetness of blueberries and well cheesecake….oh how I love cheesecake. But these cupcakes are a twist on my favorite adding to it the richness of the chocolate. Oh, let me tell you this is one fantastic flavor combination.
Chocolate Blueberry Cheesecake Cupcakes
Ingredients
Chocolate Cupcake
1 cup unsweetened cocoa
2 cups boiling water
2 3/4 cups sifted flour
2 tsp. baking soda
1/2 tsp. salt
1/2 tsp. baking powder
1 cup butter
2 1/2 cups sugar
4 eggs
1 tsp. vanilla extract
Cheesecake Frosting
4 oz cream cheese (room temperature)
1/2 cup butter (slightly softened)
5 cups powdered sugar
10 drops cheesecake flavor (LorAnns)
1 teaspoon vanilla extract
3 Tablespoons heavy cream
Blueberries for Garnish
1/2 cup graham cracker crumbs for Garnish
Instructions
Cupcakes
In medium bowl combine cocoa with water mixing with wire whisk until smooth. Cool completely. Sift flour with baking soda, salt, and baking powder.
In large bowl beat on high, butter, sugar, eggs, and vanilla until light about 5 minutes.
On low speed beat in flour mixture and cocoa mixture Do not over beat. Pour into cupcake lined pan. Bake 18-20 minutes at 350 degrees (reduce temp for dark pans) Do not over bake as they will become dry.
Cheesecake Frosting
Beat room temperature cream cheese with butter.
Add powdered sugar, cheesecake flavor, vanilla and heavy cream together until smooth and creamy.
Pipe frosting onto cupcakes with a 809 tip on a piping bag and then gently roll the edges of each cupcake into graham cracker crumbs. I find it easiest to pour the crumbs into my hand and press them into the edge as I roll the cupcakes.
Place blueberries on top of each cupcake.
If you like lots of frosting double the frosting recipe.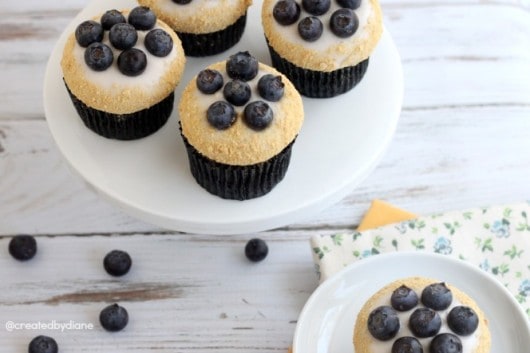 These are TOTALLY worth using some of you blueberry stash on,
..tell me I'm not the only one who is crazy for blueberries.
It's ok if it's just me, I can handle it.
I'm sure one of those little clam shells would do just fine, for those who aren't OVER the top for blueberries and just don't NEED them like I do.
Here are a few more blueberry recipes you may like if you LOVE blueberries as much as me.
Blueberry Filled Cupcakes with Blueberry Frosting
and my Blueberry Banana Chocolate Chip Cake