Rocky Road Cookies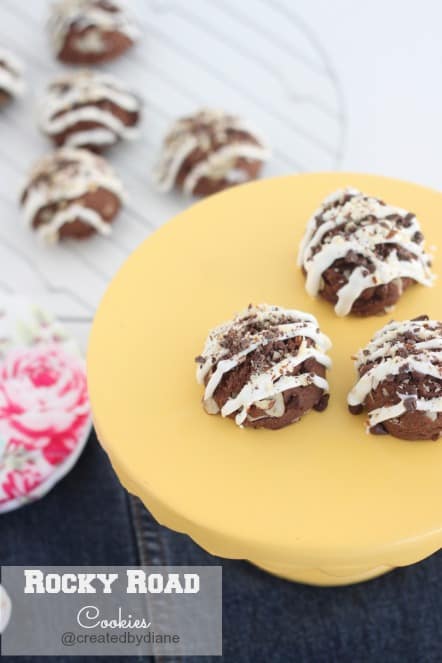 Today I'm sharing an "Appreciation Post" with you.
ap·pre·ci·a·tion
əˌprēSHēˈāSHən/
noun 1. the recognition and enjoyment of the good qualities of someone or something.
I know my husband appreciates that I cook and bake.
As the counters are typically full of food, food, food.
My family isn't going hungry anytime soon. I laugh when they say there is nothing to eat! I like that he will be the taste tester, he gives good honest feedback.
When I met my husband he didn't have a sweet tooth, he didn't snack much either come to think of it….and well it didn't take  long for me to CHANGE that!
It's funny they say you can't change someone….well that is mostly true, but I will never forget the day he said you are the reason I LOVE to eat ice cream now, and I even think my potato chip addiction is rubbing off on him.
Well we've been married for 18 years now, wow how time passes by so quickly. I'm sure some things of "his" have rubbed off on me too.
Here are some fun questions my husband answered:
What is my favorite blog called? Haven't got a clue!
 The truth is I don't have a favorite blog, I have MANY and there is no way he could recall such a long list. And good for him for not trying to.
  What is my favorite prop? Worn Wood Vinyl Backdrop
That is my favorite prop and it makes me think, maybe I need to get some more. Example photos here, here, here and here, I sure in MANY photos.
What is the weirdest thing you have seen me do for a blog post? Go to every store in town to find one item
Oh, I remember the day we went to practically every store in town looking for one specific item, "crazy" I do believe that is what he called me.
If you could have your own blog what would you call it?  Right Here, Right Now!
Yea, he lives in the moment, and that would certainly resemble the blog he would write.
What are your hobbies? Beer tasting,  bicycling and hiking
 I bet he would write a great beer blog or outdoor type of blog or really anything he would write would be wonderful, he has a great way with words.
  Who does the dishes? my wife and my son
He is correct on the dishes, oh the many…many dishes of a food blogger, my son really is great about it. He knows where every item goes in my kitchen and likes all the measuring cups stacked up nice. I LOVE that he takes the time to do it for me.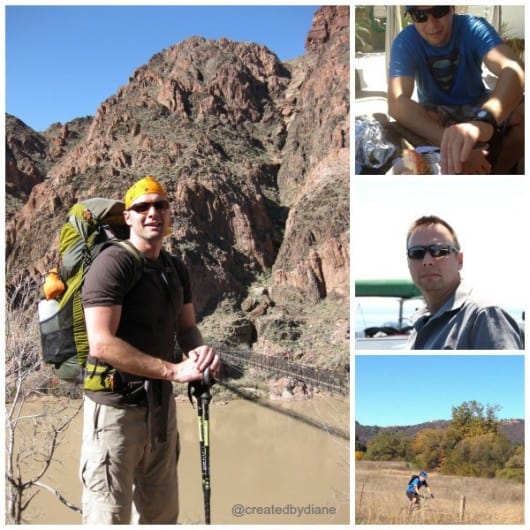 This is him, my super coupon….really that is what I call him. I even told him that is what the "S" on that shirt stands for when he wears it (photo top right) He is very supportive, encouraging and makes a lot of effort to try to understand some of the craziness that seems to have exploded in our home since this journey began.
 I think he did great on the questions! I am blessed to have him in my life. He is a hard worker, determined and an extremely caring person.  I can never spend too much time with him, there just aren't enough hours in the day for that.  I love him for accepting me for who I am. I knew from the moment I met him how really SUPER he really is. I like that we can finish each other sentences. I think it's great that we laugh together every day. I love when he makes me lobster (photo top right). I love that he is active, he can plan a great trip on the spur of the moment. But when he says things will be leisurely, I'm still a little leery! He really likes the majority of things I make, I posted his favorites from 2012 here. I had him narrow it down to 5 sweet and 5 savory recipes. His all time favorite is my Mini Cranberry Pecan Pies. These Rocky Road Cookies were a close second. I've posted photos before of my husband and family here, here and here. I seem to put more of my real life on Instagram, so go ahead and follow me there to see what our next "favorite" is. Bite-sized chocolate cookies with chocolate chips and almonds, drizzled with a creamy marshmallow icing.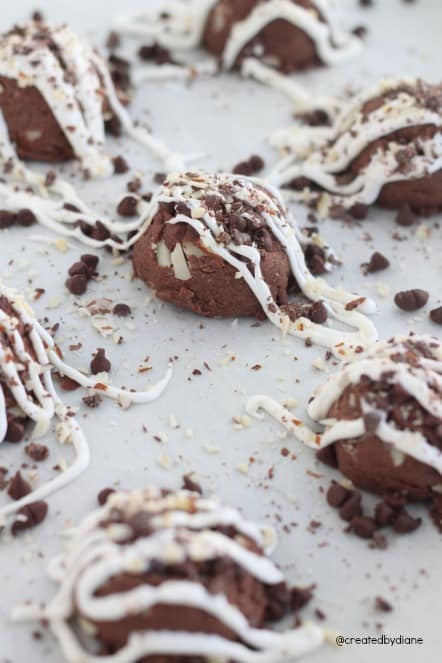 Rocky Road Cookies
Ingredients
Rocky Road Cookies
1 cup butter
1 1/2 cups powdered sugar
1 egg
2 3/4 cup flour
1/4 cup Hershey's Cocoa (unsweetened)
1 teaspoon baking powder
1/2 teaspoon salt
2 teaspoons vanilla
1/2 cup slivered almonds
1/2 cup mini chocolate chips
Marshmallow Icing
3 tablespoons butter
3 1/2 oz marshmallow fluff
2 cups powdered sugar
1 tablespoon corn syrup
4 drops marshmallow flavor ( I use Loranns)
Instructions
Rocky Road Cookies
In large mixer bowl, cream butter with sugar.
Add egg and mix thoroughly.
Mix in flour, cocoa, baking powder and salt along with vanilla.
Stir in almonds, chocolate chips.
Use a 2 tablespoon scoop and scoop cookie dough onto parchment lined baking sheet.
Bake at 375 degrees for 9-11minutes
Marshmallow Icing
With mixer beat butter smooth then add marshmallow fluff and powdered sugar and corn syrup and marshmallow flavor. Mix until smooth and creamy. If it's too thick add a few drops of milk or water to thin it to the consistency you'd like to drizzle over cookies.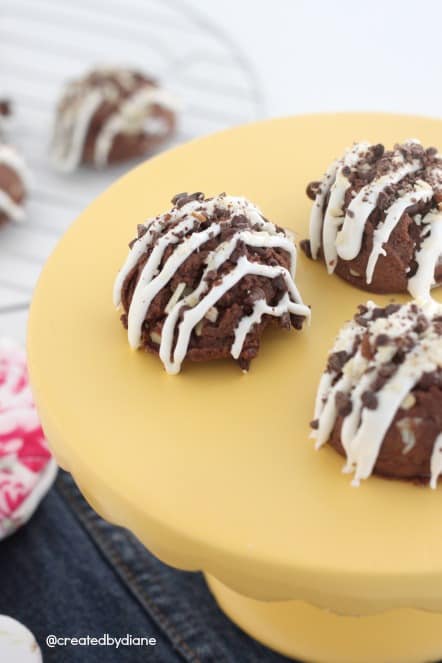 These are a fun version of an all time favorite ice cream wrapped into a bit sized cookie!
There are many other food blogger sharing about their significant others today, come learn more about them. I'm looking forward to it!