This Blueberry Basil Lemonade is not only delicious it's outstandingly gorgeous!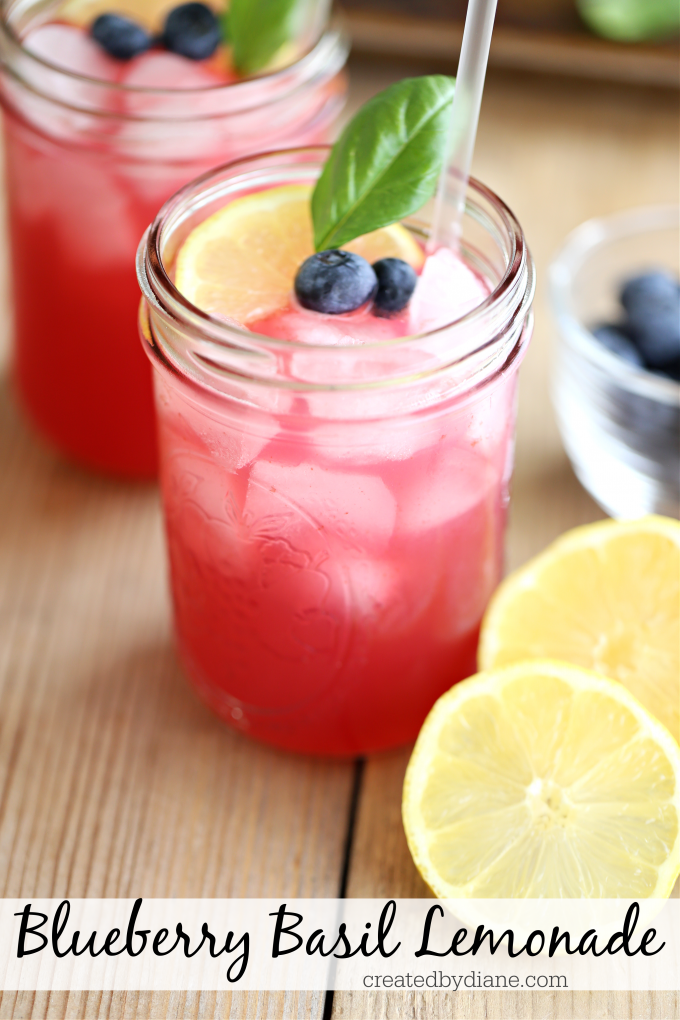 One sip and you'll get a burst of the most delicious lemonade, it has a minty flavor that is mild from the basil and the blueberries add this great fruity flavor to kick up this lemonade. 
Summer sunsets and a tall glass of this Blueberry Basil Lemonade will make those summer evenings last just a wee bit longer.
A porch, a comfy chair, and a favorite glass is all that's required to enjoy this drink. So lay your head back and enjoy watching the kids catch fireflies in the evening – because this drink can be made to suit both children's tastes and those with a more adult pallet.
Combining the sweetness of blueberries and the fresh bite that basil offers with fresh-squeezed lemonade is the epitome of refreshing.
This really is a balanced drink, not too sweet and incredibly crisp – summer comes alive with each sip.
And it can be made by using my home-made Blueberry Syrup recipe, and it keeps in the fridge making this drink much quicker to make in the future. The syrup can be added to all kinds of things! Like this Italian Soda recipe. Or it can be used to top pancakes with, give this recipe a try.  Explore and get creative with it, you'll be surprised what you come up within the kitchen once you get those creative juices flowing, add in some lemon juice, leave whole blueberries in the syrup, mix the blueberries with blackberries or strawberries for a delicious flavor combination.
I'm going to walk you through this recipe, step by step, and don't forget to check my Inquiring Minds section below for any questions you may have!
Be sure to check out my whole post on LEMONADE here!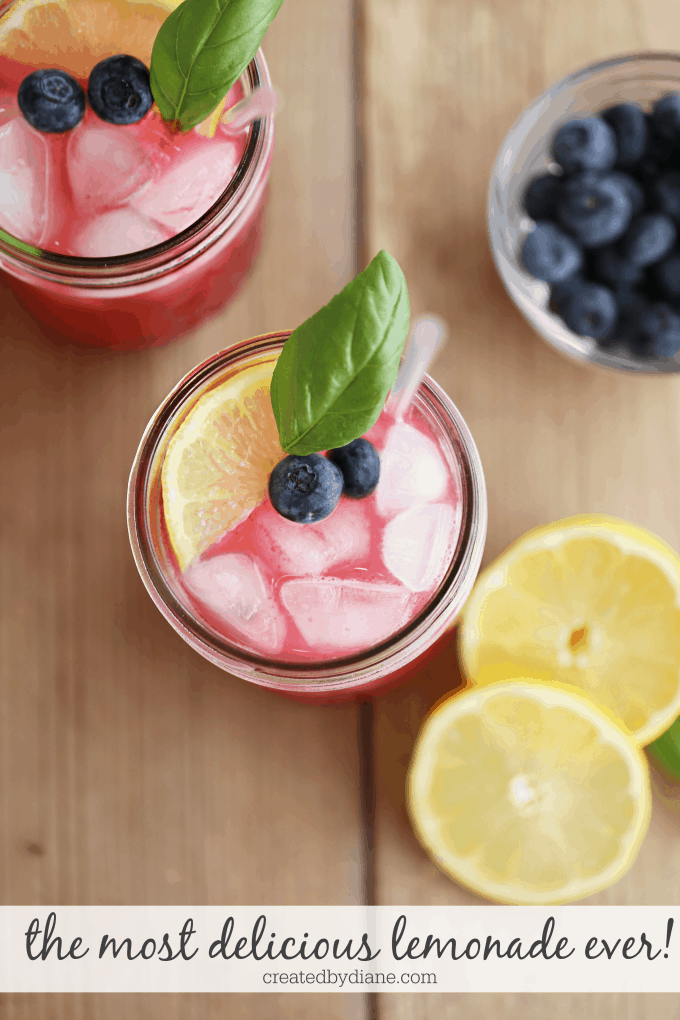 For this recipe, I use an immersion blender – it makes sure everything is blended smoothly and no chunks remain.
In a microwave-safe dish heat your blueberries for 15-20 seconds to soften them and encourage them to release their juices. You could also heat them lightly on your stovetop as well.
Remove the fruit from the microwave or from your stovetop and place in a medium mixing bowl. Add the remaining ingredients.
Now using your immersion blender, or a regular blender, blend well, being sure everything looks smooth.
When you're done, with a fine strainer press the mixture through it with a spatula or back of a large spoon to remove the basil and blueberry pieces.
This is the heart of your drink! In place of this process, you could use my blueberry syrup if you've made it ahead.
Pour this mix over a glass of ice and top with some lemon slices, blueberries, and basil if desired.
Now for a "hard" version, add a shot or two of vodka or bourbon and lighten it up with some seltzer water.
For a 'virgin' option, add plain or lemon seltzer for a fizzy lemonade drink.
Now drink up! It's bound to cool you off on these hot summer days we've been having!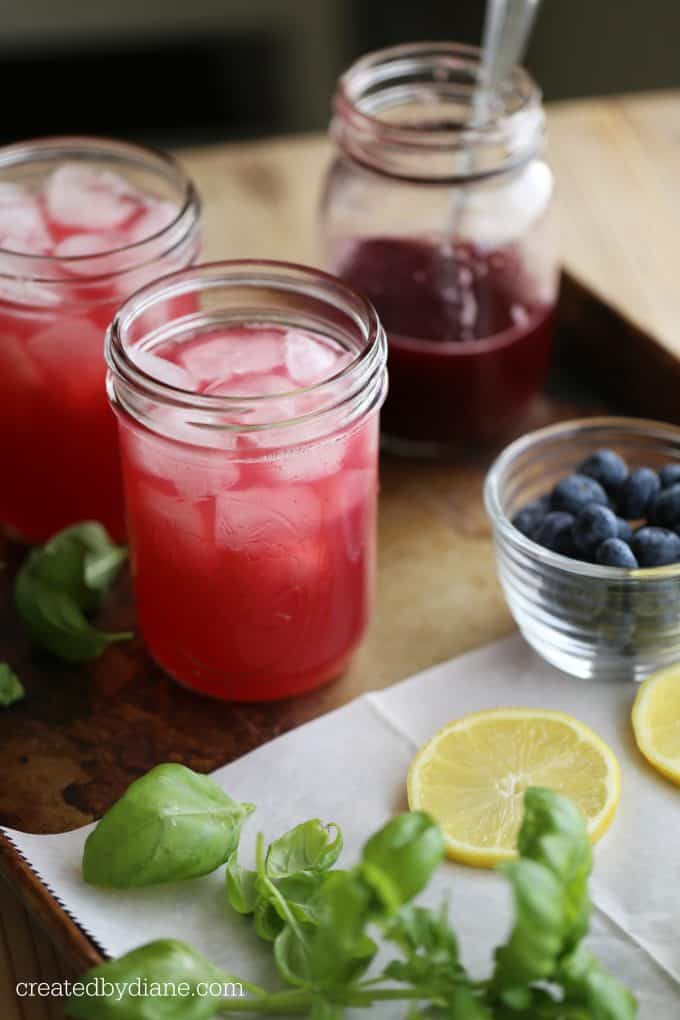 Inquiring Minds Want to Know:
I don't own a blender – can this be done by hand?
You could use the "muddle" method. Here is a great muddler. You can use it to press the berries and release the flavor of the blueberries and the skin will produce the color, so softening the blueberries in the microwave helps them to soften and muddle easily.
I know there are many varieties of lemons and basil – any you prefer?
Great Question! I use Meyer lemons if I have them, but also make the lemonade with Sunkist lemons, or Eureka lemons. 
Fresh sweet basil is the best flavor for this lemonade recipe.
Can I just add the blueberries and basil to store bough lemonade?
Yes, if you want to purchase lemonade go right ahead and follow the steps for the basil and blueberries to "jazz" up the lemonade easily. Simply Lemonade, minute maid, or Santa Cruz (a natural or fresh-squeezed lemonade will give nicer results than artificial lemonades).
I'd am not a fan of seltzer water, what could I replace it with?
You can top off with lemonade with sparkling water if you prefer. If you feel like being celebratory, skip the bourbon, vodka, and seltzer/sparkling water replacing them with champagne! I do have some other great ideas here.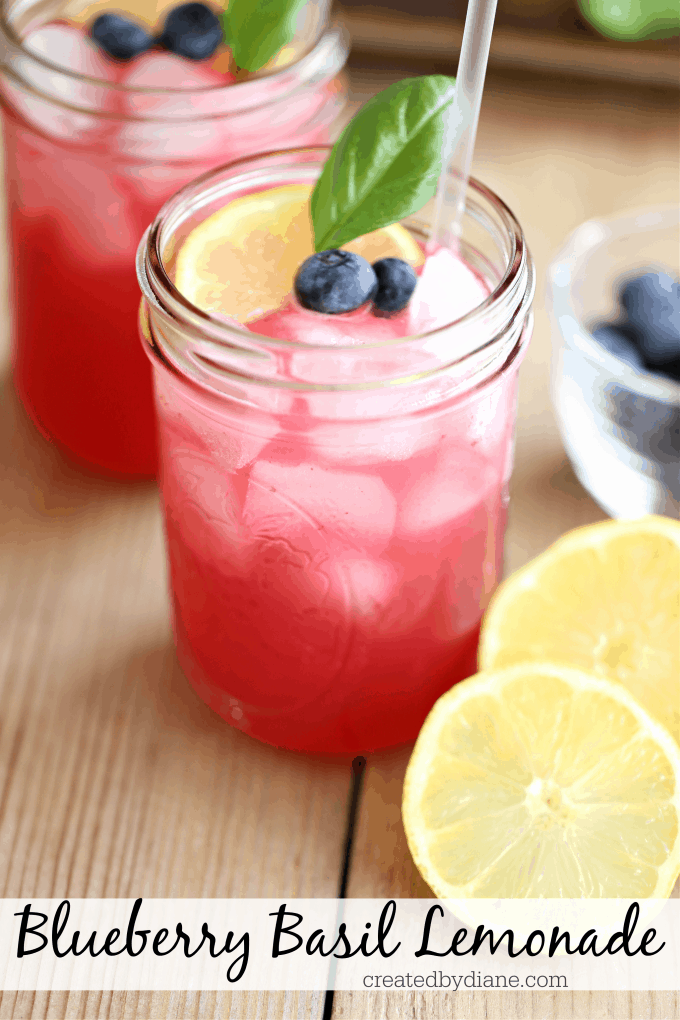 I think this Blueberry Basil Lemonade would be the best lemonade to serve at a lemonade stand, along with homemade cookies of course.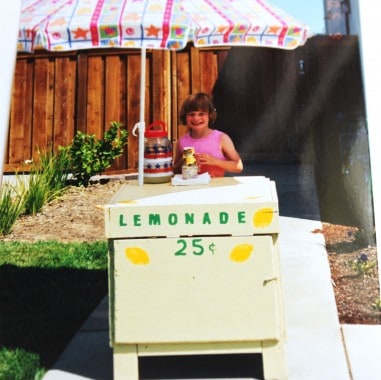 I don't see as many lemonade stands like I used to, but thought you'd enjoy seeing this one, it's my little girl (who's all grown up) taken in 2002 and I do think she had the best lemonade stand! I can't recall how many times I moved that stand to the curb for her, it was so many! Some days she'd sell cookies too!
How many lemons do you need?
For every medium lemon you can get about 1/4 cup lemon juice, so plan accordingly with the size and variety of lemons, you'll need 1/2 cup lemon juice for this recipe that makes 2 glasses.
Blueberry Basil Lemonade
a deliciously fruity lemonade with a hint of basil to give it a great flavor, the gorgeous color is a bonus.
Author:
Diane Schmidt Created by Diane
Recipe type:
Beverages, Cocktails
Ingredients
1/2 cup lemon juice, for every medium/large lemon you'll get about 1/4 cup lemon juice the variety and size of the lemons used will yield different amounts of lemon juice
1/4 cup sugar
1/4 cup blueberries *heat them in the microwave for 15 seconds to heat and soften them, they'll release more flavor and color.
4 fresh basil leaves
2 cups water
Instructions
Blend all the ingredients with an immersion blender (or blender) then strain it with a fine sieve, so any basil and blueberry pieces are removed.
Pour over a glass of ice, top with some lemon slices, blueberries, and basil if desired.
For a "Hard" lemonade add a shot or two of vodka or bourbon for a great cocktail, lighten it up with some seltzer.
You can also add plain or lemon seltzer to this lemonade for a less sweet fizzy lemonade drink.