Grilled Caprese Salad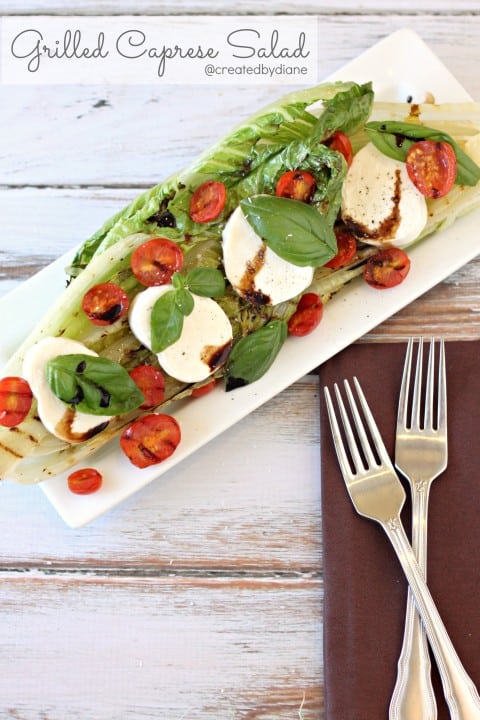 It's MONDAY and you know what that means, it's time to eat salad!
Every Monday I start off the week with high hopes of eating well, exercising and enjoying life,
well….this is the first step to a great week ahead.
If the week starts to go downhill fast, don't worry I'm sure I will have some goodies posted to help you get through it all. Besides who can live by salad alone.
This salad however is easy to make and it sure does have me enjoying more salads.
I bought a small basil plant at the grocery store and was happy to see they had small plants and not just cut basil. I already planted it and I'm keeping my fingers crossed it grows big and strong.
I will mention I do NOT have a green thumb, but basil seems to do well for me, and I'm glad about that because I would go broke buying it for all the recipes I like using it in.
Like Blueberry Basil Lemonade, Mini Lemon Basil Bundt Cakes, Crab Pasta Salad,  Proscuitto and Cantaloupe Appetizer, Meatball Sub Recipe, and lemon Pasta Salad Recipe.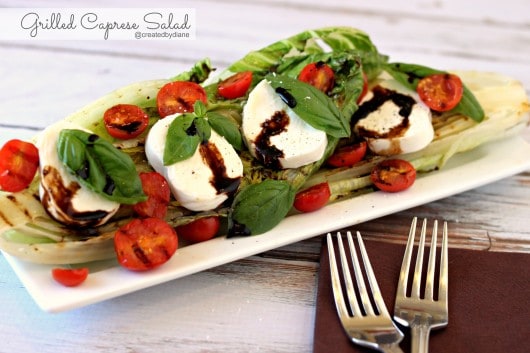 So maybe you'll want to plant some basil too!

Grilled Caprese Salad
Ingredients
1 romaine heart
6-8 grape tomatoes
2 oz. fresh Mozzarella Cheese
4-5 basil leaves
balsamic glaze (which is thick balsamic vinegar)
Instructions
Split the romaine down the center leaving the core in tact, so as you grill it the leaves don't fall off.
Heat grill or grill pan,
lightly oil the lettuce and place cut side down.
Cook 3-4 minutes, until lettuce is lightly charred but not wilted.
Add tomatoes that are sliced in half for a minute onto grill pan, (if using a grill larger tomatoes will work better)
Remove Romaine and place on serving plate,
top with fresh mozzarella, tomatoes, basil and drizzle with balsamic glaze and add salt and pepper to taste.

Do you have a favorite recipe with basil, let me know…I'm always looking for more.
More Salads:
Grilled Romaine with Chicken Peaches and Blue Cheese