These lemon poppy cookies taste fantastic and are so pretty, if you're looking for a delicious lemon sugar cookie… YOU FOUND IT!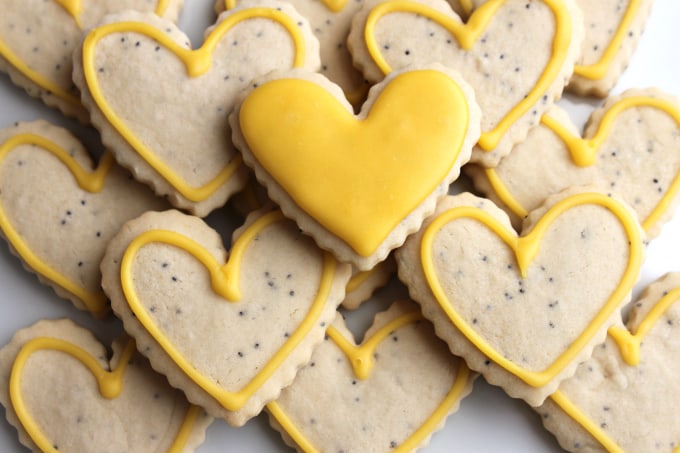 These are more than just lemon cookies,
these lemon poppy seed cookies are so delicious you'll want to make a double batch
to be sure you have them for more than a few hours!
They seem to disappear quickly.
Lemon Poppy Seed Cookies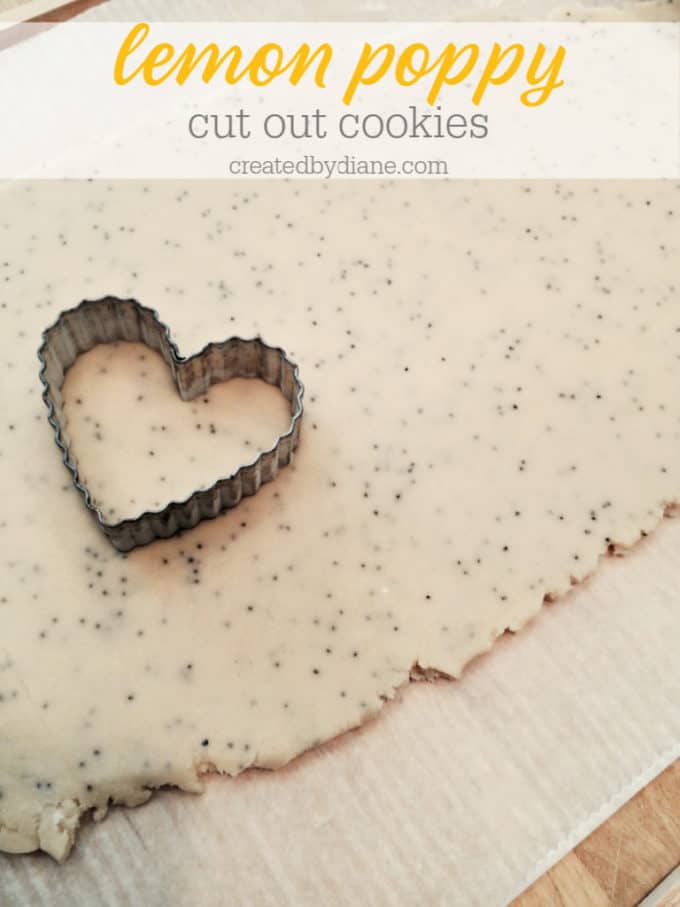 I'm on my lemon kick!
I love everything LEMON, and these cookies are SO worth making, trust me…they have a delicious light texture and wonderful lemon flavor.
These are one of my all-time favorite cookies to make. They are insanely pretty and whether you ice them or not, they will be loved by all.
Tell me I'm not alone, tell me you love lemon as much as me!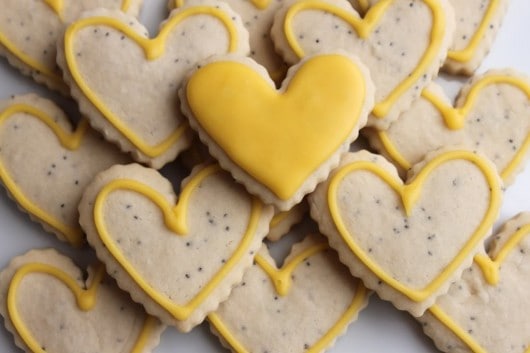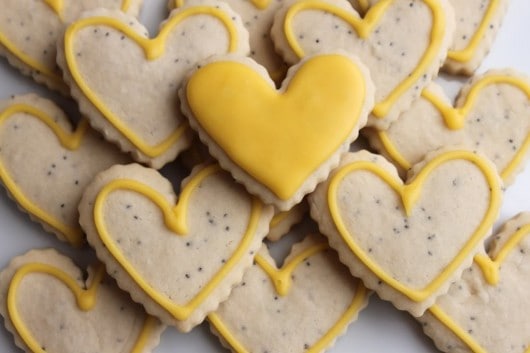 Lemon and poppy seeds seem to go so well together and just wait until you take one bite into these, you will know why…
They are delicious!
Don't skimp and not add the poppy seeds.
Roll the dough our evenly to 1/4 inch thick and cut with a cookie cutter. My favorite is this heart shaped cutter.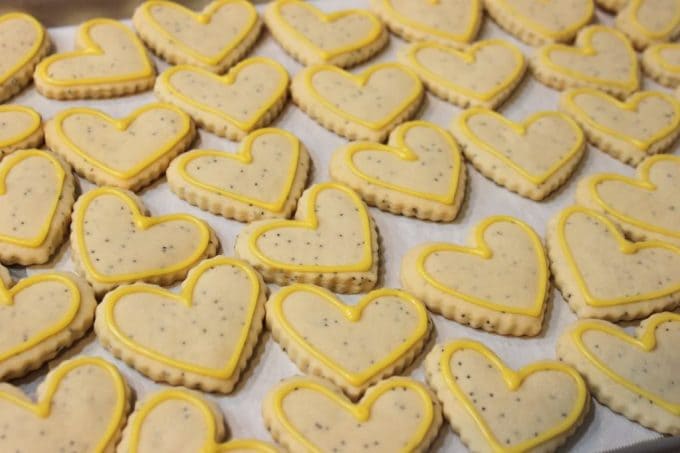 I had some leftover lemon glaze from the Lemon Scones I made and hoped it would be enough to ice these and save me some time
…..as luck would have it
I had just enough. YAY! But it really only takes a minute to make the icing, and it's so delicious. You can add real lemon juice into it instead of the water, I make it both ways!
I didn't flood all of the cookies all the way with icing, I just outlined some.
I really liked that you could see the poppy seeds, they didn't need to be all covered up!
You can add more poppy seeds on top.
The recipe is very easy and OMG so delicious!!!
These look so pretty all piled high on a plater, perfect for any occasion or just for snacking!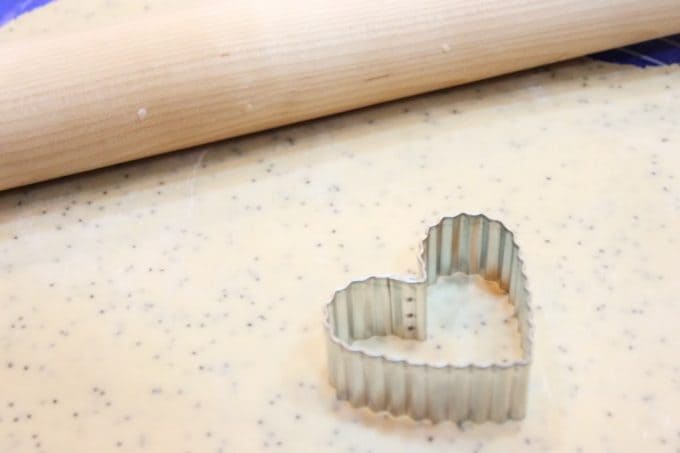 Lemon Poppy Sugar Cookies
Ingredients
1 cup salted butter
1 ½ cups powdered sugar
1 egg
2 teaspoon lemon baker's emulsion
1 teaspoon vanilla bean paste
2 ¾-3 cups all-purpose flour
2 teaspoons baking powder
1 teaspoon salt
2 teaspoon poppy seeds
Instructions
In large mixer bowl cream together butter and sugar on medium-high speed
Add the egg and lemon and vanilla flavors
Mix in flour, baking powder and salt and poppy seeds
As the dough mixes together it will begin to pull away from the sides of the bowl and form a ball
Take the bowl off the mixer
Begin rolling the cookie dough between wax paper or on a lightly floured surface
Cut dough with a cookie cutter
Space cookies 2 inches apart on baking sheets to cook evenly
Bake at 400 degrees for 7-9 minutes
Cool cookies completely before icing
Lemon Icing
Ingredients
1 cup powdered sugar
1 Tablespoon corn syrup
2-3 Tablespoons water]
1 teaspoon lemon extract or lemon baking emulsion
yellow food coloring (i used Americolor egg yellow)
#3 tip for icing
Instructions
In a bowl combine powdered sugar, corn syrup, 2 tablespoons water and lemon flavor.
Mix until completely smooth
Add in a drop at a time of water and mix if needed to the thin the icing for the consistency you need like to work with
Add in a drop of color at a time and mix until
color is achieved.
Fill a piping bag with the #3 tip and fill with icing and ice cookies
Allow icing to dry on cookies 24 hours before stacking cookies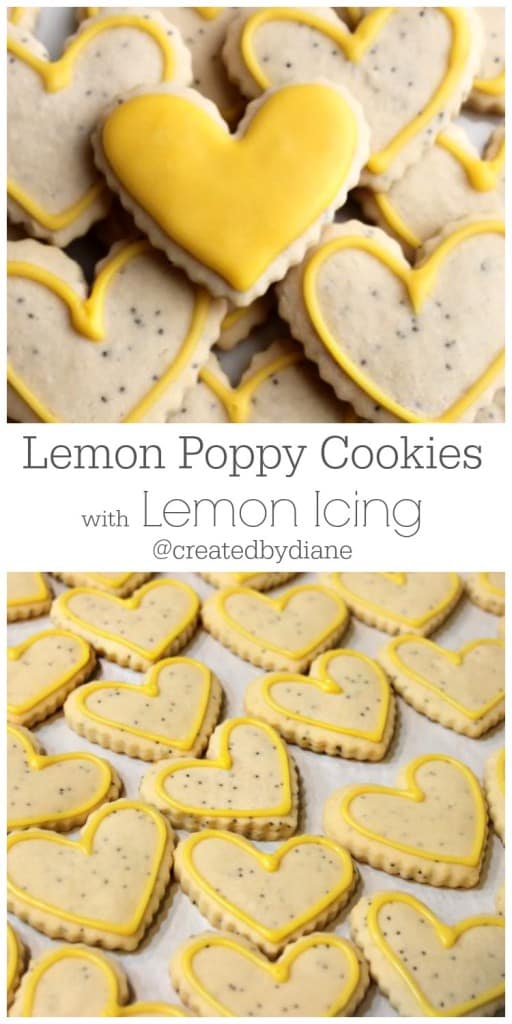 Callye from Sweet Sugar Belle makes amazing cookies. I couldn't wait to try them when she messaged me she had a cookie she knew I would love. I linked to Callye's Recipe and Here.