If you have a weakness for French Fries like I do, then you will want to see how easy it is to bake up a crispy batch to enjoy them anytime!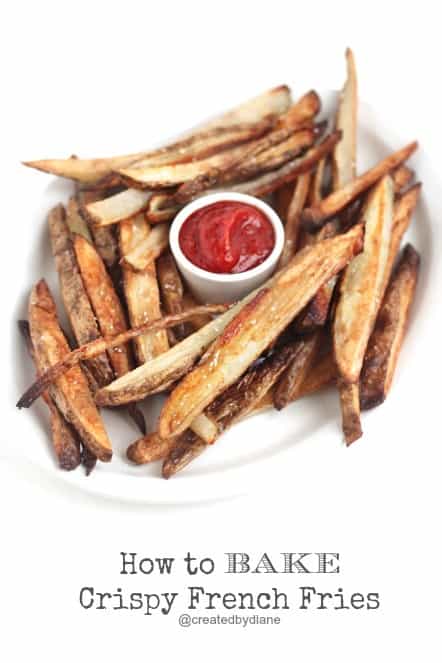 I LOVE French Fries,
and eat them every chance I get.
Really, it's almost funny how much I love them.
I can't remember a time I didn't LOVE them.
When I was little I remember getting a big tub of French Fries while walking along with boardwalk.
My mom would Fry up batches of French Fries every so often, it was always such a treat. Those were my favorite dinners!
The possibilities are endless with potatoes, but french fries and mashed potatoes are my favorite.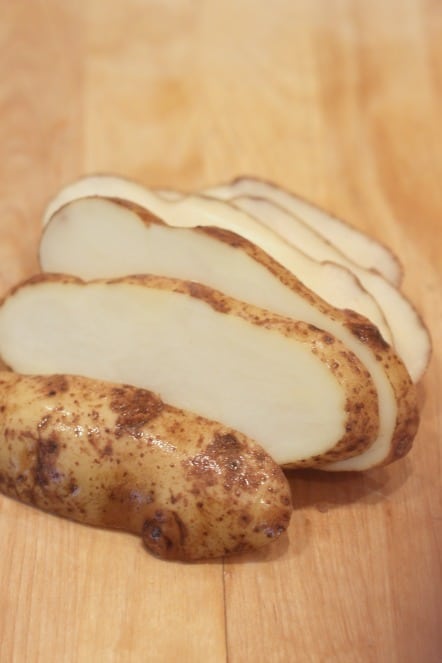 Begin by washing and slicing potatoes.
The thinner the potatoes the crispier they will bake up.
I cut the potatoes into quarter inch slices, then cut each slice into quarter inch strips.
Keeping all the potatoes about the same size will help them to bake evenly and give you a better result, than if there were some thick fries and some thin fries baking together.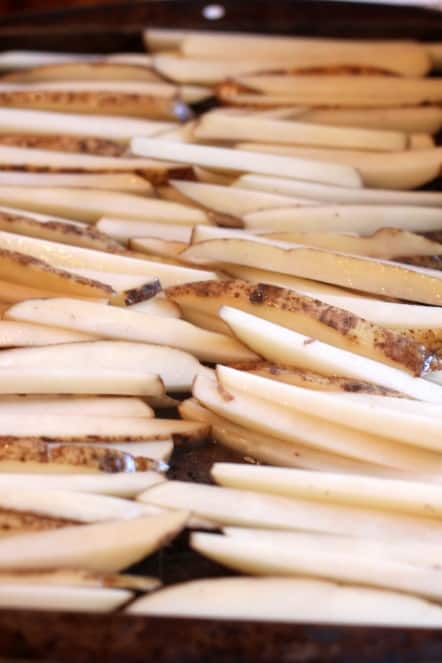 Next coat them with olive oil and bake them at 450 degrees until they are crispy.
Lightly oiling the baking sheet will help the potatoes not to stick. Both sides of the potatoes will get golden brown.
Just think you are minutes away from delicious French Fries!
How to Bake Crispy French Fries
Ingredients
4 Idaho Russet Baking Potatoes (about 2 lbs)
2 tablespoons olive oil (plus additional oil for baking sheet)
Coarse salt for seasoning
Instructions
Preheat oven to 450 degrees
Lightly oil baking sheet
Cut potatoes into slices about 1/4"
then cut the slices into strips about 1/4"
the thicker you cut the strips of potatoes the long they will take to cook and the less crisp they will be
Place potatoes and 2 tablespoons oil into a bowl and toss until all potatoes are coated
Place potatoes onto baking sheet in a single layer
Bake for 40-45 minutes or until the potatoes are crispy.
Salt while hot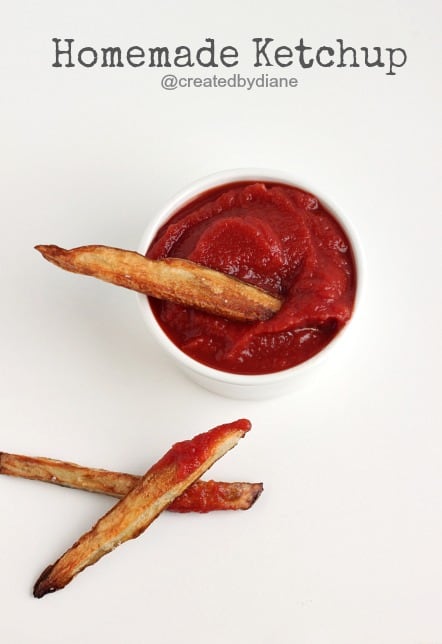 Here is my post on How to Make Ketchup! Homemade delicious ketchup for these fries is a must.