These cottage fries are perfectly crispy and topped with the best ingredients to make your mouth water and leave you wanting more!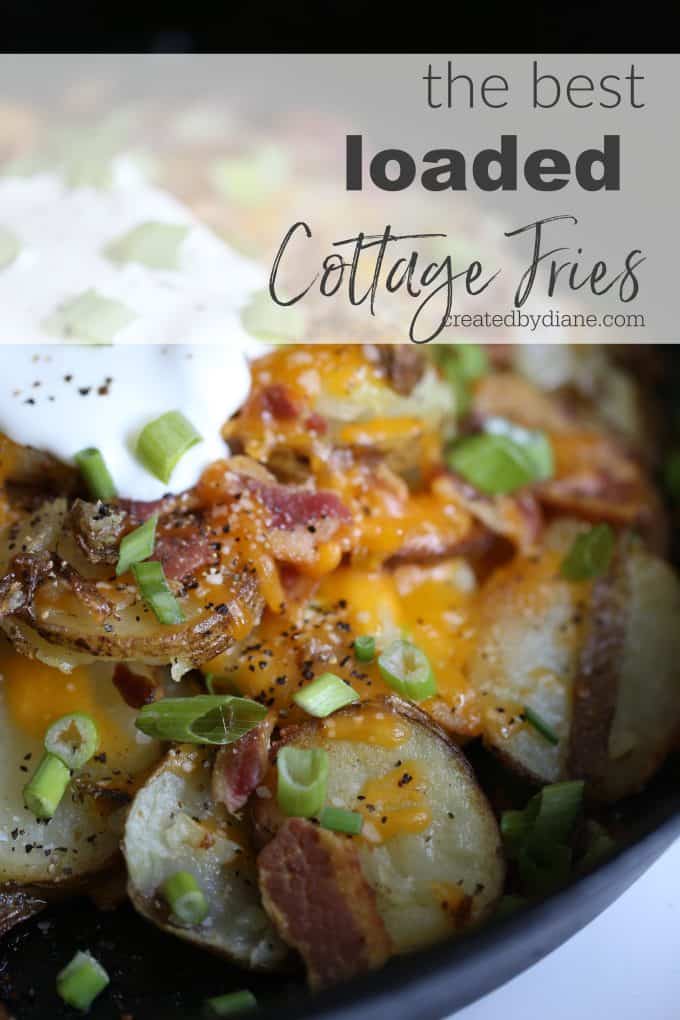 A simple, no-fuss dish–cottage potatoes are top of the list when it comes to easy-to-make comfort food. They're great at the end of a busy day, or in the morning as breakfast. Golden and crispy on the outside, and soft and fluffy on the inside, they're the perfect potato dish.
You can use it as a main course, or prepare it as a side–either way, everyone is sure to love it!
Cottage potatoes were named so because when the potato is sliced, the rounds resemble shingles on a roof or cottage. They can be prepared a million different ways, and you can use whatever toppings you enjoy. In this recipe, I've included some of my go-to flavors–cheddar cheese, bacon, and green onion.
These three are the holy trinity for me when it comes to potatoes.
Can you really go wrong with cheese and bacon!?!
I have lots of recipes that include these star ingredients, such as:
Cornbread Tamale Bites with Jalapeno, Bacon, and Cheese
Jalapeno Bacon Mac and Cheese–a little bit spicy and a whole lot of delicious on your plate!
But I also have lots of great potato recipes too. After all, it is a kitchen staple, and thanks to its natural versatility, it can be used in so many ways.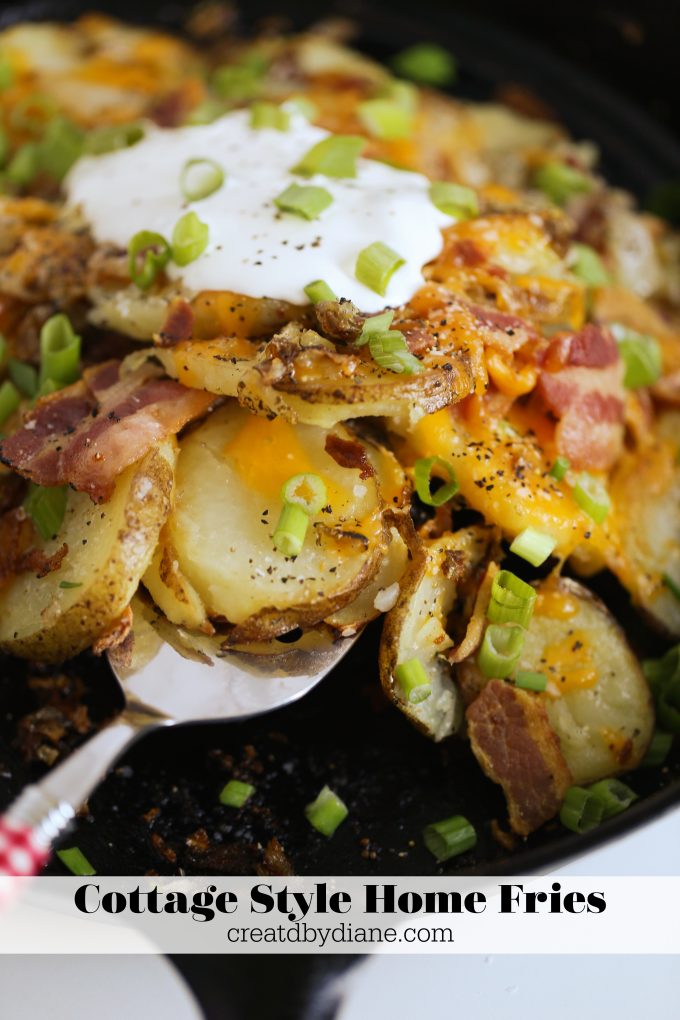 Some of my favorite ways that I've transformed this spud are:
I have loads more potato recipes of course–from french fries to potato salad, take a look and get some really great ideas for breakfast, lunch, or dinner!
Okay, so let's take a look at how to make Cottage Potatoes!
To begin, preheat your oven to 400°.
Wash your potatoes, and dry them. Then slice them into ¼ slices (or microwave them for a few minutes for 2 potatoes I cook for 1 minute, to cut down the cooking time).
Using a bowl large enough to accommodate your potatoes–toss them in oil.
Next, line your potatoes up on your baking sheet, or create layers in an oven-safe skillet.
Place them in the oven and cook until tender, for about 30 minutes. During the last ten minutes, turn your potatoes with a spatula to ensure both sides get crispy.
Remove from the oven, pile on the cheese, and push it down so it's layered in between the potatoes. It'll melt easily this way.
Top with cooked bacon, green onions, and sour cream! That's it!
If you prefer, you can top it with a sauce of your liking, such as sriracha, hot sauce, or my cilantro lime sauce.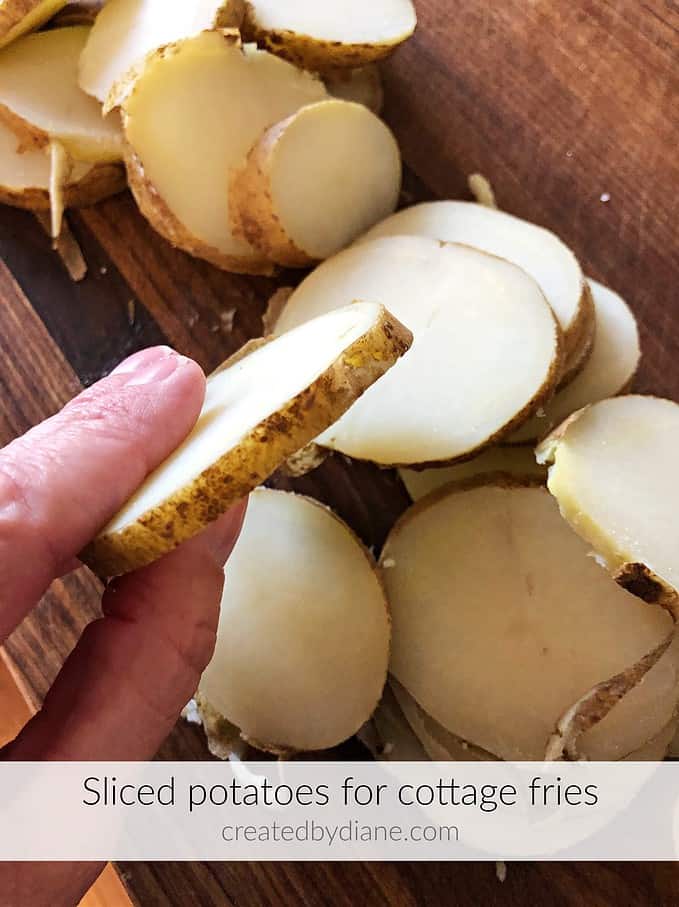 What's the best way to ensure the slices are ¼"
?
You can definitely eyeball it, if you're good at it. You can also use an adjustable mandoline slicer for consistent slices. I use a large thin knife.
How can I make this recipe go quicker?
As I mentioned I often microwave the potatoes, so they are actually cooked, then I slice and saute in oil, stack them up and add the cheese and bake them, or cook on stove, then add additional toppings like crispy bacon, and top with sour cream.
What oil is best for coating the potatoes?
I use avocado oil, but you could use olive oil, or even canola/vegetable oil..
How long will these store in the fridge?
About 3-4 days. 
How else can I prep these potatoes?
You can make instant pot baked potatoes check out how here.
You can also cook the potatoes in the microwave, then crisp them up and add the toppings.
If you're only cooking 2 potatoes you can cook them in a skillet on the stove over medium heat, they will take a while, you can put them in the oven as well. I use a cast iron skillet as it goes from cooktop to oven easily, and stays nice and hot as you serve them.
This recipe also works great with leftover cooked potatoes, just slice and bake, add toppings and you're all set, sometimes planning out what you'll make with leftovers works out really well.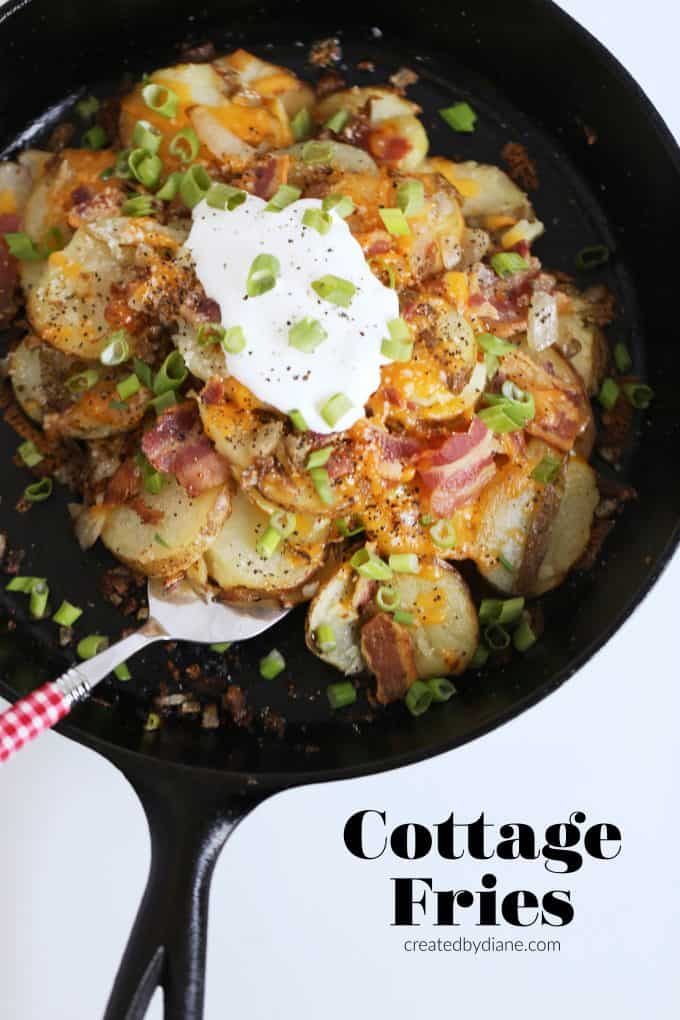 When will you serve these next, for breakfast, brunch, or dinner? The choice is yours!
Cottage Fries
Crispy potatoes are perfect for everything from a breakfast side dish to an appetizer that satisfies. Add on your favorite toppings.
Author:
Diane Schmidt, Created by Diane
Recipe type:
Main Dish, Side Dish
Ingredients
4-5 potatoes (1.5- 2 lbs)
1-2 tablespoons oil ( I use avocado oil)
1/4 teaspoon garlic powder
1/4 teaspoon onion powder,
salt and pepper
toppings
1 cup shredded cheddar cheese
4 slices cooked bacon
3 green onions
1/4 cup sour cream
Instructions
Preheat oven to 400°
Wash and slice the potatoes into 1/4" slices (most times I microwave the potatoes to cut down on the cooking time, for every 2 potatoes I microwave them 1 minute then I slice them).
Toss the potatoes in oil, line a baking sheet with the potatoes, or create layers in an oven-safe skillet.
Place into the oven and cook until the potatoes are tender about 30 minutes, turning them with a spatula for the last 10 minutes so both sides are crispy.
Remove from oven, pile on the cheese so it's layered in between the potatoes and it'll melt easily.
Top with cooked bacon, green onions, and sour cream.
Top it with any sauce you prefer, sriracha, hot sauce, or similar.