Chicken with potatoes, rosemary and blue cheese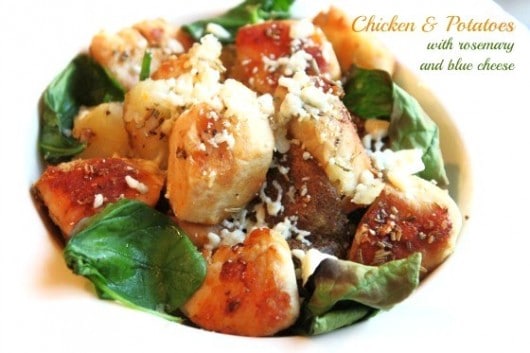 My husband asked, "what are you going to make for dinner?"
I don't even think it was 10 AM.
Really, I thought. What are you thinking about dinner for?
Did he think I wasn't going to make dinner?
I always make dinner! Really?!
I told him I have chicken in the fridge to make,  and I have lots of potatoes, so I will make something with them.
His response, "chicken and potatoes, don't go together. Chicken goes with rice"
I started laughing and told him oh well, I'll just have to come up with something with chicken and potatoes, because I ran out of rice the day before. So potatoes it was going to be.
Can you believe it?
He didn't think I could make a good dish out of chicken and potatoes.
Boy, was he wrong…
Chicken with potatoes, rosemary and blue cheese
Ingredients
4 boneless skinless chicken breasts
4 large potatoes (or 6 medium)
2 oz crumbled blue cheese
2 tablespoons dried rosemary
2 cloves garlic crushed
olive oil
2 tablespoons butter
salt and pepper
10-12 oz. fresh spinach
Instructions
Cut chicken into pieces about 1 inch squares,
Heat a tablespoon of oil with butter in frying pan and saute chicken until cooked and browned. Don't over crowd the pan, or it will steam instead of brown.
Microwave potatoes until tender, cut into chunks.
Toss potatoes into pan with chicken add crushed garlic, an additional tablespoon of oil with rosemary, salt and pepper. Heat all thoroughly then stir in fresh spinach. Toss until steam wilts spinach.
Place everything on a foil lined baking sheet, place blue cheese on top. Place under the broiler for 3-5 minutes until it's all crispy and blue cheese is melted.
The funnies part was at 6 PM I looked at he clock and thought UGH, really. I didn't even give dinner a second thought after this morning. So I quickly microwaved the potatoes and started cutting up the chicken without a plan as to the rest and I just LOVED that this dish came out so well.
He not only loved this dish he said it so many times that day and the next. I'll be sure to make this one again.
So much for chicken and rice being the perfect combination.
I just love to make my husband eat his words!