There is nothing better during the hot summer than this chilled shrimp and macaroni salad!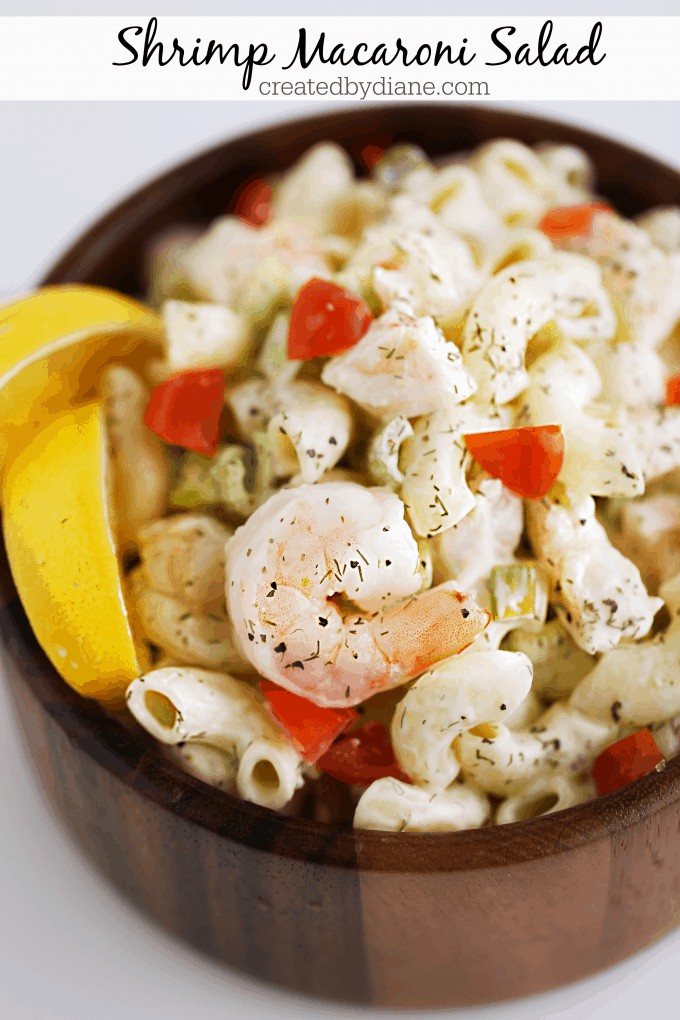 All summer long I make shrimp salad,
and thought I'd amp it up a bit and turn it into a delicious macaroni salad,
Macaroni Noodles are not all the same, some absorb more "sauce " than others,
some are smaller have a grooved texture that will absorb more, I used large elbows that are smooth and perfect for the creamy sauce. 
Fresh mayo is always best, it tastes great, it has a real smoothness add additional lemon juice to this recipe for a great fresh lemony flavor.
Hopefully, I have your appetite sufficiently activated! It's time to walk you through this simple yet mouth-watering dish!
For the pasta, cook according to package directions. Drain and rinse in cold water. Drizzle a little olive oil to keep the pasta from sticking to itself and mix.
With this recipe, you have the option to use fresh, frozen, raw, or fully cooked shrimp. If using frozen raw or cooked, allow thawing overnight in the fridge, or thaw in cold water, and rinse. For fresh or raw fish, simply steam them up in a skillet with water over medium heat until shrimp are cooked. Then place in cold water to stop the cooking process and chill the shrimp.
Blot shrimp dry with a paper towel and then slice shrimp in half, longways. You can, if you prefer, slice the shrimp into smaller pieces as well. Set aside.
Chop your celery and onion. Then mix them with the celery seed, Old Bay Seasoning, and mayo. Add in the lemon juice and stir until combined. If you're looking for the best mayo recipe, you really should try making your own! Click HERE for the recipe!
Finally, mix the shrimp and pasta into the sauce.
Serve chilled.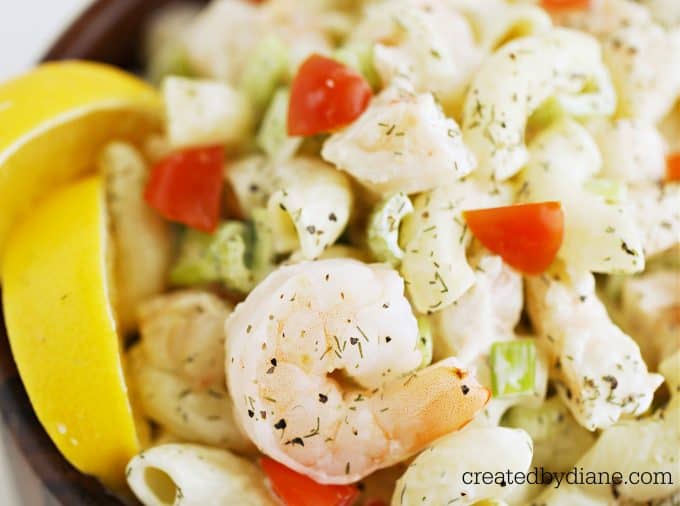 Do you have suggestions on cleaning fresh shrimp?
The shells of the shrimp should peel easily off by starting at the belly and pulling back. Once you've deshelled the shrimp, you need to devein them. Make a shallow cut along the back of the shrimp and with your knife, tease the vein out, and then pull with your fingers. Rinse your shrimp again. HERE is my post on deveining shrimp and another yummy shrimp recipe be sure to check it out.
I love the seasoning in this dish, but I do not like mayo, any tips for an alternative?
You might like my Sweet and Spicy Shrimp recipe! It has a bit of sriracha for heat and lemon for zest. It's absolutely delicious, and no mayo!
How do I know if the shrimp is fresh?
Raw shrimp should be firm, translucent, and with no odor.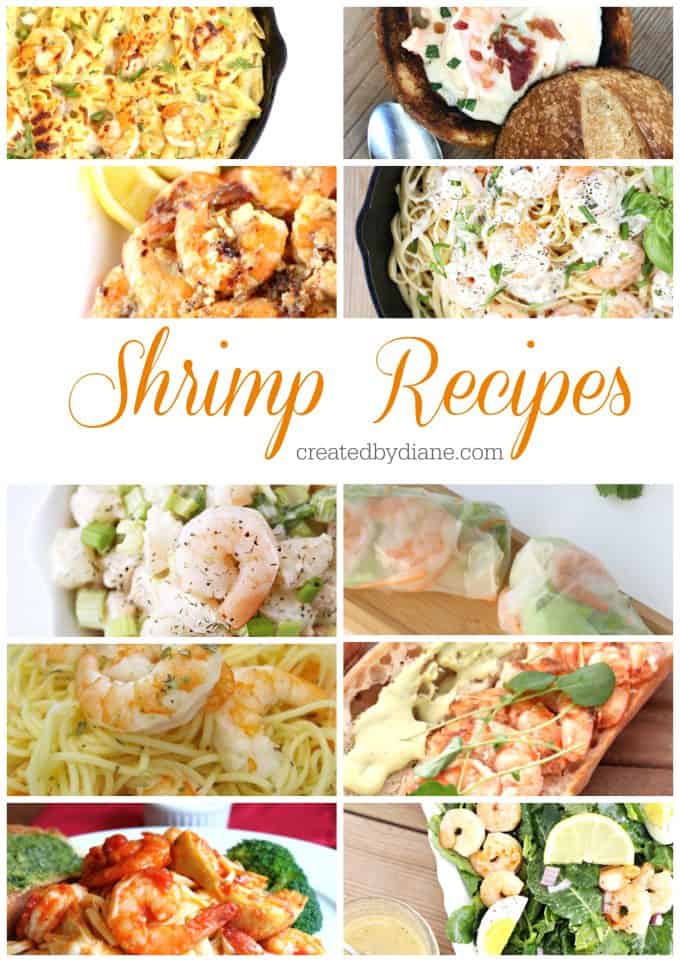 Creamy Shrimp and Pasta

– Definitely not low carb! But cooked in a cast-iron skillet and packed with the flavor of Romano and Bay Seasoning.

Shrimp Chowder

– Creamy and hearty, I love this dish on a rainy day – so comforting!

Garlic Butter Shrimp

– Need I say more? Garlic AND butter! Savory and definitely a dish made for seconds!

Creamy Lemon Shrimp Pasta- COMING SOON

Shrimp Salad

– you're on it!

Shrimp Spring Rolls

– Perfect snack or light meal at the end of a long day, served with a succulent Thai peanut sauce.

Shrimp Scampi

– A classic shrimp dish offering all the flavors you've grown to know and love

Shrimp Roll Sandwiches

– Lemon-Basil aioli with grilled shrimp on served up on rustic crunchy bread

Shrimp Fra Diavolo

– 30 minutes to a delicious marinara based pasta dish – delicious and great for a busy day!

Shrimp and Kale Salad

– Simple and nutrient-packed, yet doesn't skip out on flavor!
Shrimp Macaroni Salad
The perfect summer pasta salad filled with shrimp in a creamy sauce that will have everyone going back for seconds.
Author:
Diane Schmidt, Created by Diane
Recipe type:
Main Dish, Pasta, Shrimp
Ingredients
1/2 lb medium shrimp, raw, cooked, deveined unshelled (smaller shrimp can be used)
1/3 cup mayo, purchased or homemade
8 oz cooked macaroni noodles (or similar)
1 small celery stalk, sliced (about 1/4 cup)
1 green onion, sliced (about 2 tablespoons)
pinch celery seed
pinch old bay seasoning
salt and pepper to taste
1 lemon, juiced
Garnish with fresh lemon and diced grape tomato
options
add diced orange or yellow pepper
dill
Instructions
If using raw shrimp, steam shrimp in a skillet with water over medium heat until shrimp are cooked.
Place shrimp in cold water to stop cooking and chill shrimp.
If using precooked shrimp, thaw in cold water if frozen, or rinse if refrigerated.
Blot shrimp dry with a paper towel.
Slice shrimp in half, or smaller.
Mix mayo with celery, onion, celery seed, old bay seasoning
Add in the lemon juice.
Mix the shrimp and pasta into the sauce.
Serve chilled.