If you like the fresh delicious flavors of a Caprese salad, you will just LOVE this easy and delicious 30-minute meal.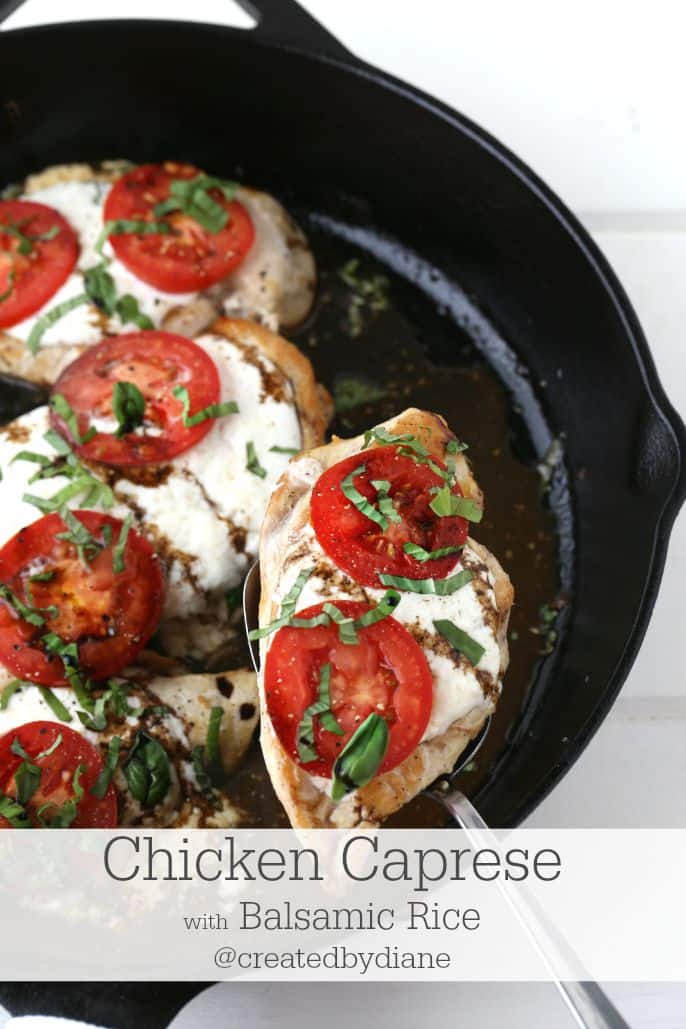 Chicken Caprese with Balsamic Rice
Pin this on Pinterest to save it for later!
Follow created by Diane on Pinterest to see more delicious recipes!
Just take a look at this beautiful dish.
You know it's going to taste amazing!
It's full of fresh ingredients.
This can be ready in 30 minutes which makes this recipe perfect anytime.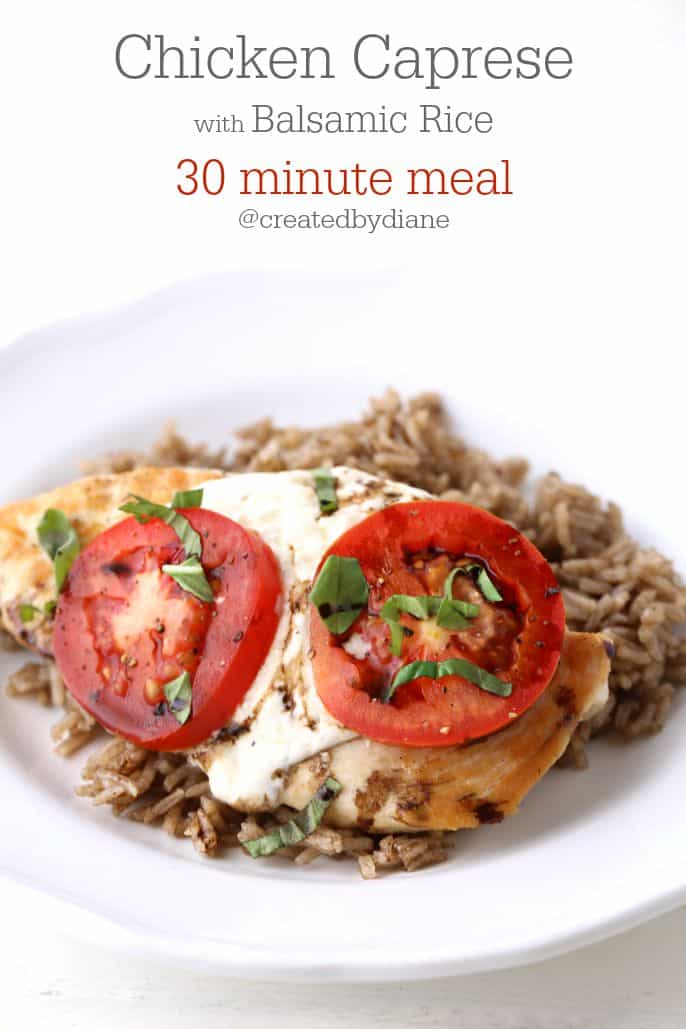 I just love meals like this, it's delicious and filling and full of fabulous flavor! This is the dinner your family will ask for again and again. Mine already has. Once you see how easy this is to make you will put it into your regular rotation of meals.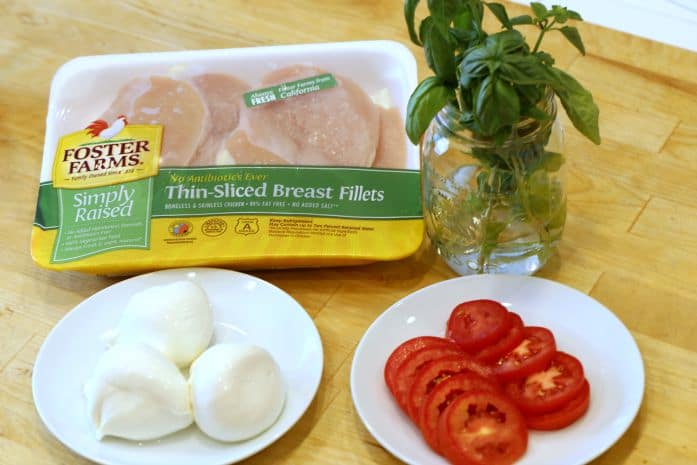 Delicious meals start with fresh ingredients!
Locally grown is a great choice. Knowing where the food we're eating comes from is important. The more local the food is, the less processed it needs to be. I try to purchase local products whenever possible. The basil came from my own backyard!
Foster Farms is grown in the West Coast and delivered to stores in 48 hours from the local ranches. Foster Farms fresh chicken products sold in California are locally grown in California.  All Foster farms fresh chicken products are American Humane Certified and their Simply Raised Chicken is raised without antibiotics. Max and Verda Foster founded the company in 1939 and raised turkeys right off their bedroom so Verda could keep a close eye on the eggs and chicks. Today, Foster Farms remains a family-owned company led by Max and Verda's grandson Ron Foster.
A simple recipe with Simply Raised Chicken is a perfect match, give it a try!
Thinly sliced chicken cooks up quickly. If you have chicken that is not thinly cut, filet each piece so they cook quickly and evenly.
I love cooking in a cast iron pan. The chicken browns nicely on both sides, the pan does not cool off after the chicken is added which helps seal in the juices so the chicken tastes great.
I used burrata mozzarella cheese, it's super creamy and delicious and I find the flavor irresistible.
Deliciously ripe tomatoes and fresh basil top this dish off so nicely, and don't forget the balsamic vinegar!
THIS is the skillet I use and love and I use it so much I have 3 of them and more in other sizes too, it's a kitchen must have.
Chicken Caprese
Ingredients
boneless skinless chicken breast (1 3/4 lb thin sliced Foster Farms Simply Raised)
mozzarella cheese (fresh mozzarella cheese is key, I used 3 balls of burrata)
tomato ( 2 Roma tomatoes)
basil (6 leaves of fresh basil sliced thinly)
salt and black pepper
balsamic vinegar
Instructions
Heat skillet and get it hot.
Place chicken in skillet and heat on one side until the edges are cooked.
Turn the chicken over and put a lid on the chicken until it reaches an internal temperature of 165 degrees.
Remove lid, add slices of fresh mozzarella cheese and tomato slices on top of each piece of chicken.
Place the lid back on for a minute or two until the cheese melts slightly.
Serve with fresh chopped basil salt and pepper to taste and a drizzle of balsamic vinegar.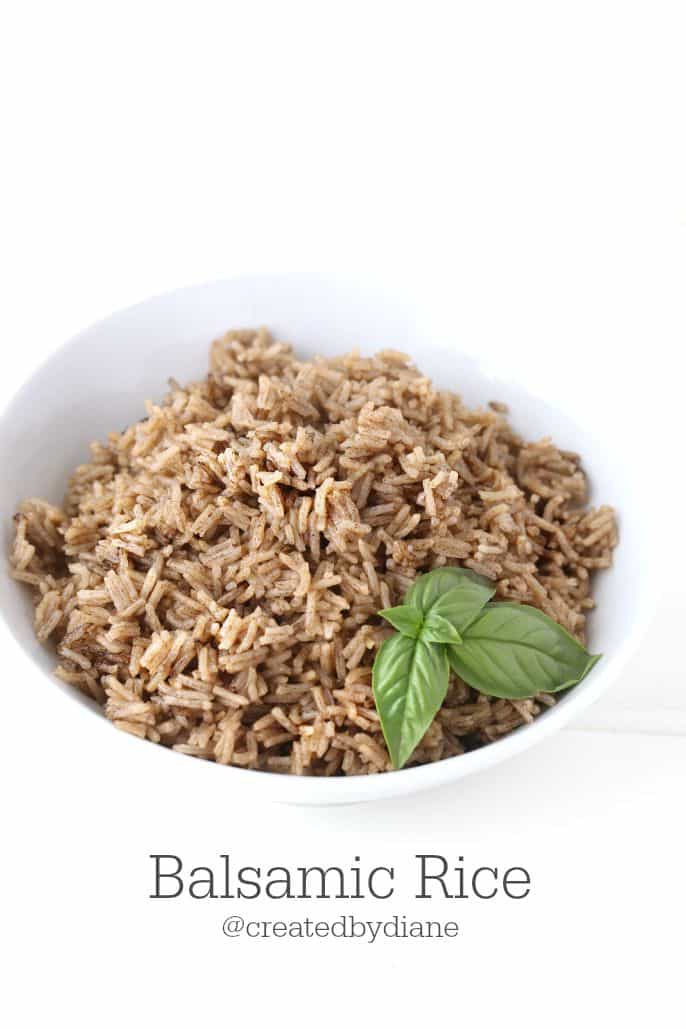 One of my favorite varieties of rice is Basmati and adding the delicious flavor of balsamic to one of my favorite varieties of rice is the perfect side dish to serve with the chicken caprese.
Balsamic Rice
Ingredients
1 3/4 cup water
1 cup basmati rice
3 tablespoons balsamic vinegar
2 tablespoons butter
1/2 teaspoon salt
Instructions
In a medium saucepan with lid bring water to a boil over high heat.
Add in rice, balsamic vinegar, butter, salt and stir.
Bring the water back to a boil over high heat, then turn on low heat for 20 minutes.
Take rice off of heat.
Let rest 5 minutes then fluff with a fork.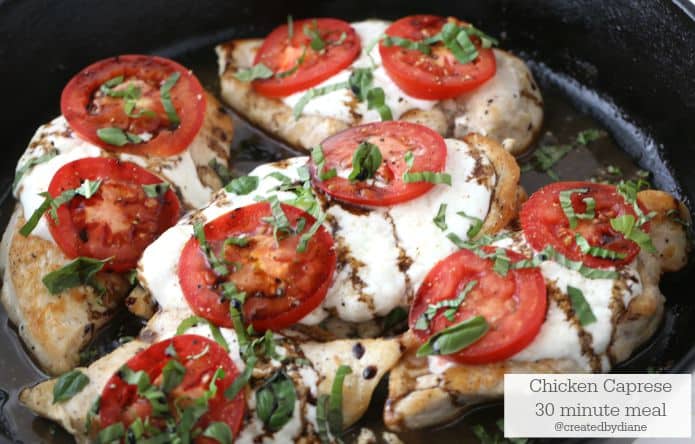 KICK up dinner time and serve this delicious dish you won't regret it, it's DELICIOUS.

This Chicken Caprese Recipe is sponsored by Foster Farms®. All opinions are my own.