Often there is something so satisfying about simple things, dinner, life…  don't you agree! These Pan-Seared Scallops are full of flavor, ready in minutes and use simple ingredients.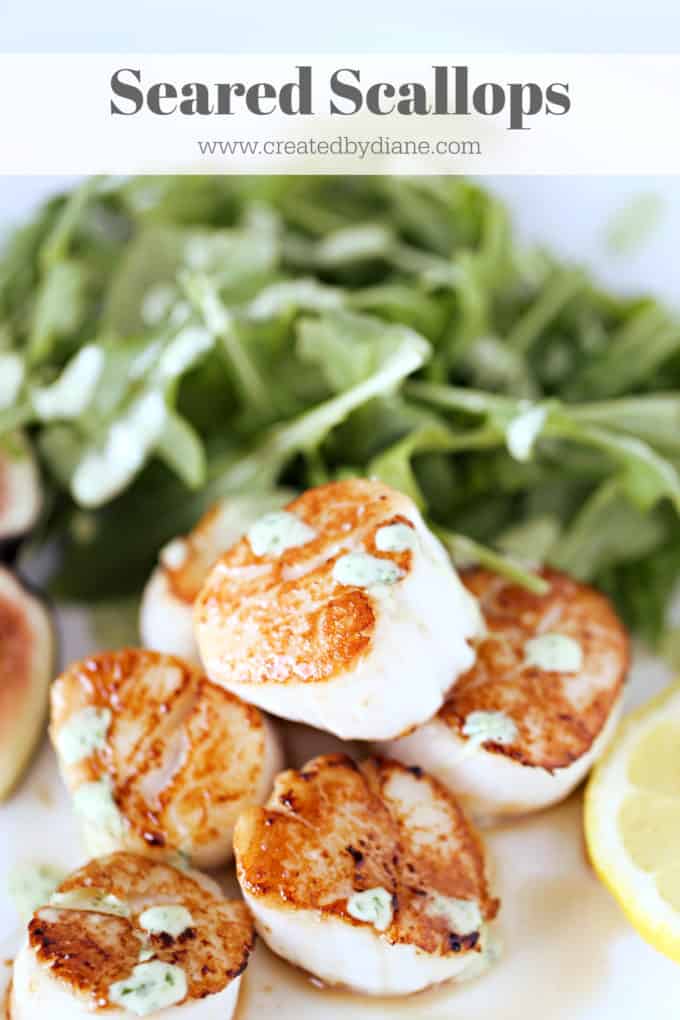 Pan-seared scallops are always a hit with me, I love how the outer edge gets a caramelized crust so easily.
I have always been a huge seafood fan and scallops always seem so FANCY, don't you agree?!?
These pan-seared scallops are drizzled with an easy creamy delicious lemon basil aioli sauce (that recipe is below also) and I love it all on a bed of arugula, it's green and peppery and couldn't be simpler. 
If you're a seafood fan like me don't miss seeing these other great seafood recipes I have:
Hawaiian Garlic Butter Shrimp – just like the delicious garlic shrimp on the food trucks in Hawaii (oh so delicious) now you can make it at home!
Creamy Shrimp and Pasta – Oh this is so creamy, cheesy, and delicious and a real crowd-pleaser. I served this for lunch and they wanted the recipe IMMEDIATELY, now that says it all.
What is the best way to sear scallops?
I sear the scallops in a cast iron skillet and I make certain that I heat the pan until it's smoking hot! Then add a touch of oil and butter and lay the scallops in the pan, not crowding them.
Once they have crusted on one side and easily release from the pan with a spatula, turn the scallops over and cook them on the other side, use a thermometer to test the internal temperature, and remove the pan from the fire and immediately take the scallops out of the pan. Add them to a plate of arugula… and then you'll add some of the delicious lemon basil aioli sauce and you'll have a delicious low carb meal that is full of great flavor.
And if you use cast iron as much as I do, I find this really helpful to clean the pan.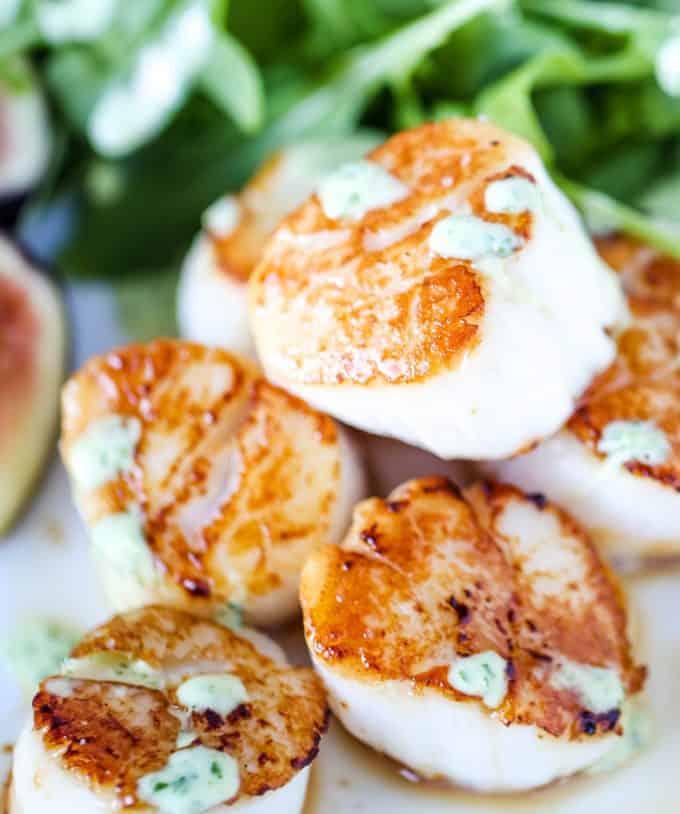 What is the best oil to use to cook scallops?
I use avocado oil, it has a high smoke point and tastes delicious no added flavor that you get from most olive oils and avocado oil is much healthier than vegetable oil.
Do I have to wash scallops before I cook them?

Rinse the scallops in cold water and blot them dry so there is no excess moisture, this will help the scallops crips up nicely when seared.
Do scallops reheat well once cooked?
Honestly, I don't really think that they do. They tend to change the texture a bit and can become a bit chewy. It's also difficult to heat them back up without overcooking them. So, with this information in your mind, it's better to eat them all up in one setting! They are good cold or slightly warmed but I wouldn't heat them thoroughly as you'll end up "cooking" them and they'll get tough.
How do I know when the scallops are cooked?
Use a thermometer is the BEST advice on cooking proteins. It ensures you will have them cook to the proper temperature without drying out the food. Scallops cook quickly and are cooked when the internal temperature reaches 130° I use THIS thermometer, I love it and it displays the temperature immediately… like faster than fast and has really improved cooking things to the correct temperature.
What do you serve with seared scallops?
Since scallops are so rich in flavor and in taste, pairing them up with a nice green leafy vegetable is always a nice contrast. I like salads but you can do broccoli or green beans as well.
Another good idea is to have some cooked rice to go along with your scallops. It's a great way to balance out the flavors and the rice can be a great compliment, too. I often serve rice and broccoli with scallops for a crowd-pleaser meal.
Are you ready to learn how to make this delicious seafood dish? It's so simple to get started!
Seared Scallops
Ingredients
1lb large scallops (sea scallops)
1 tablespoon oil (I use avocado oil, olive oil can also be used)
1/2 tablespoon butter
Lemon Basil Aioli (make the sauce first)
1/3 cup oil (avocado oil or vegetable oil)
1 egg yolk
1 tablespoon lemon juice
4 leaves basil, fresh
1 clove garlic, minced
1/4 teaspoon salt
Plating
4 cups Arugula
1 lemon, sliced into 4 pieces
Instructions
Make the sauce first:
I add the oil, egg yolk, lemon juice, basil, garlic, and salt to a tall jar, then use an immersion blender to blend the sauce smooth.
If you use a food processor or blender for the sauce, blend everything except oil, drizzle in oil as you blend it so the sauce thickens.
Pat scallops dry with a paper towel so they will crust well.
Heat the skillet on high until the pan is very hot. (I use a cast-iron skillet)
Add the oil and butter and place the scallops in the pan without crowding them (even if you have to make two batches)
After the scallops crust on one side turn the scallops over to cook on the other side, cook scallops until the internal temperature is 130°.
Then plate the scallops with arugula and drizzle the sauce over top. Add lemon and salt and pepper to taste.