A simple meal, that needs just a few ingredients… and is ready fast! Say hello to your new favorite comfort food!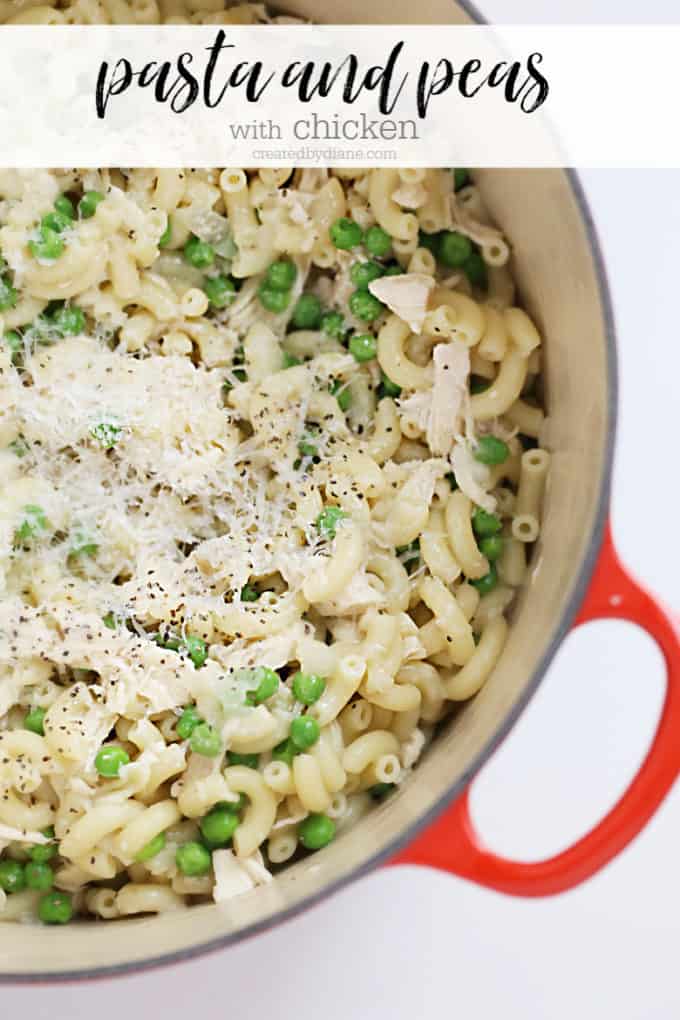 As you may already know… I love pasta and I'm happy to share this recipe with you…
Many years ago, long before I cooked dinner every single night. 
In my early 20's, I had a friend that was a great Italian cook. I've always been a foodie and could talk about it all day long. We both loved talking about food together. We worked together, and some days we'd bring lunch, some days we'd order out. We share what we brought and talk about our favorites and what we like making. 
She told me about pasta and peas… it sounded great, and easy which is what I liked most.
I went home that day and made it, and brought her some the next day to taste. She said I nailed it!
YAY!
I loved all the things she shared with me, I was happy to help her in other areas she was new to learning. She shared with me many of her favorites, I still make them today. I'm happy to be sharing this Pasta and Peas recipe with you today, with a few adjustments I've made over the years that I think make it even better.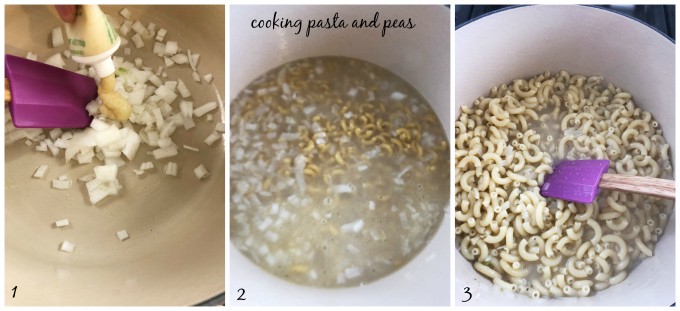 You'll start by sauteing the onion and garlic in a little oil.
Then you'll add the pasta and cover it with water.
And cook it until it's al dente
All the water won't be absorbed, this will create the sauce, the starchy pasta water will thicken as you add the remaining ingredients.
Add in the frozen peas, they will only take a minute or so to cook.
Then add some cooked chicken and Romano or Parmesan Cheese… so yummy!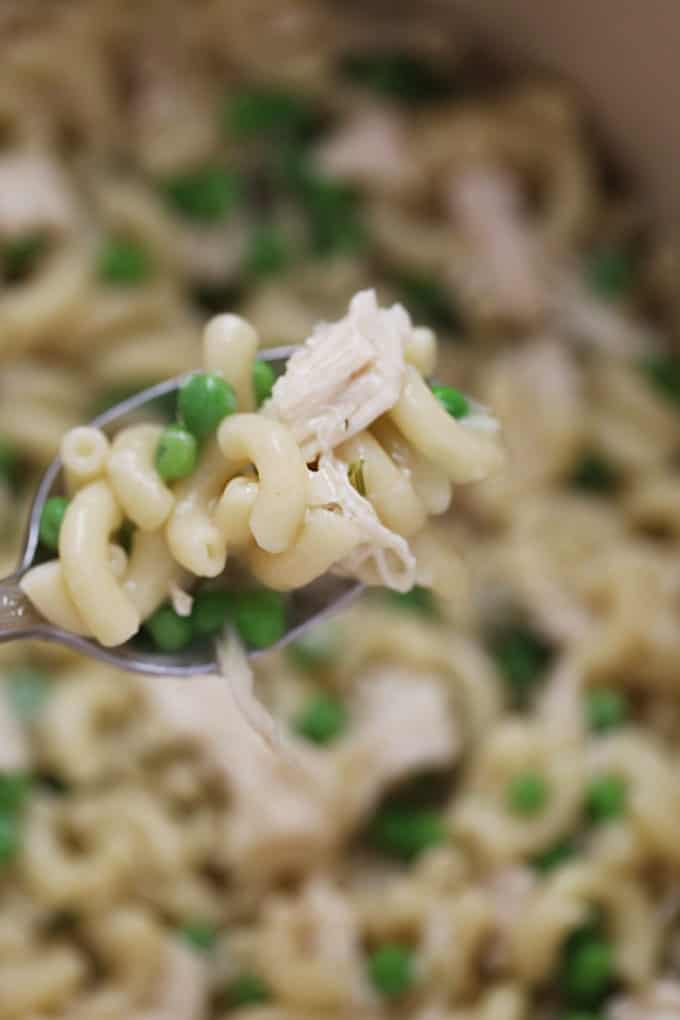 This dish is creamy without any cream… the sauce is simple, add more chicken bouillon if you want more chicken flavor added. 
Additional flavor options
Add in some crisp bacon for a great flavored dish you'll think about again and again. Add 6 pieces of crisp bacon crumbled to the dish before serving.
Add fresh mint for a fresh flavor, finely minced fresh mint and add it just before serving.
Add fresh diced tomato and basil for a great summer option, add two diced Roma tomatoes with 4 leaves of finely minced basil to the dish just before serving.
Add mushrooms, add 1 cup finely chopped mushrooms when you add the peas to this dish in lieu of chicken for a meatless meal or in addition to the chicken for a filling dinner.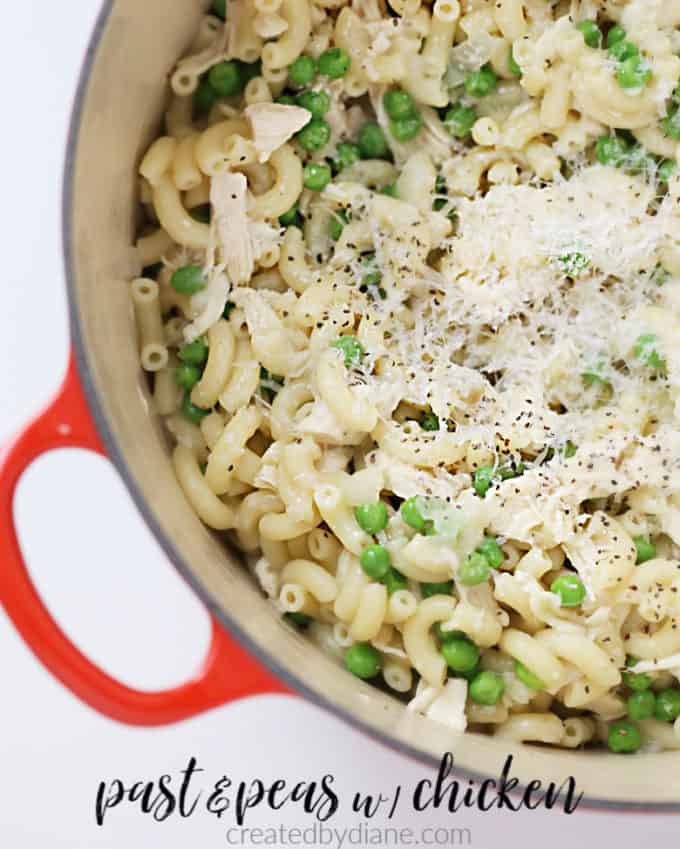 More pasta goodness:
Pasta and Peas
A one-pot meal that is flavorful and easy to make with minimal ingredients and has a lightly cheesy sauce, this recipe can be easily doubled or multiplied for more servings
Author:
Diane Schmidt Created by Diane
Ingredients
1/2 onion, diced (1/2 cup)
1 tablespoon garlic, paste or minced
1 tablespoon oil (avocado oil or olive oil)
8 oz small pasta (elbow or ditalini)
2 teaspoons chicken bouillon (or 5-6 cups chicken broth instead of water)
5-6 cups water (enough to completely cover pasta by 1/4")
2 cups frozen peas
1 lb cooked diced chicken
1- 2 oz fresh grated Romano Cheese (or Parmesan or a mix of both)
1/4 teaspoon crushed red pepper flakes
salt and pepper to taste
Instructions
*The pasta will cook in the water, but you won't drain it. The remaining water will thicken and become the sauce for this dish.
In a 4 or 5 quart pot, saute the onion and garlic in oil.
Depending on the size/shape of your pot, the shape of pasta, cover pasta with water by 1/4" and bring to a boil.
Add salt.
Cook until al dente (the package will indicate how long for the shape pasta you have) undercooking the pasta for a minute will work well in this recipe as you'll continue to cook the pasta to create the sauce.
Stir occasionally as it cooks so it doesn't stick to the bottom of the pan as it's cooking.
Add in the peas, crushed red pepper, chicken bouillon, and stir well.
Cook for 1 minute (the frozen peas will cook quickly, cover with a lid and remove from heat)
Add diced cooked chicken, cheese, salt and pepper to taste.
Stir the dish a few times, then serve.