There is something absolutely amazing about these simple peanut butter cookies and I can't wait to tell you what it is!   
Easy Peanut Butter Sandwich Cookies
Don't miss one delicious recipe and get my FREE e-cookbook click here!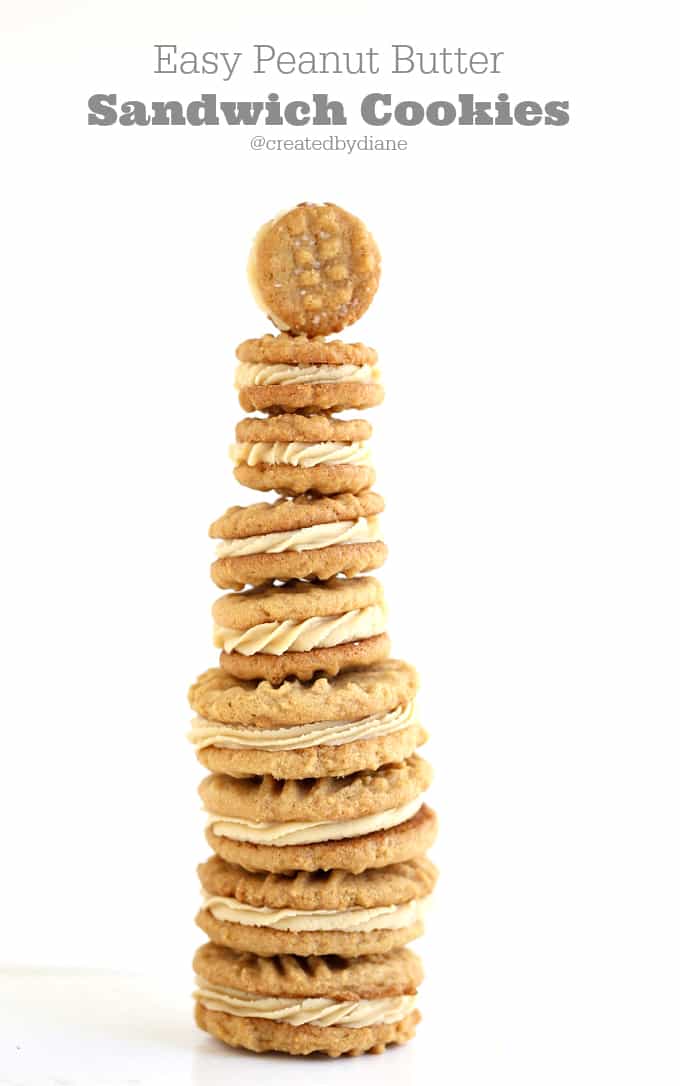 Now there are peanut butter cookies and there are PEANUT BUTTER COOKIES…
What's the difference?
Oh, so many things.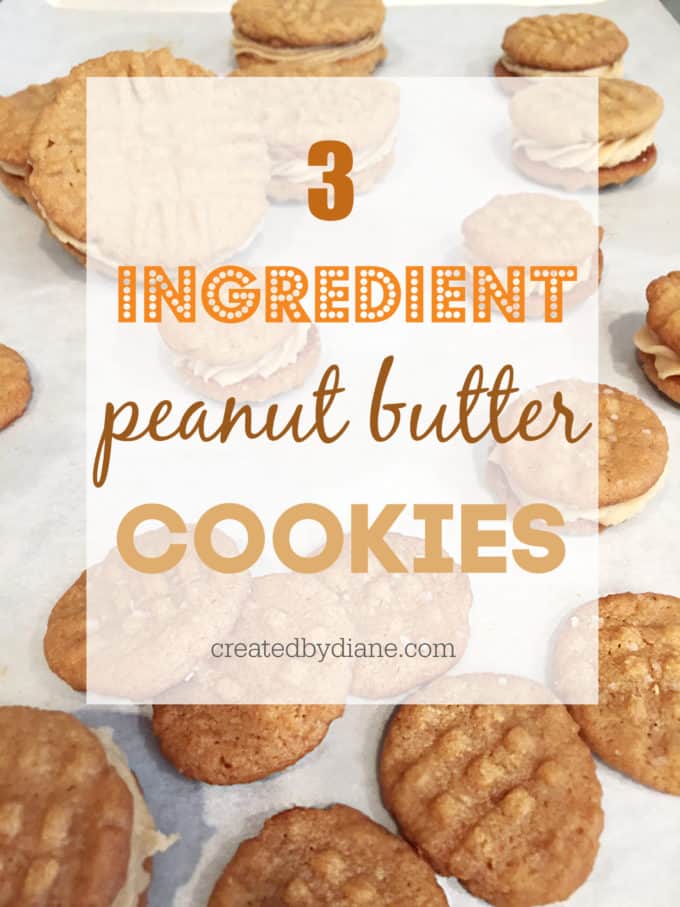 The cookies are made with 3 ingredients for starters.
Do you think you can guess what they are (without peeking)
I handed out these cookies to many and it was funny to hear all the ingredients everyone came up with except ONE.
The frosting is made with 4 ingredients and it's so yummy!
These truly are the easiest cookies to make and in no time you'll be enjoying them, filled or not… you choose.
You can make these cookies any size you like, they bake up quickly.
I made mini cookies about the size of a quarter. I scooped the dough and used about a teaspoon of dough, rolled it into a ball and then pressed a fork in the dough twice, crossing the marks to make a typical press into a peanut butter cookie. I used a tablespoon and two tablespoons for the larger cookies.
Now it's no surprise I like salty-sweet desserts and this is no exception.
Some people like their peanut butter cookies sprinkled with sugar,
me… I like salt. I use coarse kosher salt and they are irresistible!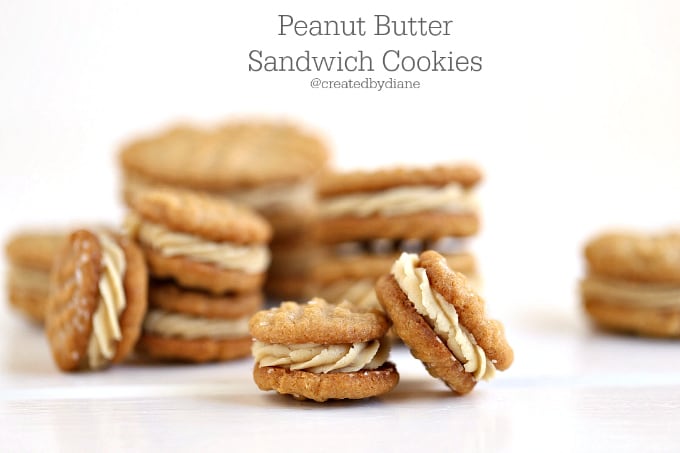 The filling on these cookies is peanut butter frosting, it's amazing!
It's easy to whip up and it only takes a couple of minutes to fill a piping bag with a star tip and add to the cookies to make sandwich cookies.
The ingredients you'll need for these cookies are
there is no flour in these cookies, which means you probably have the items you need to make these at all times!
Do these taste like cookies if there is no flour in them?
Yes, they taste just like cookies with flour. Peanut butter is amazing that way!
Are these cookies crunchy or chewy?
These cookies have a great crunch to them, but they are not dry. They bend some when broken in half so they are a great combination fo crunchy and chewy together.
What can I fill these cookies with to make them into sandwich cookies?
I have a recipe below for a peanut butter filling, you could easily use chocolate frosting, or chocolate ganache, or even a strawberry flavored buttercream frosting, or spread some jam in between these cookies to taste like a PBJ!
Easy Peanut Butter Sandwich Cookies
Ingredients
1 cup peanut butter
1 cup sugar
1 egg
Instructions
Beat the peanut butter with sugar, then add in the egg and mix on medium until completely combined.
Scoop out dough and place on parchment-lined baking sheets 2 inches apart.
Bake at 350 degrees for 7-10 minutes depending on the size you make. Do not overbake, they will firm up as they cool on the baking sheet.
*before baking cookies you can sprinkle them with coarse kosher salt for a salty-sweet version or sugar if you prefer.
Notes
2 tablespoon-sized scoop makes 18 cookies.
This recipes can easily be multiplied to make more cookies.
peanut butter frosting
Ingredients
1/2 cup butter (room temperature)
1/2 cup peanut butter
3 1/2 cups powdered sugar
2 tablespoons heavy cream (milk can be substituted)
Instructions
Beat butter until fluffy, mix in peanut butter.
Add in powdered sugar and heavy cream and start on low and once combines whip on medium-high for about a minute until mixed well.
Place frosting in a piping bag fitted with a star tip and apply frosting to completely cooled cookies to make them into sandwich cookies.
Place cookies in the fridge to firm up the frosting for 20 minutes.
Store in the fridge if it's summer and warm in the kitchen as the frosting will get soft.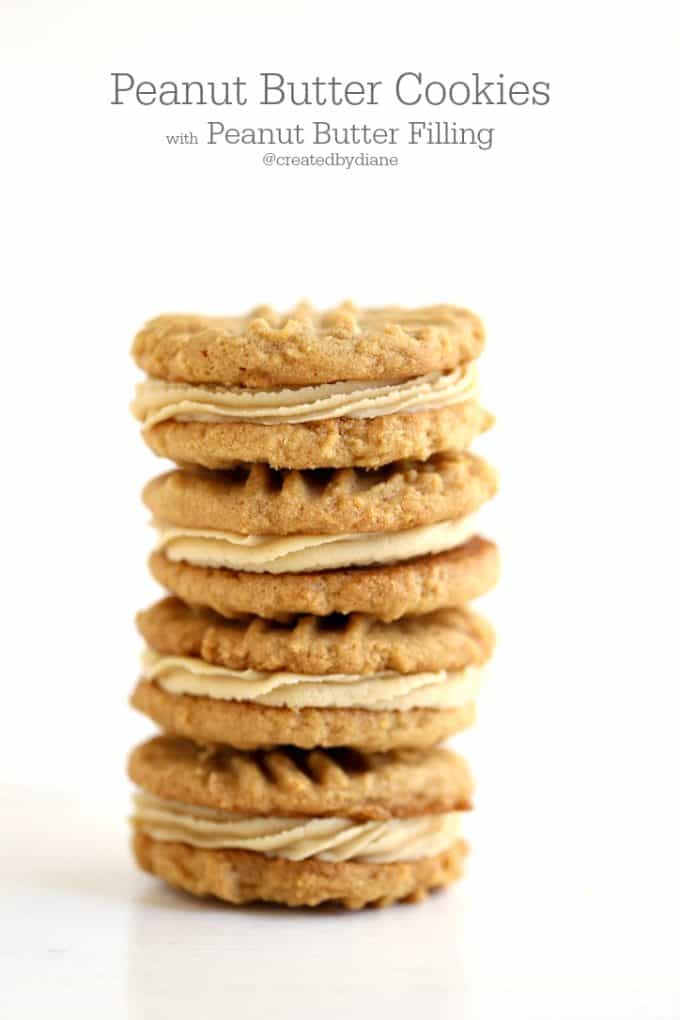 There is no need to tell everyone you pass these out to how easy they are…. let them think you slaved over them all day. It'll be our little secret!