Having easy and delicious appetizer recipes that can be made in minutes is key. These Rum Raisin Goat Cheese Bites can be baked or fried, and will be ready for your party in minutes.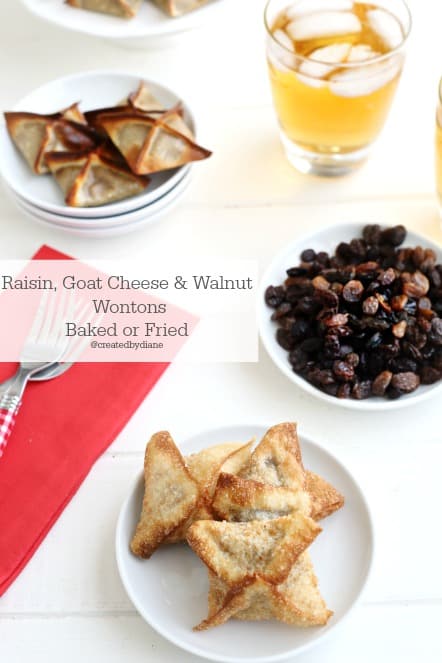 I love when there are options,
not too man!
But I'm pretty decisive.
I either love it or hate it, most everything is black and white with me. There is not a whole lot of grey area going on over here.
When it comes to baked or fried on these appetizers, it was a tough call. I had no favorite, I really liked them both. They were both crispy and had great flavor, both batches took about 10 minutes for each to cook.
Not being decisive here, was ok. I decided to share both options with you, since clearly it was a tie!
With the Holidays upon us, it really is great to have an appetizer that can be made and served hot quickly.  These rum raisin goat cheese bites are sweet and savory in every bite, the perfect party food! California raisins are naturally sweet, which is just perfect for this recipe especially since there are so many other sweets lying around this time of year.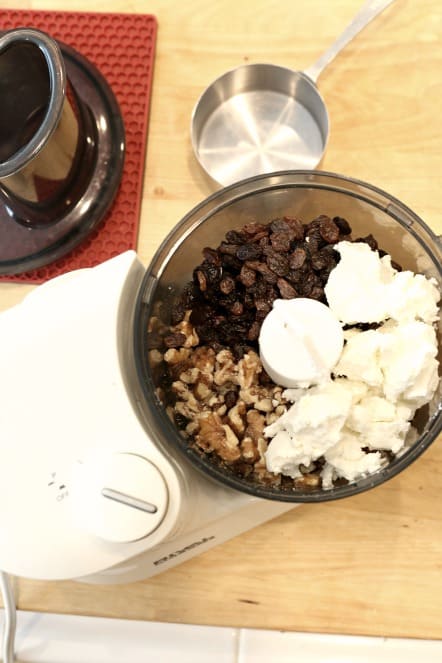 This recipe is easily made using a food processor. It makes everything into a paste which makes filling the wonton wrappers easy.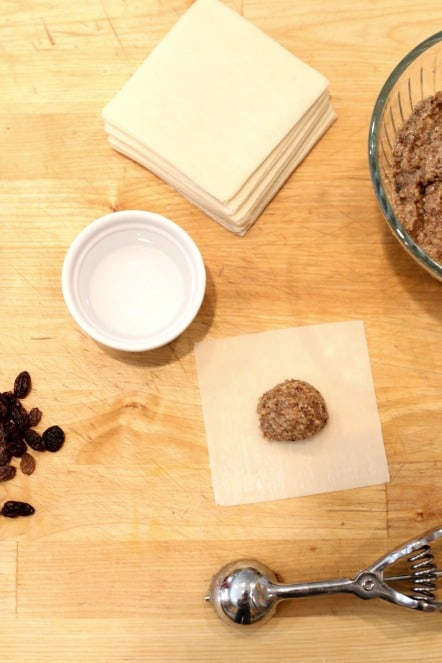 Once everything is processed, get your wonton wrappers ready and you'll need a small dish of water to seal the edges.
I used a 1 tablespoon size scoop to portions out the filling, this sure made filling all them go quickly.
Place the filling into the center of each wrapper, with your finger dip it into the water and around the edges of the wrapper.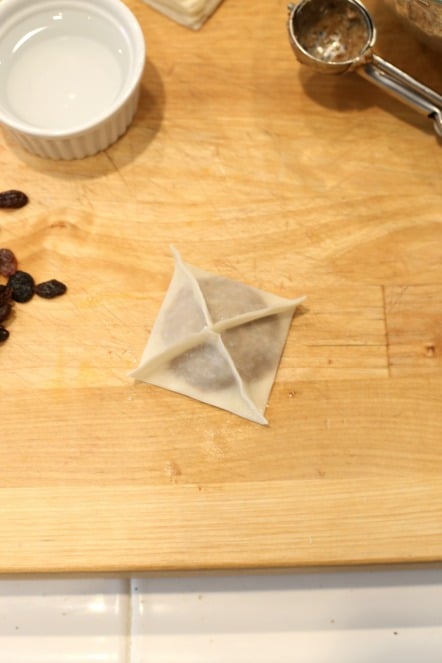 Bring the corners to the center while lining up the edges so they create a square, they will have an x pattern in them.
Be sure all the edges are sealed well, so the filling does not come out while cooking them.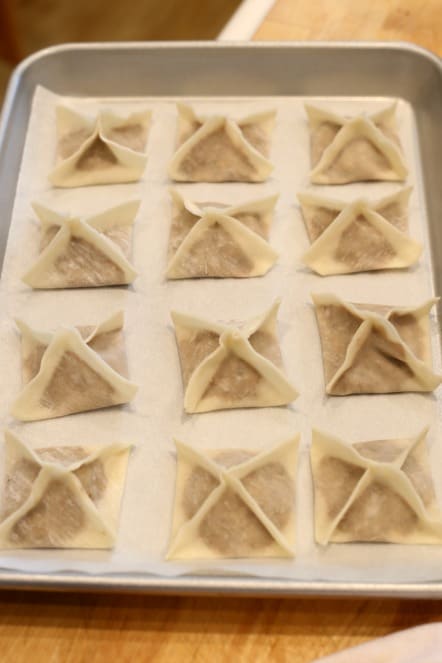 Baked or Fried….
these were equally delicious baked or fried.
This recipe makes 24 wontons.
I baked 12 and fried the other 12.
Each took about 10 minutes.
I baked them on a parchment lined baking sheet.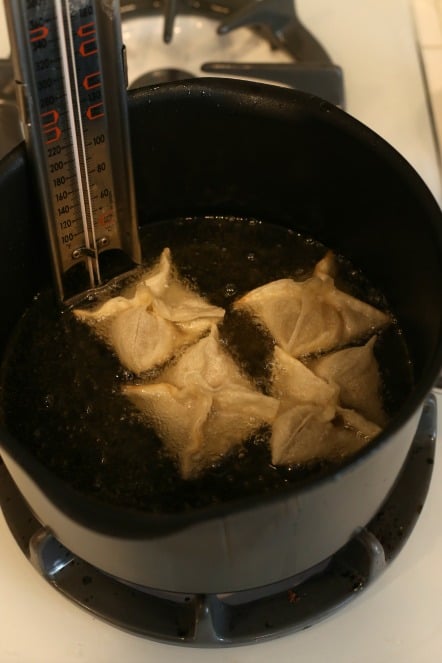 The appetizers I fried, I did in small batches, they only take minutes to get golden brown.
Rum Raisin Goat Cheese Bites
Ingredients
1 cup California Raisins
1 cup walnuts
4 oz goat cheese
1 oz rum (or 1/2 teaspoon rumor vanilla extract and two tablespoons water)
1/4 teaspoon salt
24 wonton wrappers
Instructions
Place raisins, walnuts, goat cheese and rum and salt into food processor and mix until fairly smooth.
Place 1 tablespoon of mixture into the center of each wonton wrapper
dip your finger into a small dish of water, then along each edge of the wrapper
fold the corners together in the center with the sides aligning so it creates a square
press all sides so they are sealed
place on a parchment lined baking sheet and bake at 425 for 8-10 minutes (you can spray the tops of the wontons with and oil spray before baking or lightly brush them with oil when they are finished baking if they look floury and you want them shinier like I did)
Alternatively you can heat oil to 350 degrees and fry the wontons until lightly golden.
then drain on a paper towel
The flavor of the raisins ads a great sweetness and smoothness to the filling.
I love when flavors compliment each other and the goat cheese is so great with the flavor of the raisins. You could use feta cheese as an alternative. The walnuts add a rich depth of flavor.
I'm partnering with California Raisins to bring you this recipe. All opinions are my own.