It's no secret I love indulging on tasty appetizers and these Salmon Egg Rolls are perfect for indulging.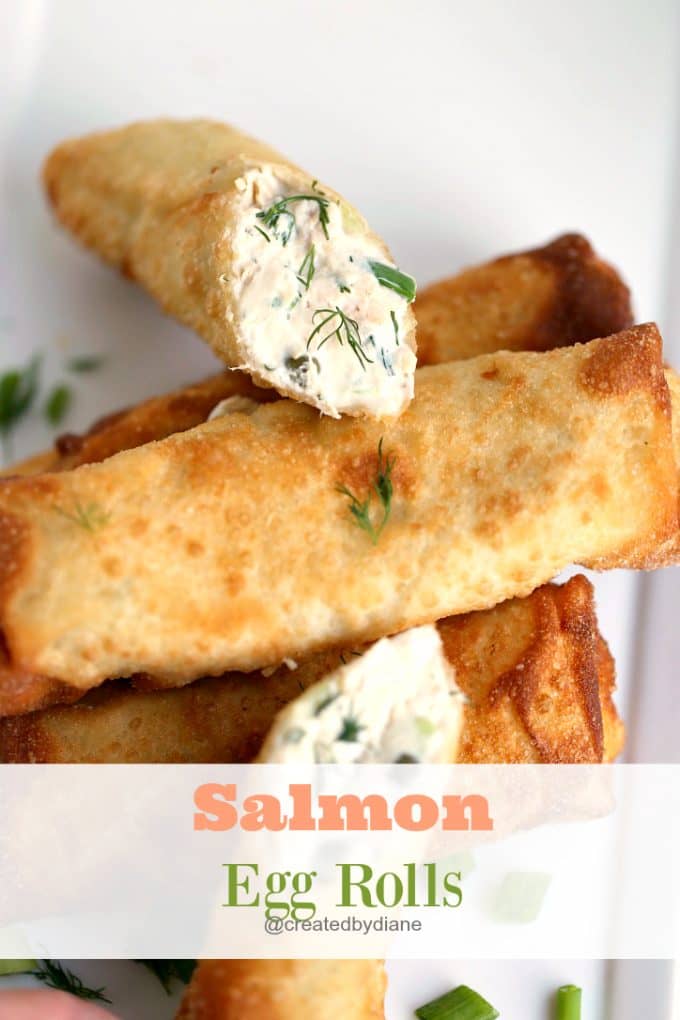 I often think I could make a whole MEAL out of them.
Please tell me I'm not alone?!?
These have such a fun and yummy flavor combo,
these are creamy, tangy and oh my… the green onions and fresh DILL really sent these over the TOP.
I just love dill, have you tried my Dill Pickle Seasoning Mix, oh it's so good on so many things, tangy and tasty and quite irresistible!
I also have a great pasta dish with fresh dill and you can make the dish with tuna or chicken Lemon Dill Tuna Pasta Salad, it's become a huge favorite around here.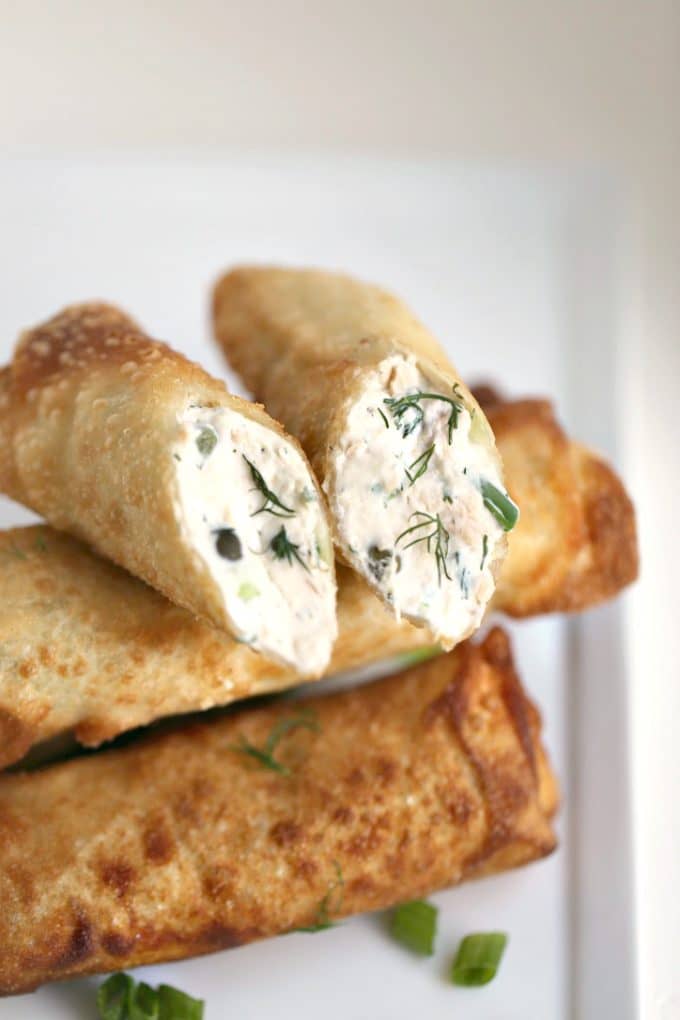 Egg Rolls are easy to make and can be whipped up quick and I find I make them a lot late Saturday afternoons after being so busy all day. But when it's not nearly time to make dinner or maybe it's a couple of hours before going out to eat, these are just great for those and many other times!
This filling would be good to heat up in a skillet and dunk chips into also if you aren't into wrapping and frying egg rolls and the filling would also be yummy filling into wonton wrappers, they would be smaller servings if you wanted to make a whole bunch of them.
If you want to see photos on how I wrap egg rolls take a look at these Corned Beef and Cabbage Egg Rolls. And don't wait until March rolls around to enjoy those with Corned Beef, they sell it already cooked in the deli.
Let's see I also have two more egg roll posts you may enjoy, Avocado and Chipotle Egg Rolls and Texas Egg Rolls with Jalapenos, oh I love jalapenos! Don't be afraid if you don't like them spicy, just pre-cook the jalapenos and remove most of the seeds for great flavor but not too overly spicy.
The next time you are cooking up some salmon, be sure to make an extra piece so you can make these, or you can use canned salmon. Just drain the canned salmon, be sure to take the bones out and you're all set you can enjoy Salmon Egg Rolls ANYTIME!
Salmon Egg Rolls
Ingredients
8 egg roll wrappers
1-8 oz package whipped cream cheese
11 oz salmon, canned or fresh cooked
2 tablespoons fresh lemon juice
2 tablespoons fresh chopped dill
2 tablespoons capers
4 scallions diced
Instructions
In a medium bowl mix whipped cream with salmon, lemon juice, dill, capers and green onions.
Add about 1/4 cup to each egg roll wrapper and fold and wrap with water on the edges so the filling doesn't seep out.
Heat 3 cups oil to 350 degrees in a two-quart pot.
add two egg rolls to hot oil and cook until deep golden and crisp,
drain egg rolls on paper towels when you carefully remove them from the oil and then add two more to the oil until they are all cooked.
Be sure to click here to get my delicious recipes and FREE e-cookbook to make with a cole slaw pack!