Imagine your favorite pie, baked in the CUTEST mini version. This post will show you how to bake mini pies in mason jar lids.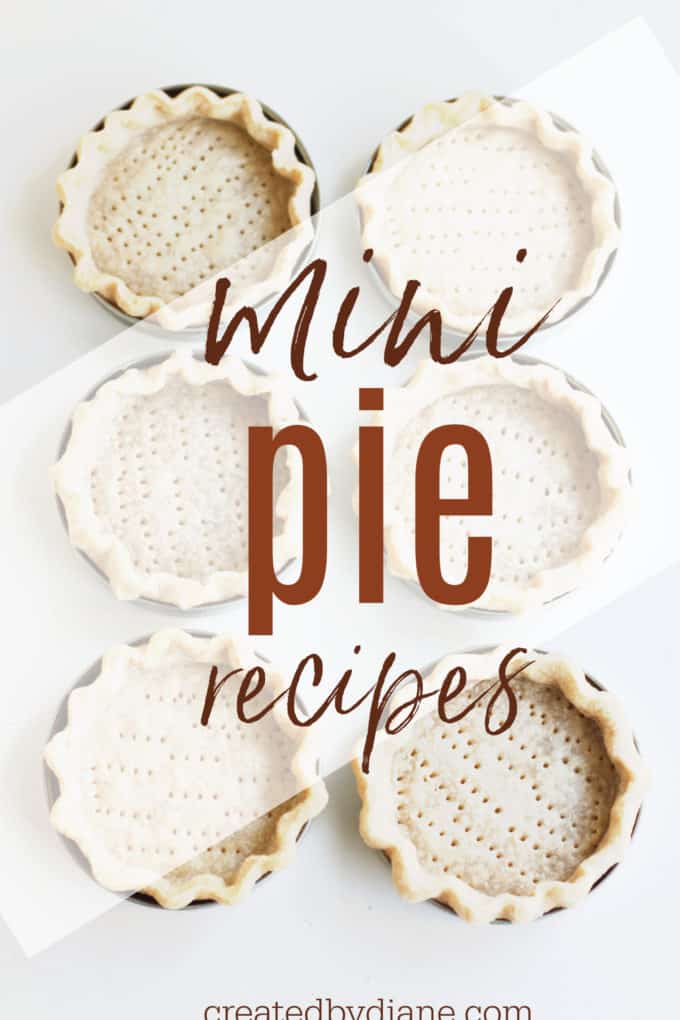 Mason Jar Lid Pies
Don't miss one delicious recipe and get my FREE e-cookbook click here!
I use Mason Jars for so many things,
but I haven't canned one thing yet.
I have one with holes drilled on the top I use to shake flour onto my work surface,
which I use for pie crust and pizza dough.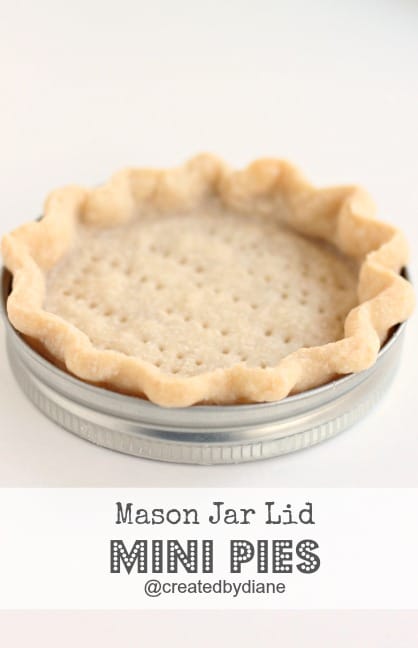 I LOVE mason jars and use them for everything, isn't THIS the cutest, and THIS and THESE,
See more of my FAVORITES HERE and my FOODIE FAVORITES HERE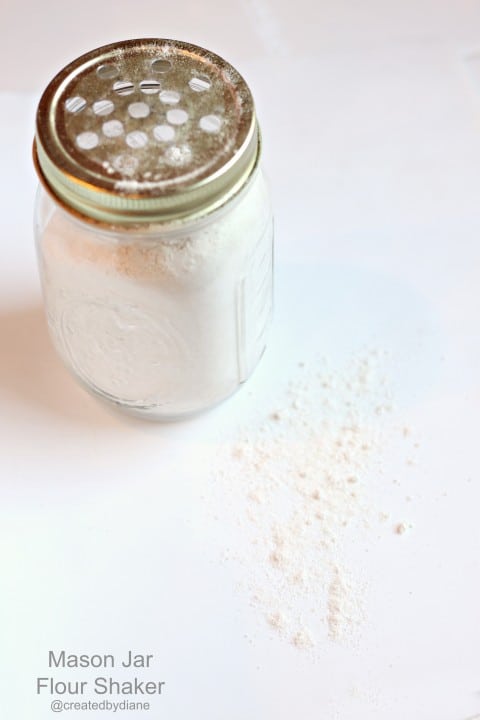 Don't miss one delicious recipe and get my FREE e-cookbook click here!
and I love baking mini pies in the LIDS
they are a great size,
and the pies come out of the tins easily,
by pressing up on the bottom of the pie, the flat lid releases from the ring
oh the possibilities of pies you can make in these
FIRST start with this Easy Pie Crust recipe you make in the food processor, (makes 12 mini pies)
Most stores that sell glass canning jars sell lid and ring sets separately also (Wide Mouth-replacement sets) so I found it easy to pick up a pack of those and have them all ready to go anytime I want pie!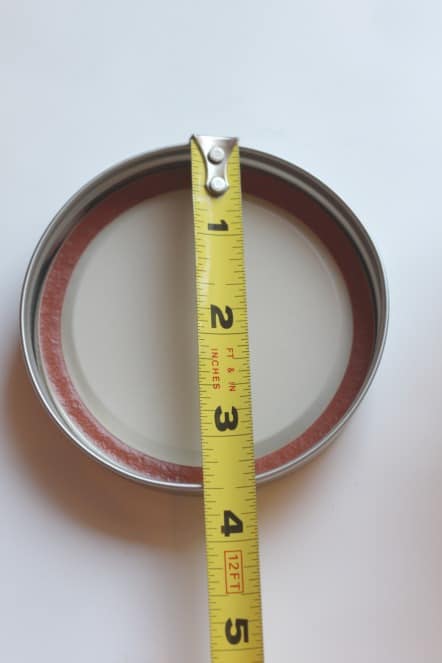 The wide mouth lids measure about 3 1/2 "
to cut the pie crust to have enough edge to make them look pretty, you'll need something that is 1 inch larger. Take a look around maybe you have a 4 1.2 inch round cookie cutter or a bowl.
(if you can't find one, you can do what I do when I don't have a cookie cutter I need, I make one. Out of the thin plastic cutting boards. Take a look here at My Giant Gingerbread boy)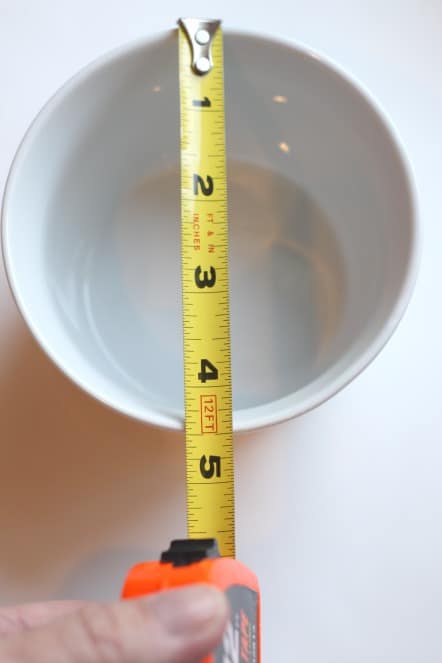 I have a bowl that is 4 1/2 inches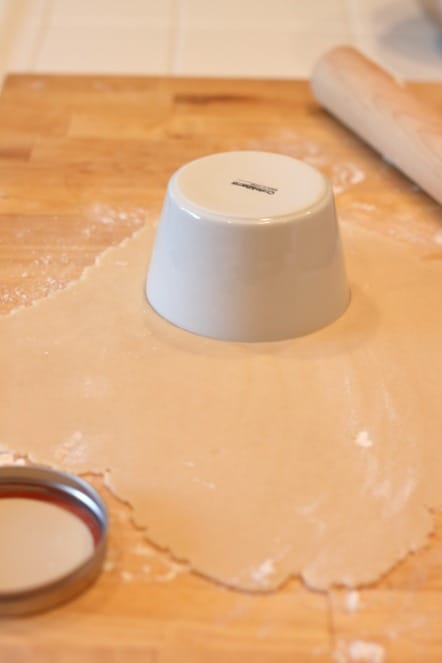 I roll out my dough and turn the bowl upside down and press down to cut the dough.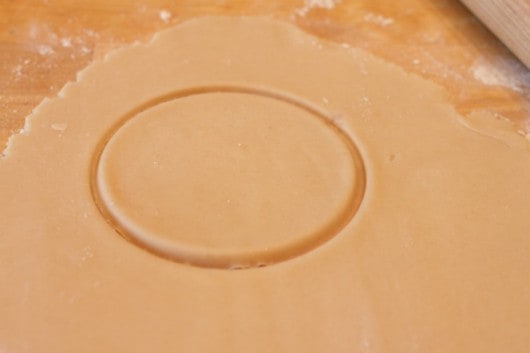 Then I use a small spatula to lift the dough up to place it into the lids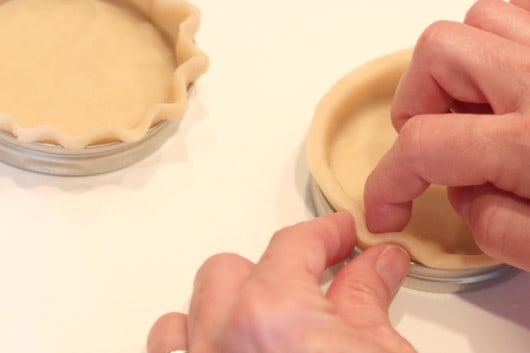 To flute the edge of the pie crust press two fingers on the outside and one finger on the inside to create a pretty scallop.
Bake the crust until lightly golden or lighter if you will be putting the pies back into the oven again. ( I put them on a cookie sheet to bake them usually, but have placed them in the oven directly on a rack with great results too)
375 degrees for 10-12 minutes, for a more golden and crisp pie crust that won't be baked again 400 degrees for 10 minutes will result in a nice light golden color.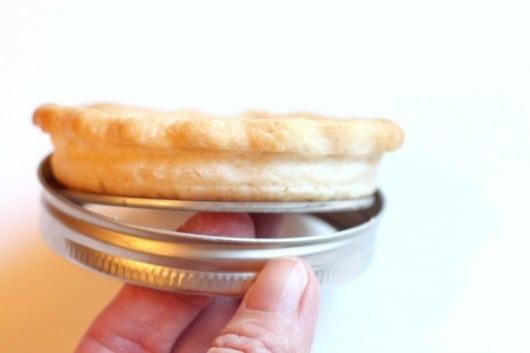 Just press up on the bottom of the pies and the lid will release from the rim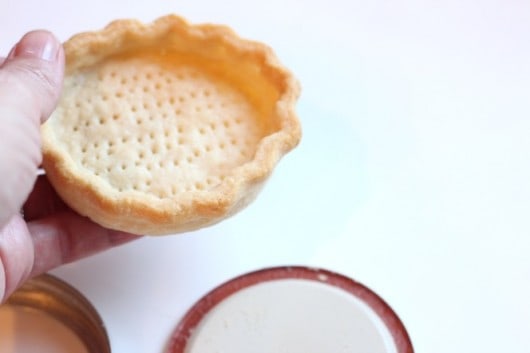 (I have baked many of these pies and now I make sure that the red ring is not in contact with the dough) Nothing happened when I did bake with the red ring touching the dough, I just think after repeated use there may be an issue, so I would suggest baking them with the red ring not touching the pie dough.
You can fill these with anything you'd like, sweet or savory!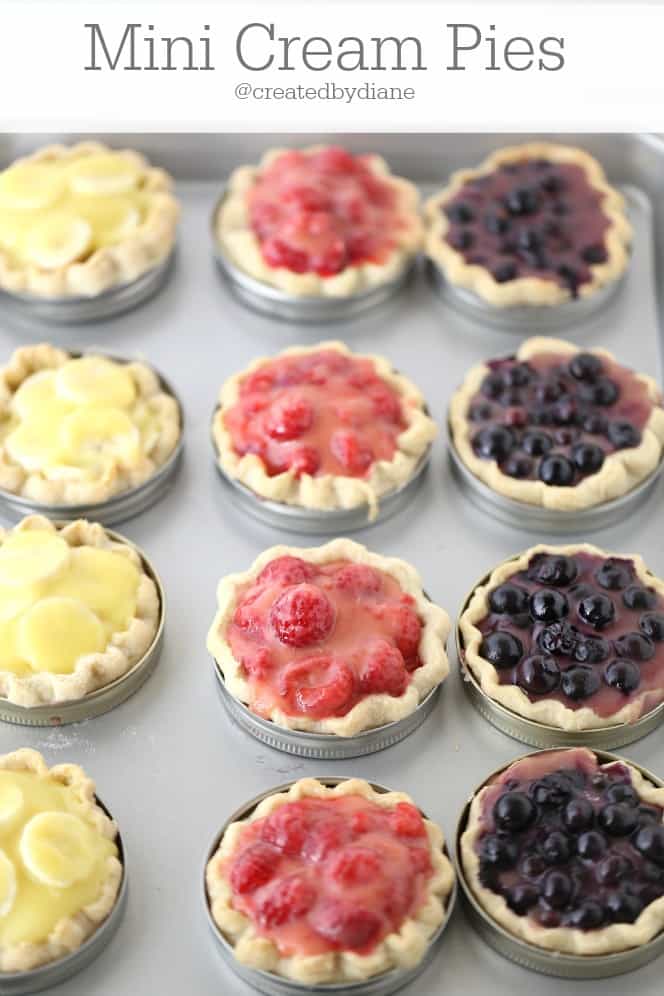 HERE you will find my Mason Jar Lid MINI Cream Fruit PIES
Creamy fruit pies BANANA, RASPBERRY, BLUEBERRY (or trade out your favorite fruit!
These mini pies are PERFECT for get-togethers, holidays, parties or for a simple dessert anytime!
I just LOVE pie!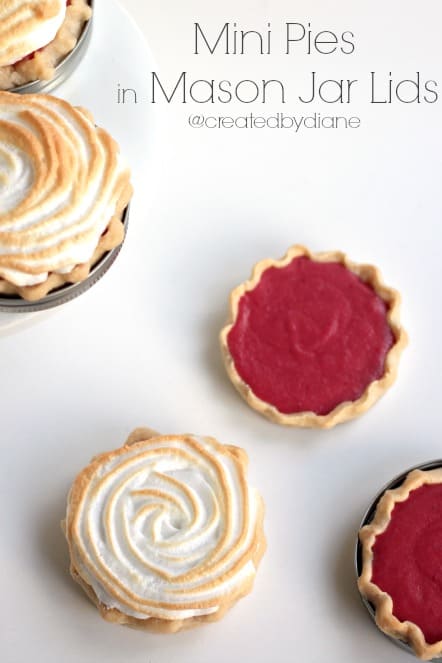 Here is my post on Mini Cranberry Lemon Meringue Pies tangy and sweet and topped with meringue!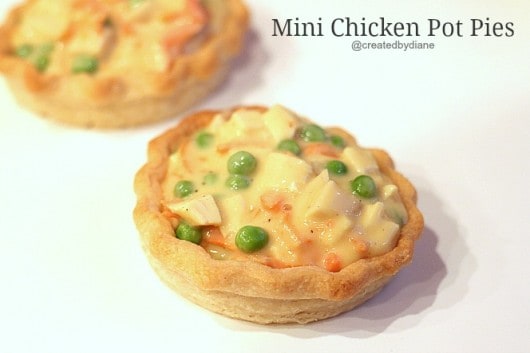 I heated up some leftover chicken with some peas and grated carrot and made a thick chicken sauce (chicken gravy, butter and flour heated, then add some chicken bouillon and milk or water for an easy gravy/sauce), and piled it into the baked shells, so it's not exactly chicken pot pie, but everyone loved this quick simple dinner.
I'll be making single serving chicken pot pies again and by request will be making them with a double crust (top crust).
RECAP: here are the links to the recipes again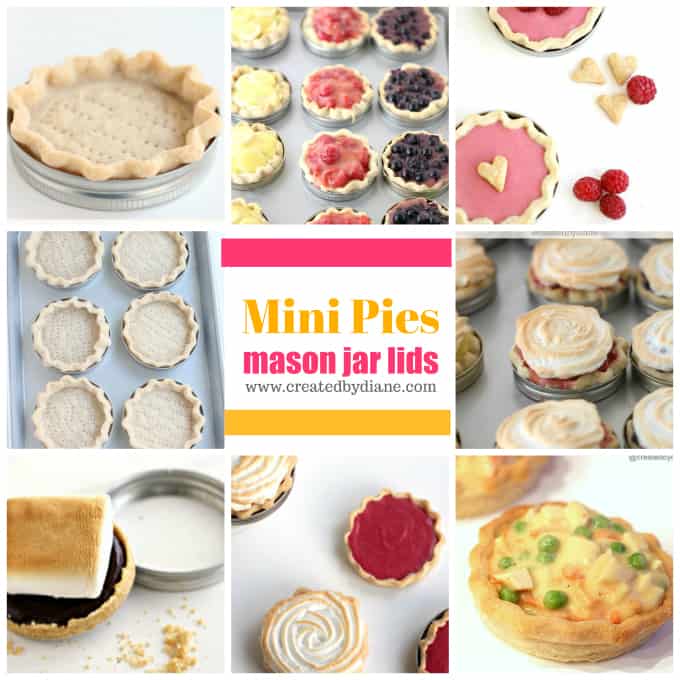 Don't miss one delicious recipe and get my FREE e-cookbook click here!