Avocado-Lime Cookies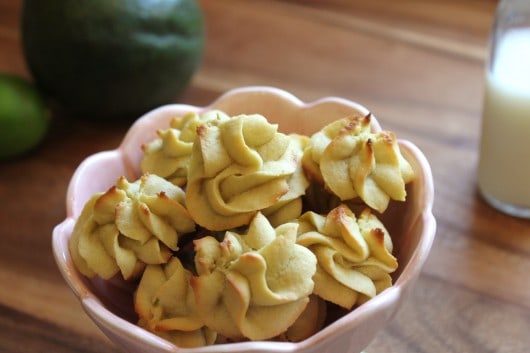 Avocado and lime is such a great flavor combination that I thought about what it would be like in a nice tea type of cookie. I searched and found a recipe that I like and adapted it, mainly because I'm impatient and didn't want to take the time to figure out the measurement conversions. I feel like I've already been brushing up on my math skills helping my kids with homework.
I used a Reed Avocado that I received from @MimiDelanoHoltz she gave me some wonderful California Avocados when we met for lunch last week. I couldn't wait to use them in a fun recipe. They were so large they looked like grapefruit! She said she had just picked them and that they would be ripe in about a week, she was right. I have been enjoying them so much. Since they were so large I only needed 1/2 of the avocado. Mimi's family has 100-acre avocado ranch nearby and they ship their avocados so if you would like some wonderful avocados to be sure to check out their site California Avocados Direct, they even ship these beauties!
Avocado-Lime Cookies Recipe
3/4 cup ripe California Avocado
1/2 cup butter
4 oz. cream cheese
1 cup powdered sugar
2 Tablespoons fresh lime juice
1 tsp vanilla
2 cups flour
1/2 teaspoons baking powder
Mix avocado, butter, cream cheese, and sugar until smooth. Add lime, vanilla, baking powder, and flour blend thoroughly. Place in piping bag fitted with a 1M or 2D tip. (star shape) pipe cookies on parchment lined cookie sheet. Bake at 375 degrees for 12-15 minutes.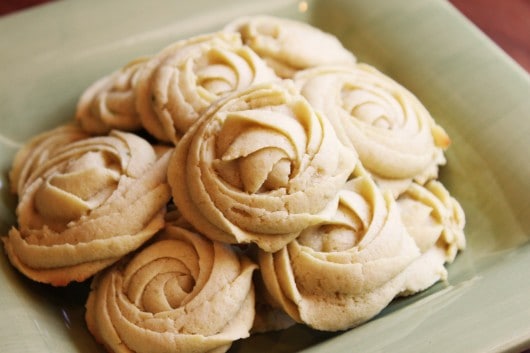 I swirled some of the cookies into rose shapes with the 2D tip.
Salty and Sweet?
I even salted some with coarse salt and LOVED them.
I like my margaritas salted and found out I like my Avocado-Lime Cookies salted too.
It was like the salt on a pretzel. A nice compliment. I salted them when they were right out of the oven, so the salt stuck to them. If you like your treats with a salty flair, give it a try.
I adapted this recipe from Anncoo Journal