grilled cake and pineapple, with toasted coconut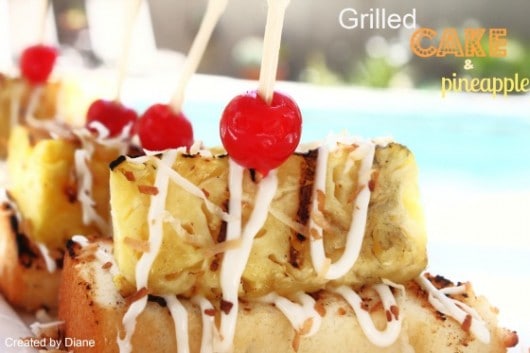 Grilled cake?
Yes, I couldn't resist grilling cake, really and it was delicious.
I loved the toasted taste and the crispy edges, and so I piled on grilled pineapple and this easy and wonderful sauce, oh and then it was topped off with toasted coconut and a cherry.
Really, you can't go wrong with a cherry on top, can you?
Sam's Club asked me "Will it Grill?"
I walked the Aisles of the store wondering what I could come up with to grill that maybe you don't see everyday. I had a few ideas along the way, but once I saw the Angel Food Cake I knew… I'm going to grill cake and fruit and put that delicious cheesecake dip I've made for years on it and I dress it up like a sundae….hence the cherry on top.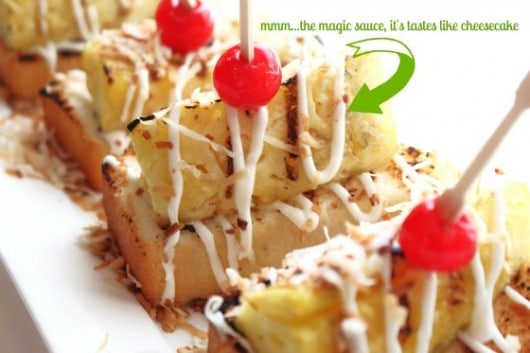 grilled cake and pineapple, with toasted coconut
Ingredients
4 oz cream cheese (room temperature)
3 oz marshmallow fluff
1 Angel Food Cake
1 package pineapple spears
1 cup toasted coconut
Maraschino Cherries
Instructions
Mix room temperature cream cheese with marshmallow fluff until smooth and creamy. Place this into piping bag.
Toast coconut in pan on medium-low heat until golden.
Slice Angel Food Cake into 1 1/2 inch-2 inch slices.
Preheat grill to 350 degrees.
Place pineapple on grill for 10 minutes turning so all sides get heated evenly.
Place Angel Food Pieces on Grill the last 4 minutes while you are grilling the pineapple, turning each minute to toast each side. They will then all be done about the same time.
Place the cake on the serving plate with a drizzle of the sauce then add the pineapple and another drizzle of sauce, top with toasted coconut and a cherry.
The "sauce" reminds me of a cheesecake-ish filling. It's great on other fruit as well. You can add vanilla extract to it, or another extract that you prefer. This would be great with lemon extract and I did see a lemon bundt cake while I was shopping and you could take this dessert in another direction and go with a whole lemon theme, just an idea!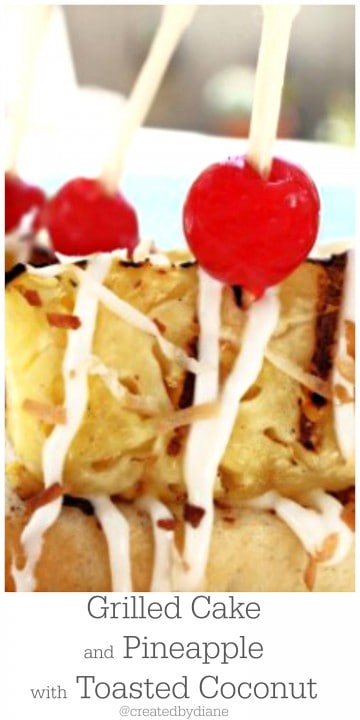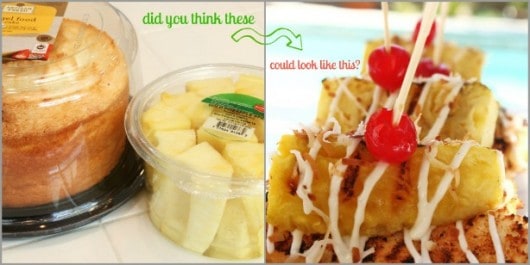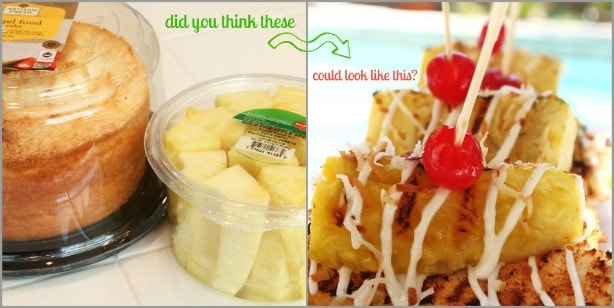 If you liked this post, you may like: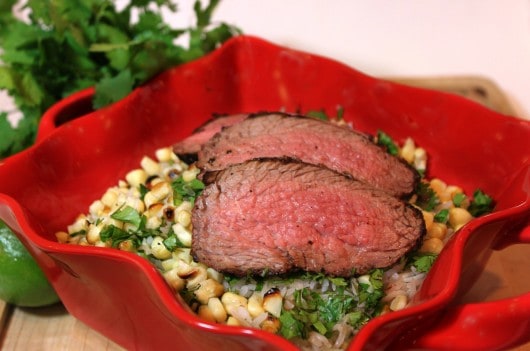 Grilled Tri Tip with Cilantro Lime Basmati Rice
I was compensated to purchase items for this post. All opinions are my own, those are priceless.