Many delicious flavors all combined to create this deliciously fantastic sweet creamy tangy pie with the great taste of cheesecake.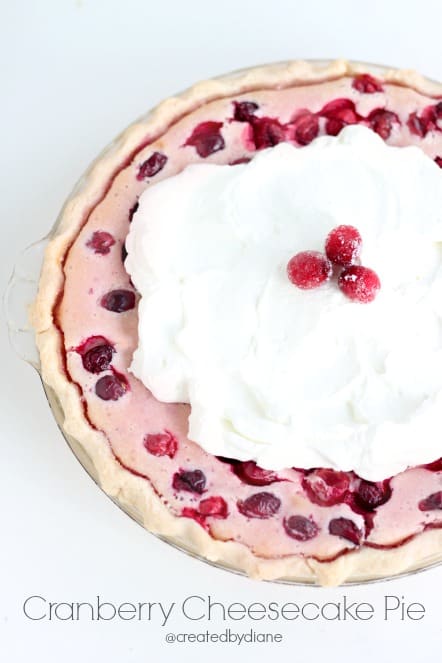 I'm a huge cheesecake fan,
and kicking it up with the sweet and tangy flavor of cranberry makes this just the perfect holiday pie.
Imagine this pretty pie sitting on the dessert table.
One of the best parts of this pie is that it isn't overly sweet, the cranberries take care of that, they taste fantastic and are a great contrast to the cheesecake filling.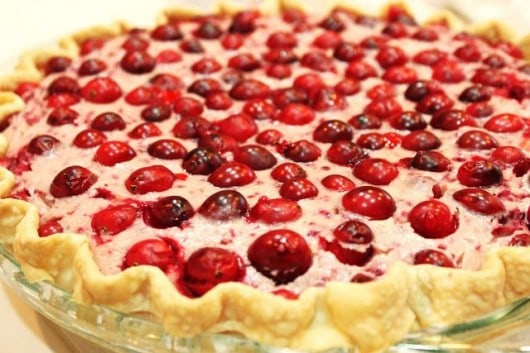 It may sound like an unusual combination but just imagine…
the tartness of the cranberries and the sweetness of cheesecake all in a wonderfully delicious pie.
I poured it into a pie crust, you can easily put this into a graham cracker crust or if you're not a crust person bake it in a pie plate with no crust, so many great options.
I just love how pretty pink it turned out.
It is so DELICIOUS, I was very surprised as I typically only prefer plain cheesecake. I do sometimes like it topped with blueberries, but most times I like it plain. 
But this flavor combo has won me over!
The
cranberries
were the perfect item to put into my
unusual
pie.
THIS is my FAVORITE PIE CRUST RECIPE you won't believe how easy it is.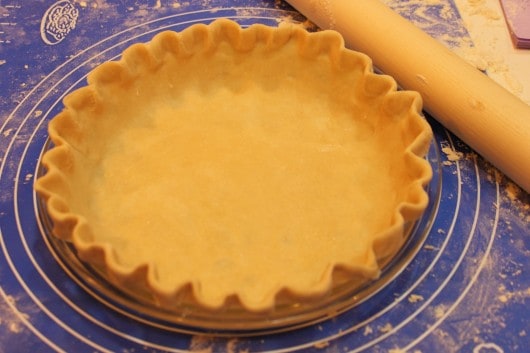 You can make pie crust or use the type you unroll and place in a pie dish, or you can use the type that is frozen and pre shaped. This would also be great with a graham cracker crust as well. 
You do not pre-bake the pie crust, simple add the filling to the pie crust and bake all together.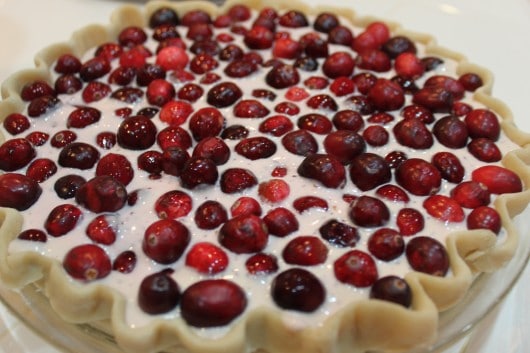 Mix half the cranberries to the mix, then add the remaining cranberries to the top of the pie.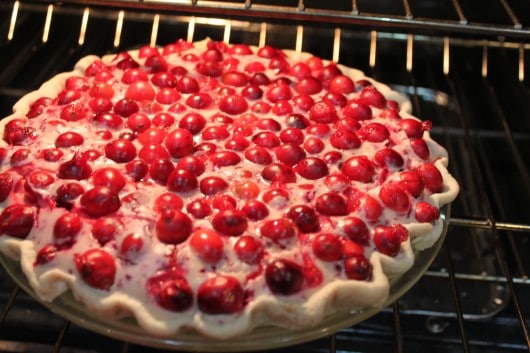 When the pie bakes it puffs up a bit, but settles as it cools.
Be sure to cool completely then place in the fridge until it's cold.
This cranberry cheesecake pie is great for Thanksgiving or Christmas or to cheer up a cold and gloomy cold day,
if you're looking for more Thanksgiving and other holiday recipes take a look at some of these:
This cranberry cornbread is delicious
Turkey meatballs with sweet and sour cranberry sauce
Another great pie is this cranberry coconut custard pie
Roast Pork loin with cranberries, an easy and delicious meal.
6 homemade cranberry sauce recipes, there is a favorite flavor for everyone, take a look.
And don't miss seeing these mini cranberry pecan pies, they are my dad's favorite and I make them for him every year. They have become one of my most requested recipes to make.
Cranberry Cheesecake Pie
Delicious cheesecake with the added punch of cranberries makes this a special dessert to serve all season long.
Author:
Diane Schmidt, Created by Diane
Ingredients
1 pie crust, homemade or store bought (the filling will fill a 9" pie crust)
2-8 oz packages Philadelphia Cream Cheese (room temperature)
1 cup sour cream
1 16 oz bag fresh cranberries
1 cup sugar
3 eggs
1 teaspoon vanilla extract
Instructions
Prepare pie plate with pie crust. (no need to pre bake pie crust, just add the filling and bake)
In a food processor add 2 (room temperature) packages of cream cheese
along with 1 cup sour cream and sugar and half package cranberries
process until smooth
Transfer mix to a bowl
Mix in each egg
then add in 1 tsp vanilla
Once it was poured into the pie shell, place the other half bag of cranberries on top.
Bake it at 325 for 45 minutes
If you use a smaller pie crust, you can bake any remaining filling in small oven-safe dishes.
Turn the oven off and leave the pie in the oven for one more hour.
Remove pie, allow to cool completely before refrigerating.
Cheesecake is best served cold.
Place the cheesecake pie in the fridge and allow it to chill for at least 4 hours to set up nicely.