If you're looking to make a delicious new side dish, this is for you!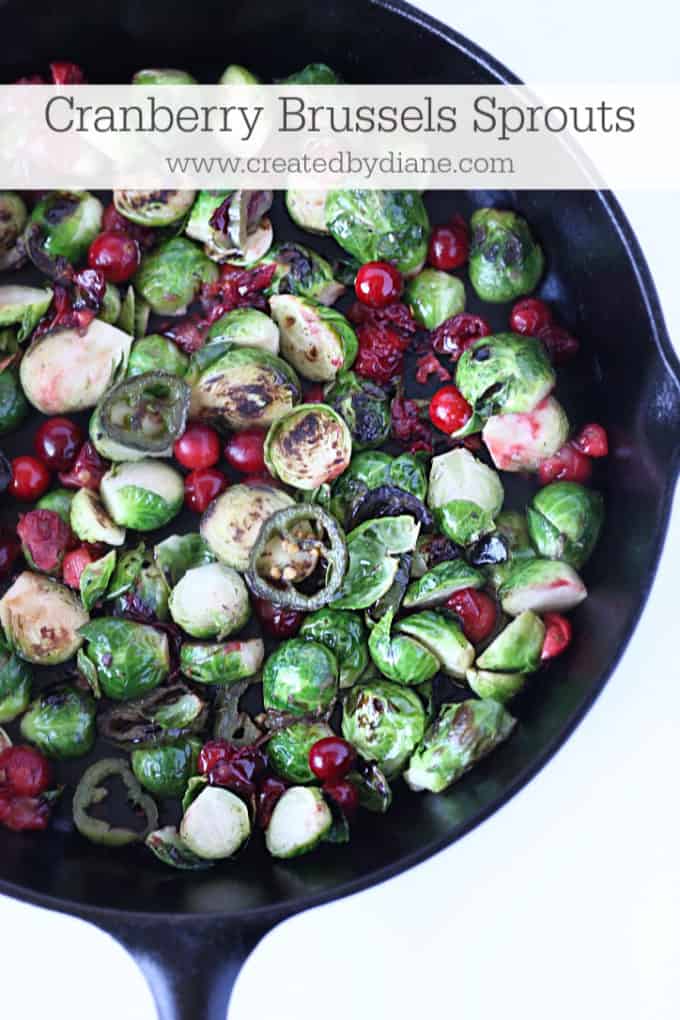 I love vegetables and am always looking for a new way to enjoy them, 
so I thought I'd give them a "Thanksgiving" type of style,
I sautéed jalapeños to give it some spice without it being too hot but to have a great contrast in flavor to the cranberries.
I was not a huge cranberry fan as a kid, what on earth was wrong with me… I love them now. It seemed years ago I mainly saw cranberry sauce come out of a can. I had a much bigger sweet tooth as a kid, and think the cranberry was too tart for me, but now I'm all about tart items!
Don't forget to check out more of my cranberry recipes: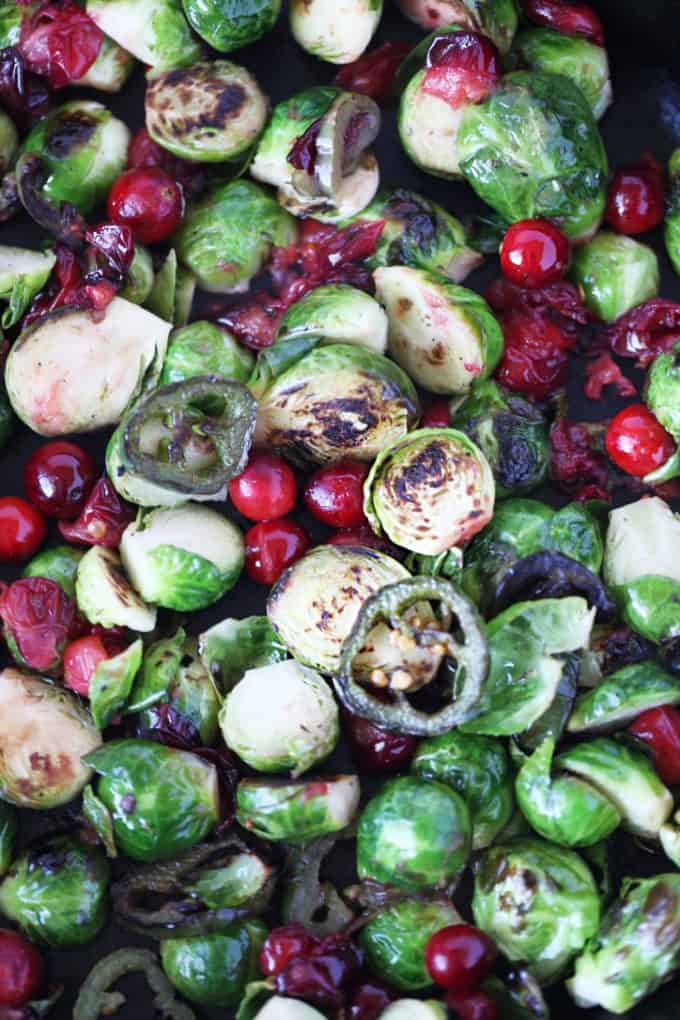 I used a jalapeno in this dish and loved the flavor with the cranberries and brussels sprouts. The flavor of the jalapeno and how hot they are, vary. I have a few favorite stores that seem to get flavorful jalapenos that are not overly hot with no flavor like other stores nearby tend to get in the produce section.
If you are opposed to jalapenos all together use another pepper to give a nice contrasting flavor, like a poblano pepper or even the baby beak peppers or bell pepper. I tend to go for jalapenos most of the time, and if you like things even spicier get some serrano peppers, they tend to have more kick!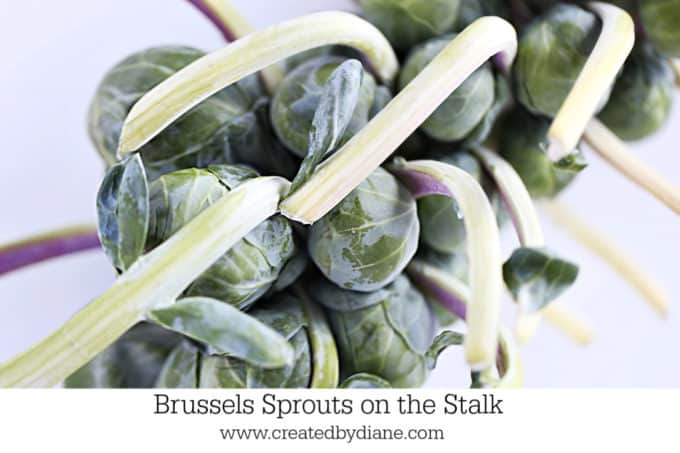 Most often I find Brussels Sprouts in the grocery store loose or in a bag but every once in a while, I spot them on the stalk, I just love when I can get them on the stalk…. to remove the sprout from the stalk, just break them off or use a small knife to cut them off. The purple areas are so pretty. I've even been able to find all purple Brussels Sprouts from time to time. 
I do love the Brussels sprouts are available year-round, and I do keep bags of cranberries in the freezer for when they are not available and want to make some of my favorite cranberry recipes.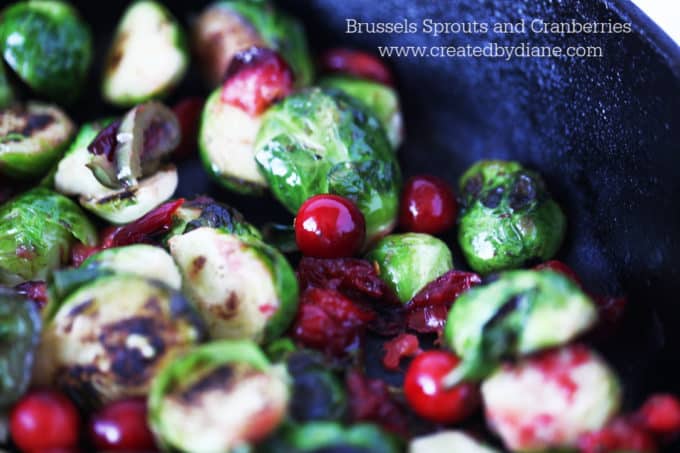 Be sure to take a look at my other recipes using Brussels Sprouts:
Cranberry Jalapeno Brussels Sprouts
Ingredients
1 jalapeno, sliced thin or diced
1 tablespoon oil (avocado oil or olive oil)
12 oz. Brussels sprouts, sliced in half
1 cup fresh cranberries
pinch of salt
Instructions
You can easily adjust the portions to accommodate what your needs are.
In a skillet heat oil and add the jalapeno.
Then place in the Brussels sprouts and allow them to brown on high heat on one side before moving them.
A cast iron skillet works well as it holds the heat and allows the brussels sprouts to brown.
Once one side has browned, stir them and place a lid on top and cook until tender, about 2 minutes.
You can add a tablespoon or two of water if you want the brussels sprouts to be very tender, or no water if you prefer them crunchier.
Then add the cranberries, and place the lid on for 1 minute, the steam in the pan will cook the cranberries quickly, if your pan or stove is not as hot as mine it may take another minute. The cranberries don't need to all be really soft, then will still cook after you take the pan off the heat.
Stir in a pinch of salt and serve.