This dish scream WINTER DINNER to me, but if you put a few bags of cranberries in your freezer when you see them…
you'll be able to enjoy this delicious dinner all year long.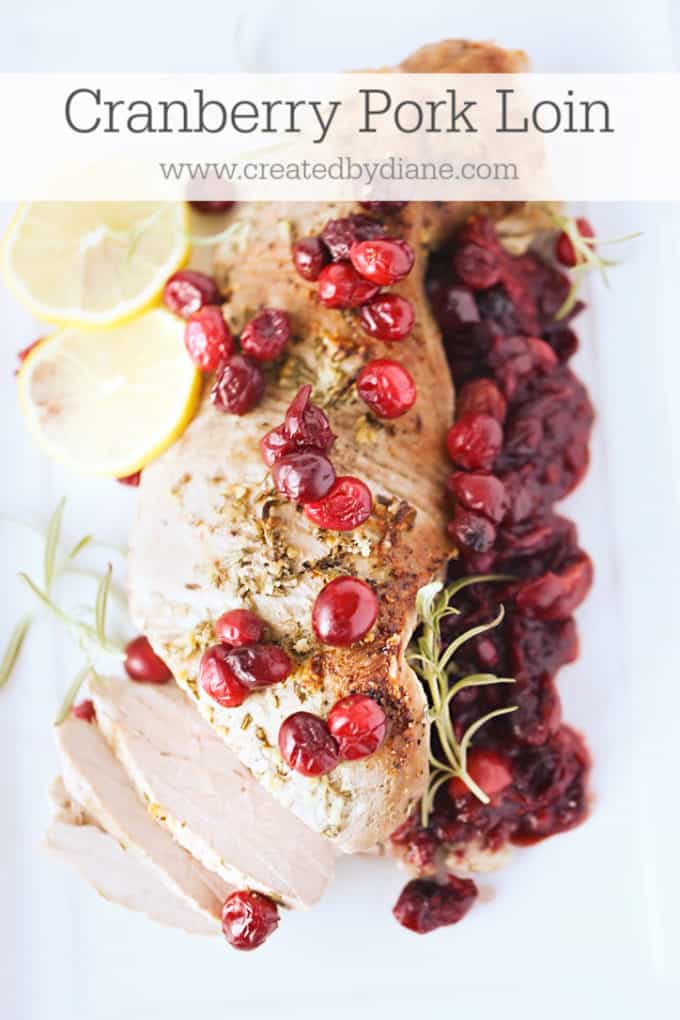 Roasted pork loin is easier than you may think…
and the flavors in this recipe are great served when it's cold or when you want a simple comforting meal.
There is something so pretty about rosemary and cranberries and in a quick glance, you may just think you can smell the aroma of this baking in the oven.
I don't know about you but I stock up on cranberries!
There are so many recipes I like them in, I always make sure a hide a few bags int eh freezer for when the season is over and I still want to make ALL the cranberry "things".
If you ask me roast pork looks kinda fancy, but it's simple to make and delicious as long as you don't overcook it. Using a meat thermometer and an instant-read one at that ensures you'll be able to take it out of the oven at the right time. I always test the meat I'm cooking about 10 minutes before I think it'll be done. That way I don't overcook it and I can adjust the temperature if needed. I check for how brown it is, and if need be boost the temperature up to 400° if I want to brown it a bit more the last few minutes.
Be sure to check out my other cranberry recipes too:
Substitutions for fresh cranberries in this recipe
If it's totally out of season for cranberry… or you can't find any cranberries…
did not stockpile your freezer and
want to make this pork roast with the same great flavors,
just use a can of whole cranberry sauce as a substitute, you'll get the great tangy taste and enjoy a great dinner.

Cranberry Pork Loin
delicious roasted pork with cranberries
Author:
Diane Schmidt Created by Diane
Ingredients
1 3/4 lb boneless pork loin (or similar size for timing, or adjust the timing for the size you are using)
1 teaspoon oil (avocado oil or olive oil)
1 teaspoon minced garlic
1 tablespoon fresh chopped rosemary
1 cup cranberries
1/2 lemon, juiced
salt and pepper to taste
Instructions
Preheat oven to 350°
Place pork loin in a roasting pan.
Brush oil on top of meat then brush on the garlic and rosemary.
Bake for 35-45 minutes or until internal temperature is 145°, check with a meat thermometer.
Allow meat to rest for 10 minutes. I place a piece of foil tented over the top while it rests.
In a skillet heat cranberries with lemon juice until hot.
Place cranberry mixture over pork add salt and pepper and serve.