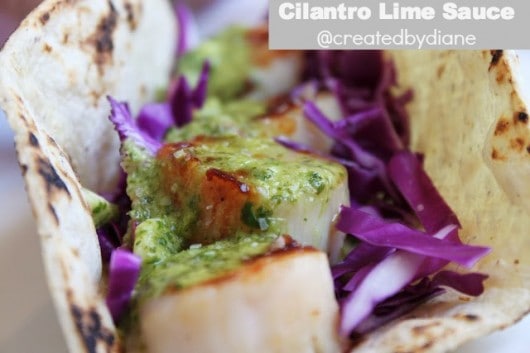 After purchasing cilantro yesterday that was in the
simple gift
 I gave away
 I couldn't get it out of my head.
I just had to have it!
Luckily, I had the ingredients on hand and could whip up a batch really quick for lunch.
I had scallops in the freezer and quickly thawed them in cold water.
Minutes later this is what I had for lunch…
I grilled the scallops in my grill pan, heated corn tortillas, added shredded red cabbage and topped it off with the Cilanto Lime Sauce, it was so delicious.
I was so glad I had enough scallops…I ate three tacos.
Here is the recipe if you'd like to try it:
Cilantro Lime Sauce
1 bunch Cilantro
1 lime, juiced
1 garlic clove, minced
3 scallions, chopped
2T diced green chilies
1/3 cup olive oil
Add all ingredients together in blender and drizzle in olive oil.
Makes a great sauce for beef, fish/seafood, and chicken.