This classic, creamy Caesar Dressing brings a zing to your taste buds – and it will quickly become one of your go-to's!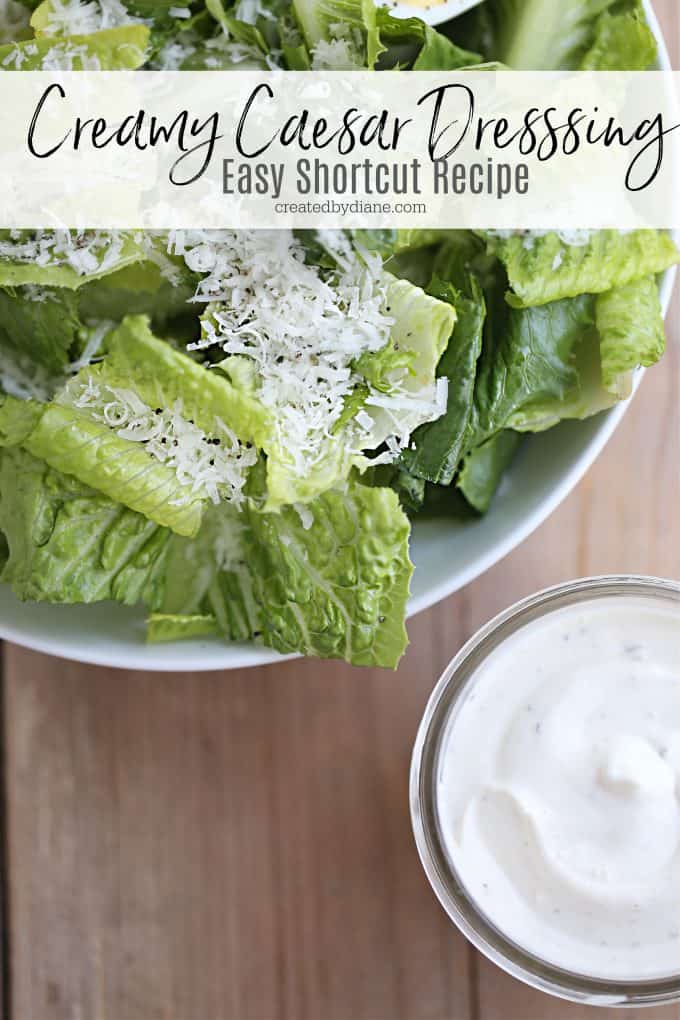 Comfort food isn't always complicated.
In fact, one of my favorites is the simple Caesar Salad. And it's due to this that I began experimenting with my own dressing. I found the bottled versions to either be too tangy or lacking in any real flavor at all.
I wanted something that I can turn to again, and again. That I can make quickly. And so, this Caesar Salad Dressing fits the bill on every level!
It's great not just on a salad! It makes a great dip for veggies, or you can dress up your deviled eggs by adding them to your yolky mixture! One of my favorite ways to use it is on top of a burger – all that garlicky goodness with the creamy mix of mayo and dijon is a perfect condiment for it! And if you're looking for a great burger recipe to try it on, look no further than these Avocado Stuffed Turkey Burgers. 
Okay, so we know Caesar dressing is versatile, but where did it come from? Well, as it turns out Italian immigrant, Cesare Cardini, developed it (along with the Caesar salad) in Mexico back in 1924. Legend has it while cooking in his restaurant, he ran out of ingredients and began improvising and using the scraps of lettuce and dry bread he had on hand. He whisked together the ingredients that we now know as Caesar dressing, and Voila! A classic was born! And thank God it was! Caesar Salad has offered me comfort for years and is a simple side for cooked meat, such as Lemon Pepper Chicken Legs or Stuffed Pork Chops. Or simply eat it on its own – either way – you'll absolutely love this Caesar dressing recipe.
And now let's get to it! It couldn't be simpler to whip up – all you need is a bowl and a good whisk!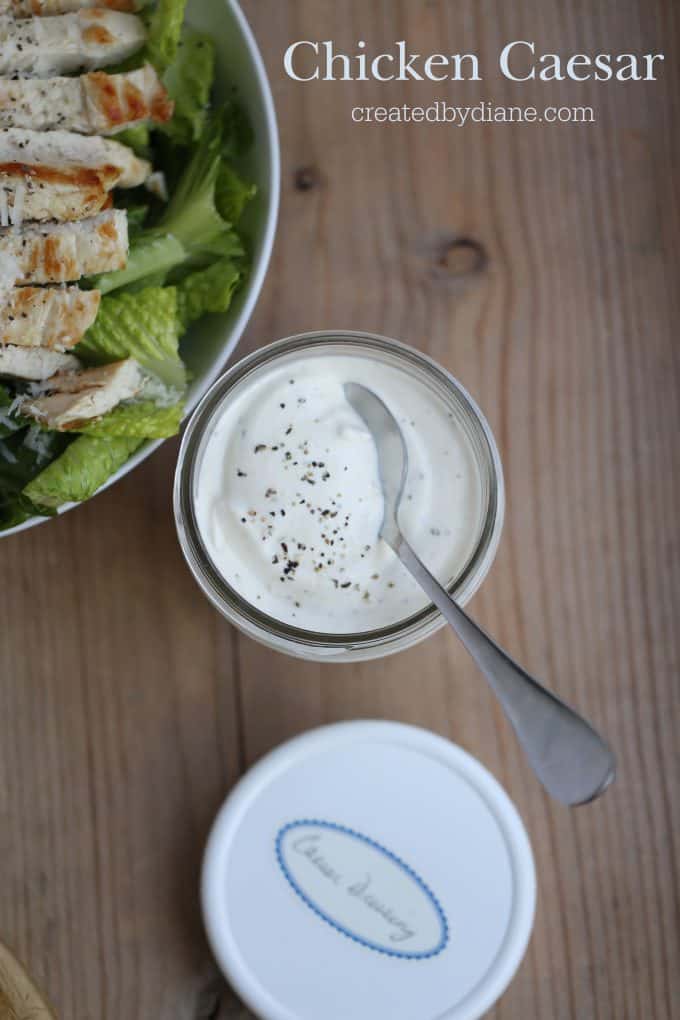 One of my favorite salads is a grilled chicken Caesar Salad, and now I can easily make it any time I want… quickly and easily and it tastes delicious.
Use measuring cups and spoons to measure the following ingredients into a single bowl. No need to separate – just dump them all in! 
½ cup mayo

½ cup sour cream

1 tablespoon lemon juice

1 teaspoon garlic, minced fine or paste

1 teaspoon dijon mustard

½  teaspoon Worcestershire sauce
Now, whisk it all until combined! Add salt and pepper to taste.
When you're ready to serve, top with Romano or Parmesan Cheese. Alternately, you can mix the cheese into the dressing itself. Want a little kick? Add a little hot sauce for an extra zing! I even enjoy my dressing with a little fish sauce added too.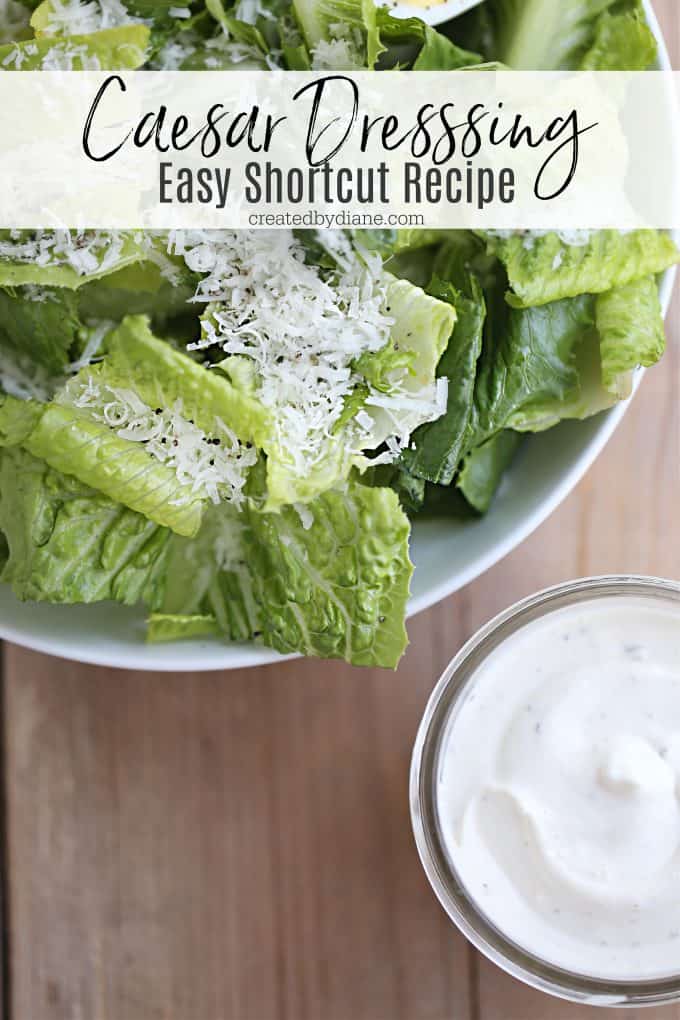 Can I make this fat-free Ceasar?
You can adjust the ingredients for sure! Use low-fat or fat-free sour cream and light mayo to reduce calories and fat. You could even sub the sour cream for fat-free Greek yogurt. Just be aware that not all "light" products are created equally. Some can be runny – which means your dressing could be as well.
If I add fish sauce, will it be fishy?
Actually, Worcestershire sauce has some fish sauce in it, and it doesn't really have to give a fishy taste, but add more if you would like. Fish sauce has an earthly and savory flavor – also called umami. It is in a lot of sauces you probably already use, such as soy sauce. It is super salty, so a little goes a long way! You may want to add it before adding your salt, and then adjust as needed.
Should I refrigerate this before serving?
If all your ingredients are cold when mixing, you're good to serve right away. However, I do think letting it marinate for a while in the fridge is a good option. This gives all the flavors a chance to "marry", which produces a better all-around flavor! But I often just mix it up and enjoy!
Let's talk Croutons:
You can buy them or make them simply slice up some delicious bread, french bread works great. Then toss the bread with some olive oil, garlic powder, Italian seasoning, and some salt. Place them on a baking sheet and bake until dry and crispy for about 10 minutes in a 400° degree oven, toss them so they crisp on all sides halfway through baking.
Croutons are great on all salads, fun in soups and it's fun to top casserole dishes as well. I try to eat low-carb and sometimes crisp up some chickpeas with the same method and bake them until crisp.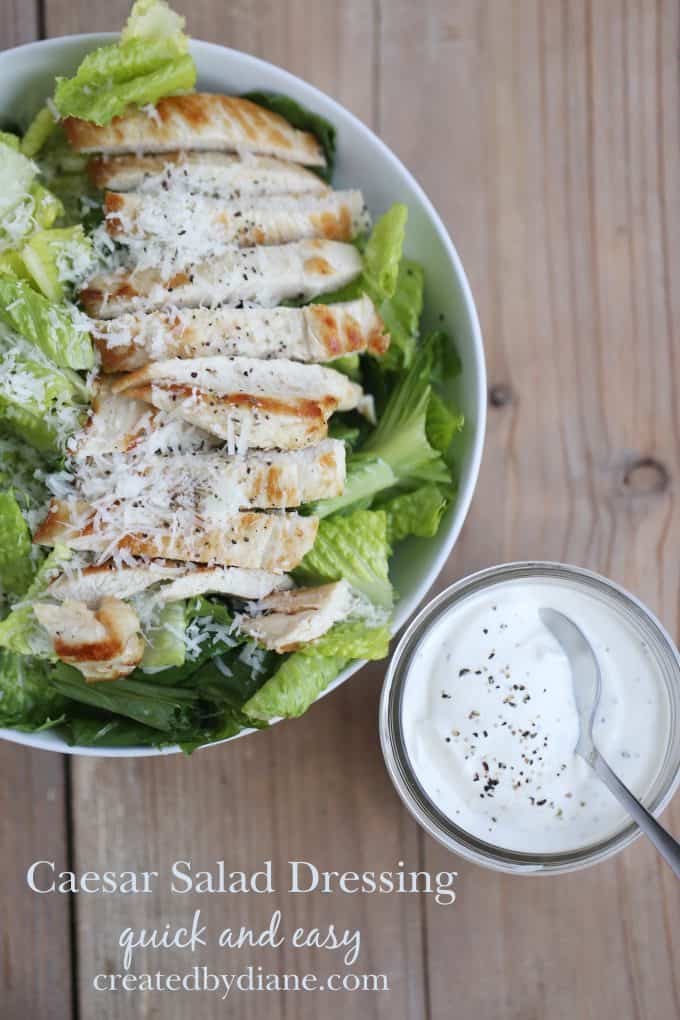 Be sure to check out my post on how I easily have delicious grilled chicken on hand for meals all week long here.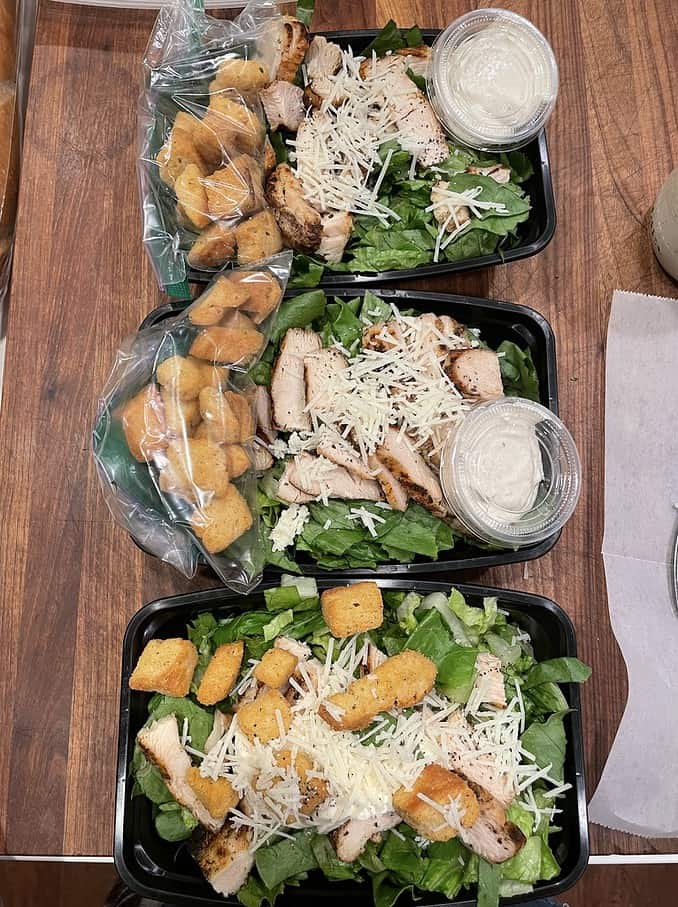 Prepping meals for the week made easy by using 22 oz containers, and 2 oz containers for the caesar dressing, top with grilled chicken, shredded Romano Cheese or Parmesan and add some croutons (place in a bag so they don't get soggy if eating the next day.
Creamy Caesar Dressing
A deliciously simple creamy Caesar dressing recipe you'll make in minutes and enjoy this recipe for years to come.
Author:
Diane Schmidt, Created by Diane
Recipe type:
sauce, dressing
Ingredients
½ cup mayo
½ cup sour cream
1 tablespoon lemon juice
1 teaspoon garlic, minced fine or paste
1 teaspoon dijon mustard
½ teaspoon Worcestershire sauce
Coarse Kosher salt
Coarse black pepper
grated Romano or Parmesan Cheese (Romano cheese is my favorite)
Add a dash of hot sauce if you want more zing
Instructions
In a small bowl or 1 cup glass jar, mix all the ingredients together with a whisk until smooth.
Place it in a glass jar that you have a lid for, serve immediately or place and store in the fridge.