These
Valentine Raspberry Rose Meringue Cookies
are a pretty way to celebrate with the ones you LOVE!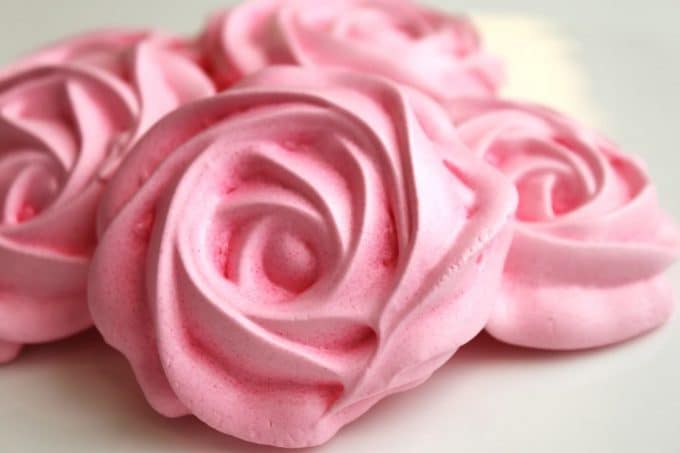 Meringue cookies are a favorite of my family. I haven't made meringue cookies in quite a while though, so they were really looking forward to them. Chocolate Chip Mint Meringues are a fond memory from childhood. My great aunt Mary would make them and have them drying int the oven so when I arrived at her house. I'd ask are they ready as I opened the oven. I never did get the recipe from her, but many years later wanted to create them, so I researched them, no computer to search as we do now, I found a meringue cookie recipe I believe in a cookbook at my mom's house about 17 years ago, and added to it to create the ones I remember. It was not the same as this recipe. I couldn't find the recipe but know I still have it somewhere. I will have to make them again soon. Today I'm sharing with you another meringue cookie. Just in time for the sweetest day of the year. Feb 14th. I always love Valentines Day, the hearts and roses and everywhere you turn it's pink and red.
I love roses like the ones I made on these Rose Cupcakes and Lemon Buttercream Frosting I did a short video showing How to frost a rose on a cupcake in 20 seconds. Only click on that if you need a laugh! UGH video, I'll never get used to it.
Back to the Raspberry Meringues.
Hani used Martha Stewart's recipe once I saw the recipe and read that it included meringue powder, I had a very good feeling. This is a swiss meringue recipe so it's heated in a double boiler.
I tinted them pink and added raspberry extract to the recipe. Placed the mix into a piping bag with a 2D tip just like I made my rose cupcakes.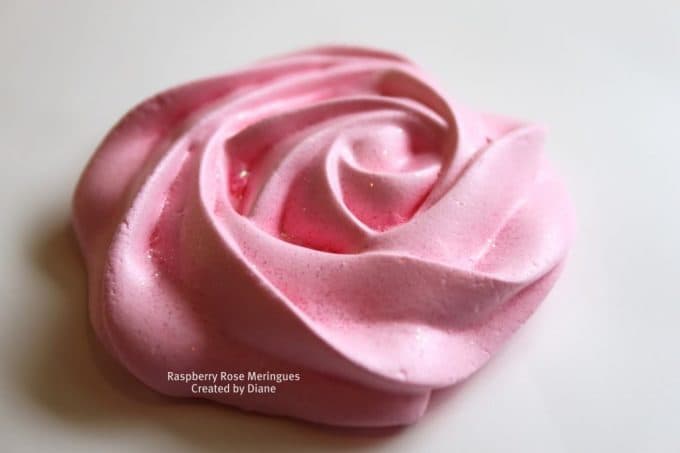 4 large egg whites
1 cup sugar
1 Tablespoon meringue powder
1 teaspoon raspberry extract
In a double boiler, combine egg whites, sugar and meringue powder. Whisk until sugar dissolves and egg whites are hot 3-4 minutes.
Transfer to mixing bowl, with the whisk attachment, mix on low speed increasing to high until stiff glossy peaks form, this takes about 10 minutes.
almost there…. just another minute of beating until the peek doesn't fall.
Add raspberry extract and pink food coloring. I used Americolor deep pink and soft pink for the pink color.
Place mixture in large piping bag fitted with 2D tip to create the rose.
Line baking sheet with parchment paper.
Pipe the rose in a circle on the parchment paper.
Bake in preheated oven at 175 degrees. 1 1/2 hrs then 1 hr with oven turned off.
I was moving these around a bit to see if they were dry, they still felt a little heavy so I left them in a bit longer.
These bake a low temp for 1 1/2 hrs and then let dry for an additional hour in the oven with the temperature turned off until completely light and dry, they peeled away from parchment easily when finished.
When they are finished drying I put some edible glitter on them to make some extra sparkle.