This sour cream chicken thigh sheet pan dinner is about to make your weeknight dinner plans a total breeze.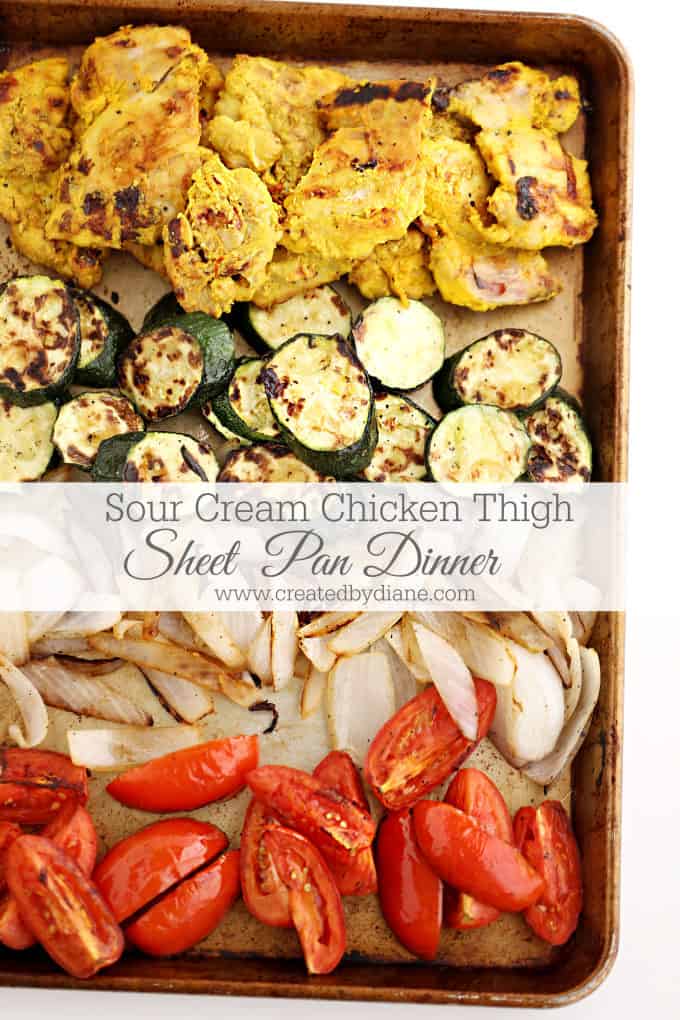 Parent to parent, it's safe to say that we're all varying sorts of busy throughout the week.
From running around for sporting events to trying to keep track of all the other obligations,
some nights you might wonder how you're ever going to get everything done and have dinner on the table as well. 
This is where this chicken sheet pan dinner is awesome. It's simple to make and loaded full of great flavor and veggies. 
I'm also a big fan of all the fun colors that you'll see on your sheet pan as I think it really does add a fun element to the meal.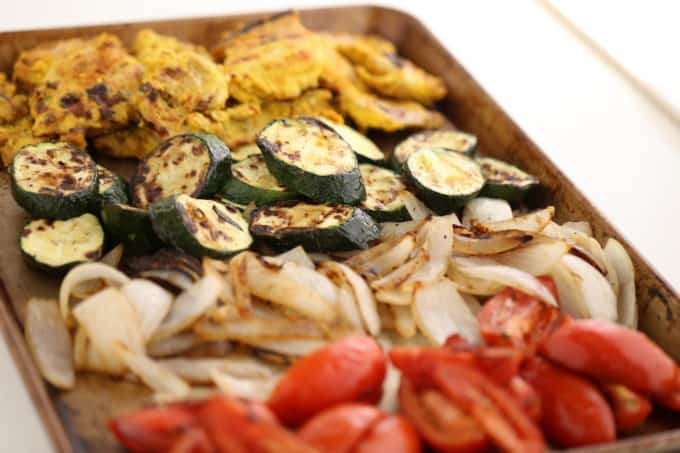 Can I add more veggies to this sheet pan dinner?
Of course! There's always room for more veggies. The recipe might only call for three types of vegetables but if you want to add in more, add them! I see no issues with that and think that the more vegetables you can introduce early on to your family, the better.
Adding in mushrooms would really take this sheet pan dinner over the top! 
Is it really necessary to marinate the chicken? 
It is. The longer that you can marinate the chicken, the more flavor you're going to have. The recipe says an hour minimum but if you can do it a few hours longer, that's better. 
You'll really notice a lot more flavor the longer that you allow the chicken to marinate. 
How do you store leftovers from this chicken sheet pan dinner? 
Storing the leftovers are a breeze! All you need to do is store them in an airtight container or bag and store them in your fridge. The leftovers should be good for up to 2-3 days and are certain to taste awesome as leftovers!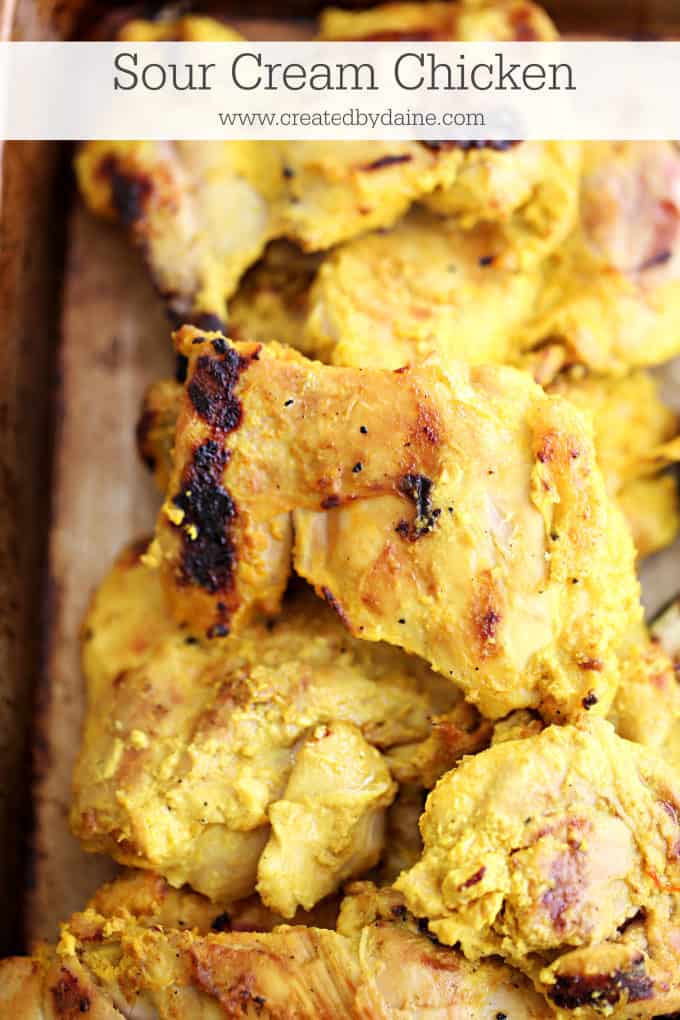 Chicken thighs are juicy and tender and full of great flavor.
These chicken thighs can be marinated for an hour to overnight.
Then slice up your veggies and you're just about set to place everything in the oven.
I cooked 6lb of chicken on one pan and the veggies on a second pan.
Is there an alternative to using sour cream?
Yes, you can use buttermilk or greek yogurt with similar results, the chicken will be tender and juicy.
Sheet pan dinners are great for many reasons, easy, simple, and quick clean up!
Sour Cream Chicken Thigh Sheet Pan Dinner
Sheet pan dinner with delicious tender marinated chicken thighs, zucchini, onions, and tomatoes. A healthy low carb meal.
Author:
Diane Schmidt (Created by Diane)
Ingredients
6 lbs boneless skinless chicken thighs
1 1/2 cups sour cream (or plain Greek yogurt)
1 tablespoon oil (I use avocado oil)
3 teaspoons turmeric
1 teaspoon garlic powder
1 teaspoon onion powder
1 teaspoon salt
vegetables
2 medium zucchini, sliced
1 medium onion, sliced
4 Roma tomatoes, quartered
Instructions
In a gallon plastic zipper bag, place chicken with sour cream, turmeric, garlic powder, onion powder, and salt.
Marinade for 1 hour to overnight.
Bake on a sheet pan at 450° for 30 minutes until the internal temperature of the chicken reaches 170°.
On a second sheet pan roast the vegetables with a drizzle of oil, salt, and pepper, just until the vegetables are tender without overcooking them (they take about 15-20 minutes.