I can't think of a dessert that shouts COMFORT FOOD more than bread pudding!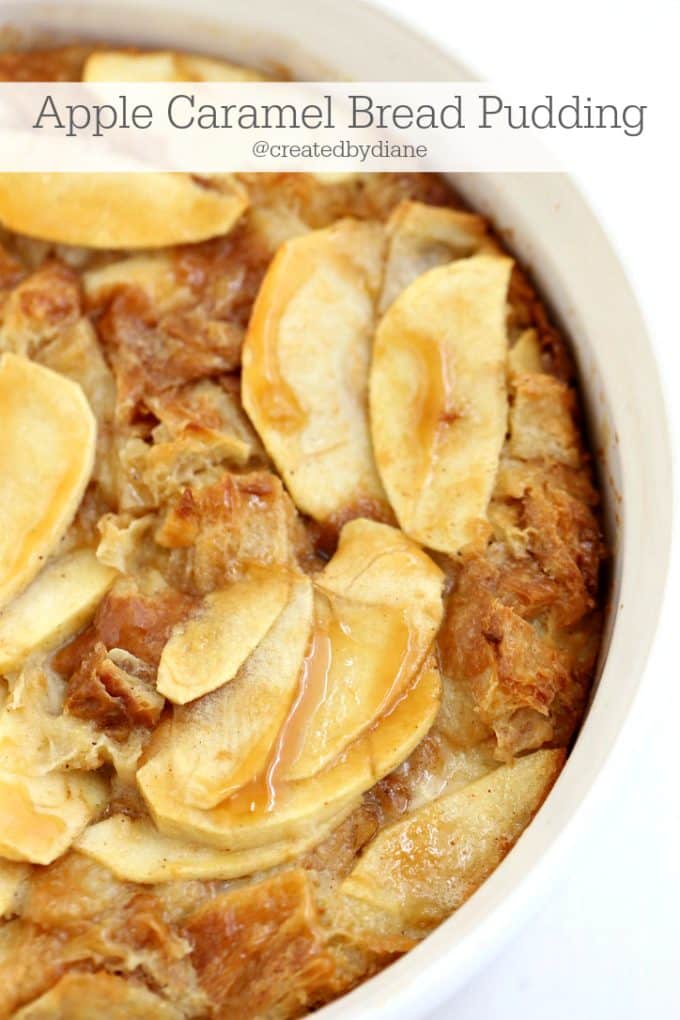 Now, when I think of COMFORT
I imagine myself curled up on the couch in front of a fire,
sipping hot tea, wrapped in a plush blanket!
I said "imagine," because I'm much too busy for that, but it's a nice thought!
It's those same feelings I get when I think of comfort food, all warm and yummy.
Bread pudding is popular around the world in both sweet and savory form, but Americans typically think of it as a dessert.
I've always loved bread pudding, so I'm glad to see it's been making a comeback in recent years. I'm finding it on restaurant menus more and more, which is a real treat!   
This apple and caramel bread pudding can be whipped up anytime and chances are you may have all the ingredients you need to make it on hand.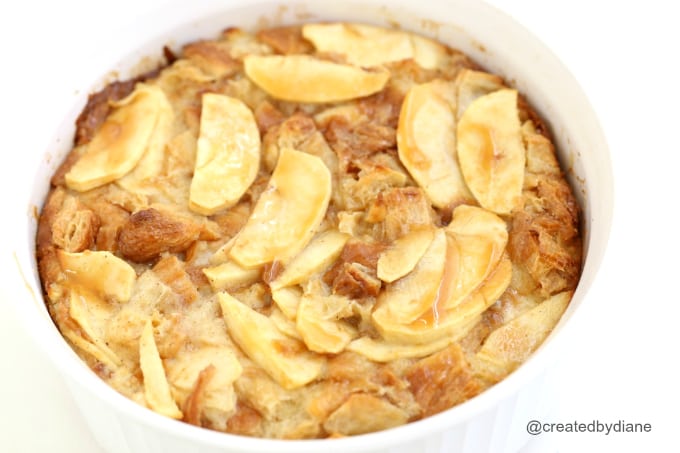 I dreamed up this knock-out version the other day when I had lots of extra croissants on hand that I bought on sale. I do love croissants. If you don't want to use croissants any bread will do.
Since I always have apples in the fruit bowl… Eureka, I've got the perfect recipe!
The buttery richness of the croissants, the creamy base and aromatic apples, cinnamon, and vanilla… and then the caramel topping… let me tell you, this was unbelievable.
Warm, sweet and decadent… it was difficult to stop myself at just one helping.
Serve it warm or cold, it doesn't matter. Serve it for dessert or breakfast, it doesn't matter – it's that good, I'm not kidding!
I'm not kidding!
Sweetened condensed milk is the secret ingredient in this recipe that makes it incredibly easy – and delicious. No need to add sugar since the sweetened condensed milk provides all the sweetness you'll need.
Cut up the croissants, chop an apple, mix in the cream, milk, and butter… there's no reason you can't whip this up on short notice, it's so simple.
Give this recipe a try when you're craving warmth and comfort… and LOTS of compliments!
Apple Caramel Bread Pudding
Ingredients
1 tablespoon butter
5 croissants
1 large apple or 2 small apples (I used honey crisp), peeled and sliced
1 14 oz can sweetened condensed milk
1 cup milk
3 eggs
1 teaspoon vanilla extract
1/4 teaspoon cinnamon
1/4 cup caramel sauce
Instructions
Butter a 2-quart casserole dish
Cut croissants (or bread) into 1-inch cubes
Place them in the buttered dish, with sliced apples
In a medium bowl combine sweetened condensed milk, milk, eggs, vanilla, cinnamon and 2 tablespoons caramel, whisk until smooth.
Pour mixture over bread and apples.
Bake at 350 degrees for 30 minutes or until a toothpick comes out clean.
Drizzle remaining caramel on top.
Allow to cool for 10 minutes until serving.