Chocolate Gravy… Yes, please! If you're not sure you're on board with me on this… trust me, it's yummy.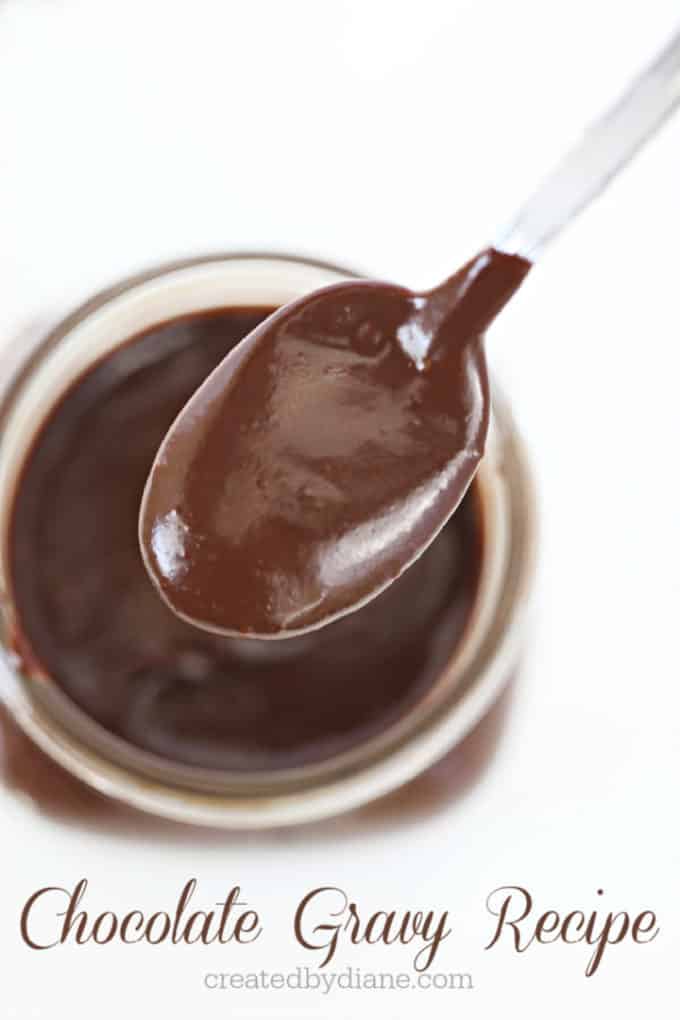 It's chocolate season! (lol, it's always chocolate season) No better day to make my chocolate gravy recipe then!
This rich and creamy chocolate gravy is the perfect way to celebrate.
Yes! I said chocolate gravy…
It's smooth, liquid chocolate that can be poured on anything.
Plus, just like traditional gravy, it's fairly easy to make.
Just a few short steps to an incredibly delicious treat… and wait until you see the list of items you can put it on…
You start with butter and flour-like any good gravy…
It's what comes after that puts it over the top. 
What type of chocolate do I use?
I like to use 60% cacao chips, Ghirardelli's package calls it bittersweet, but you can use semi-sweet if you have a favorite variety. My all-time favorite chocolate chip is Ghirardelli's 60% cacao chips… they are just my favorite combo of sweet and bitter and have a delicious dark chocolate flavor. I use them in most of my rich chocolate recipes, like my chocolate brownie cookies.
There are several other options. You can use dark chocolate, milk chocolate, white chocolate, mint chocolate, or try a peanut butter chips, and chocolate combination. Ghirardelli 60% chips are 60%cacao, Nestle's Semi-Sweet chips are about 47% Semi-Sweet is between 40 and 60 % The richer less sweet the higher the percent of cacao. Use what you like, but be sure to give the 60% a try if you're a dark chocolate fan, like me!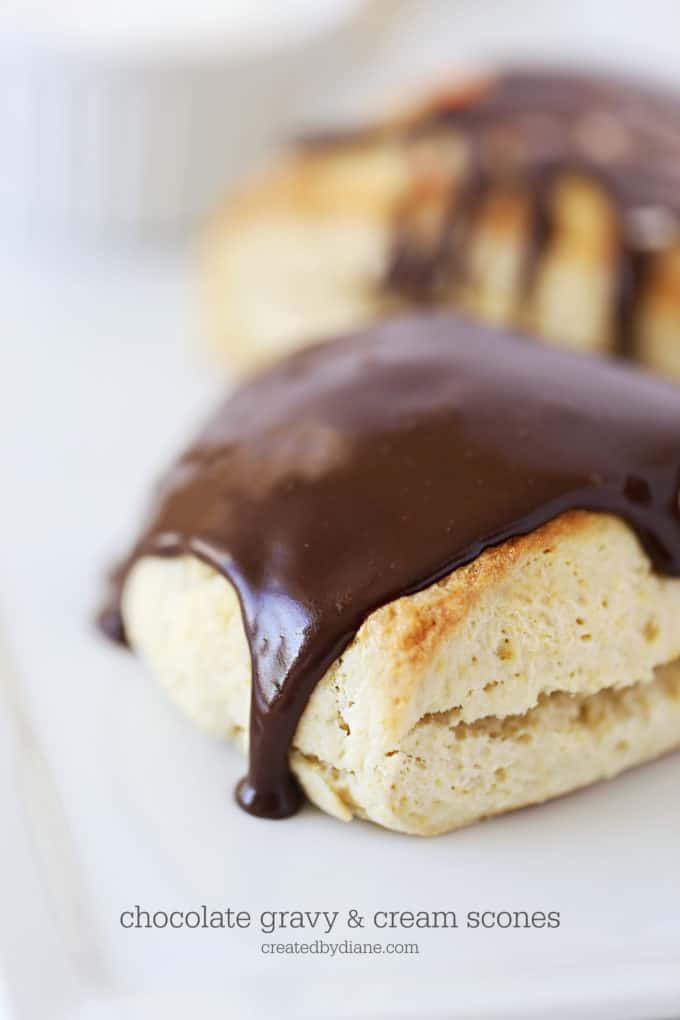 What should I put this on?
I'm a gravy girl. If you're like me, put it on EVERYTHING!
I even love gravy on french fries, so I may have to try this chocolate gravy over a big plate of salty french fries, too! Come on I know you've dunked your fries in a chocolate shake too, right!
And believe me, I'd definitely put it on pasta. Have you seen my Chocolate Spaghetti?
I'm all about the carbs and chocolate… a total comfort food indulgence. 
Try this Creamy Chocolate Gravy on:
It has a dual purpose for cake. You can use it as a filling and replace icing. Who needs buttercream when you have chocolate gravy??
To make sure that you get a thick even layer, allow your cake to cool completely. This will prevent your gravy from sliding off of your hot cake, and you can let the gravy cool and spread it on with a spatula.
You can eat it off a spoon! It's that yummy.
How should I reheat this?
Another great thing about this gravy is how versatile it is. You can serve it right after you make it, while it's still warm, or make it ahead. There are two simple ways to reheat it. 
Place in a small saucepan over medium-low heat. Reheat slowly and stir frequently.

Place in a glass or microwave-safe bowl or the glass jar it's stored in, microwave in short 20 second intervals, stirring in between. 
Your gravy may be thicker than you'd like after chilling and reheating. You can add a little milk to reach your desired thickness, just be sure to warm your milk before adding it to your warm gravy. It will keep your gravy smooth and silky. I find once it's heated, it's usually pretty smooth.
One of the best things about this chocolate gravy is that you most likely have all the ingredients you need to make it, unlike ganache which calls for heavy cream.
I LOVE having a jar of this in the fridge!
Chocolate Gravy
a smooth and creamy, rich and delicious warm chocolate gravy that will amp up all your desserts
Author:
Diane Created by Diane
Ingredients
2 tablespoons butter
1/4 cup flour
2 cups milk
1/2 cup granulated sugar
1/4 cup unsweetened cocoa (I use dutch process cocoa)
pinch of salt
1 cup chocolate chips (I use 60% cacao chips for a delicious dark chocolate flavor)
Instructions
In a skillet heat the butter until melted then whisk in the flour.
Over medium heat slowly add in the milk to create a sauce.
Then add in the sugar, cocoa, and salt.
Simmer the sauce (you'll see small bubbles)
Next, mix in the chocolate chips and whisk them smooth.
Use warm, or store in a glass jar in the fridge for up to 3 weeks.