This will fulfill all your chocolate cravings and pasta cravings at the same time. This is so wonderful, you'll only know once you try it!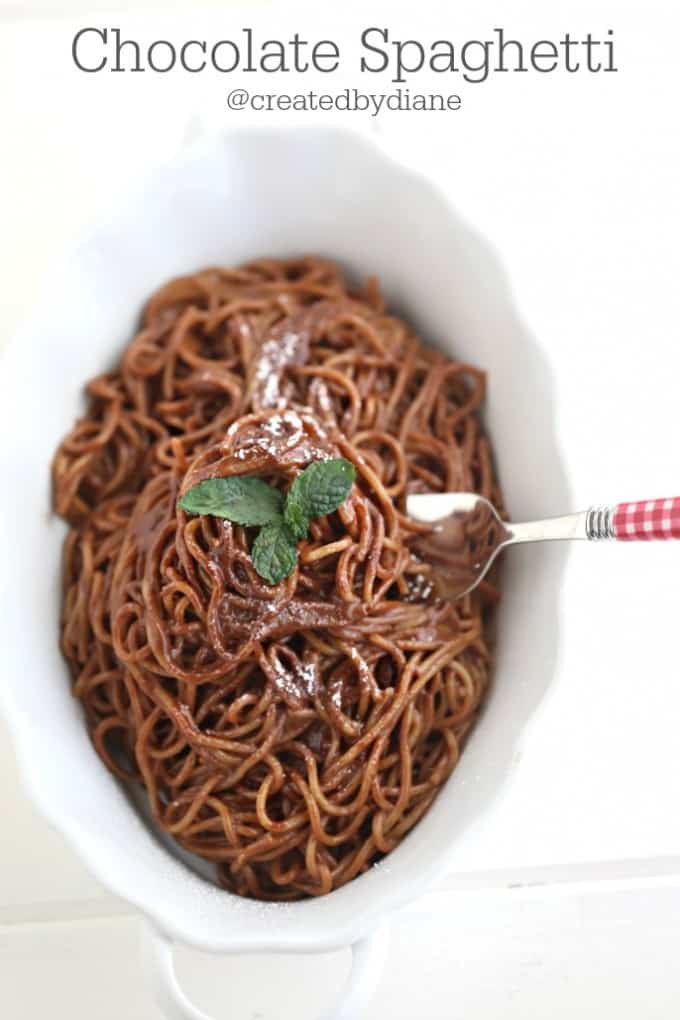 Chocolate Spaghetti
Pin this on Pinterest to save it for later!
Don't miss one delicious recipe and get my FREE e-cookbook click here!
Anytime you can combine the love of chocolate to the love of another, well…
it's just perfection.
Really, you will have to grab a pot and get cooking to find out for yourself just how wonderful this is.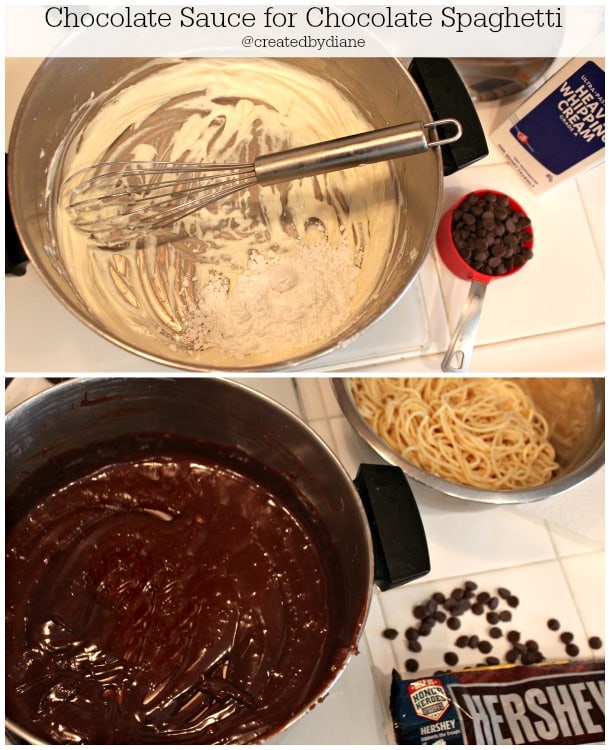 First begin by cooking up some spaghetti, then begin being the SAUCE…
It begins with cream cheese,
then add some powdered sugar
BUTTER? Why yes, any great sauce has butter in it.
Then add the chocolate.
Whisk until silky smooth.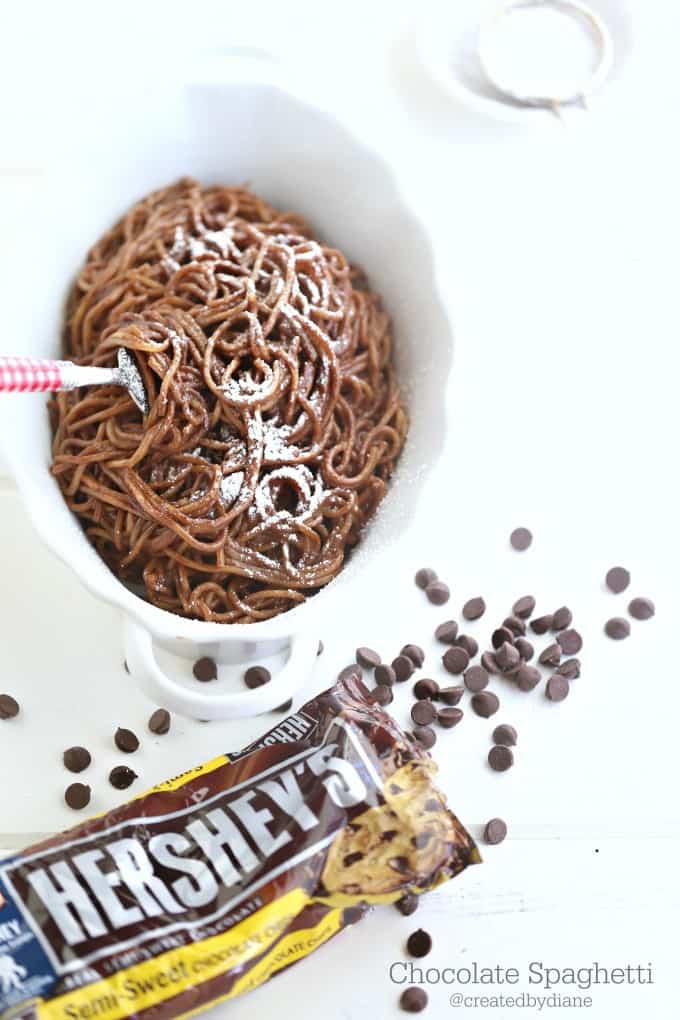 Then toss the spaghetti into the sauce and coat it well. Tongs work well for this.
Top with powdered sugar.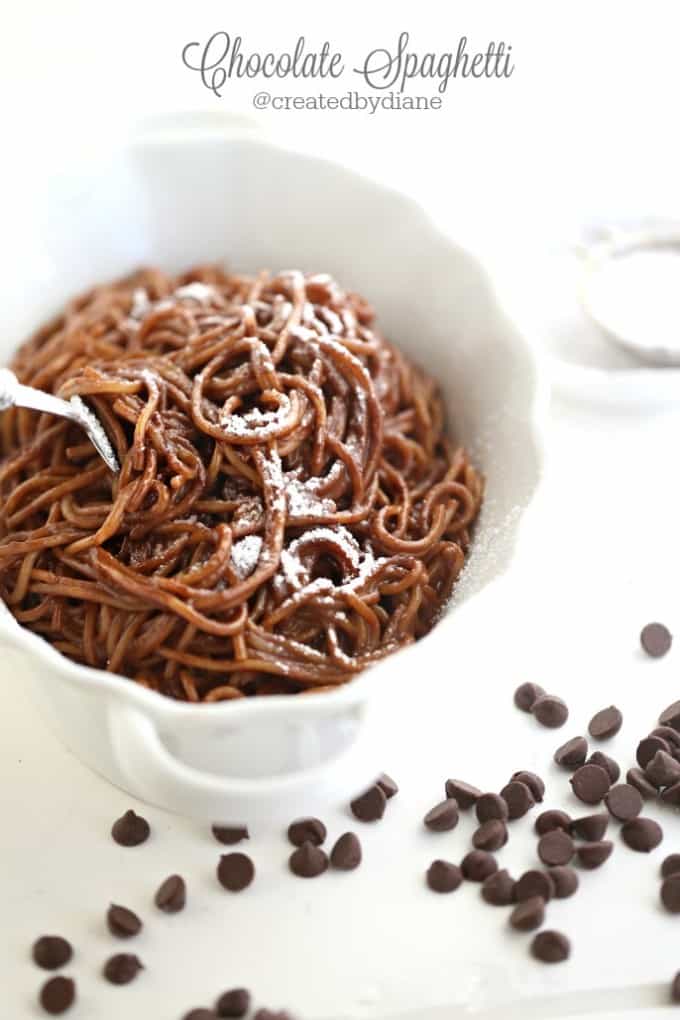 Now this is the perfect comfort food if you ask me.
It's perfectly delicious now that the holiday season is around the corner and the weather is cooling down,
perfect to cuddle up under blankets and watch movies with your family.
Perfect comfort food for watching Holiday movies if you ask me. I look forward to the list of Christmas movies that come out and see which day my favorites movies is on. This is a family favorite and perfect for creating new family traditions.
Be brave, you can even skip dinner and enjoy a bowl of this if you'd like. I said it's ok… if anyone asks.
So go ahead start a new holiday tradition with your family and include Hershey's Chocolate, you won't regret it!
Chocolate Spaghetti
Ingredients
8 oz cooked spaghetti
2 tablespoons butter
4 oz cream cheese
1/2 cup powdered sugar
1/4 cup heavy cream
1 cup Hershey's Special Dark Chocolate Chips
Instructions
In a medium pan, heat butter and cream cheese on medium heat.
Whisk in powdered sugar, and heavy cream.
This whisk in chocolate chips until the sauce is smooth and creamy.
Place spaghetti into pan and coat well with chocolate sauce.
Serve sprinkled with powdered sugar. ( or sprinkles or whatever you like, I think Hershey's Heath Toffee Chips will be delicious on top too)
Notes
Double the sauce recipe for a pound of pasta, trust me you'll want to have plenty of this if you are sharing it!
This Chocolate Spaghetti recipe is sponsored by The Hershey Company  All opinions are my own.