These cute little tubs of coconut deliciousness will be a huge hit with the coconut lovers in your life!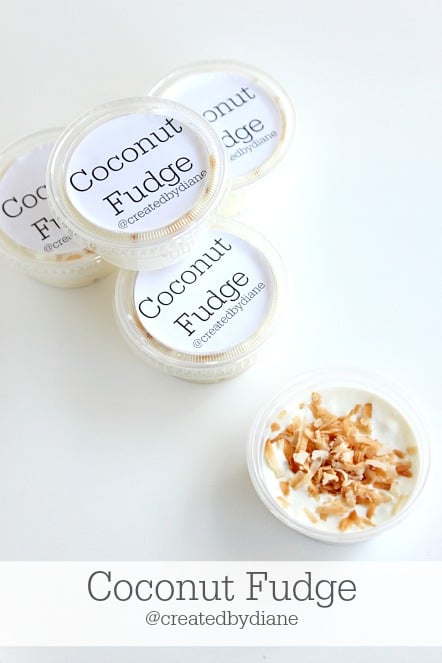 I just LOVE coconut,
and I'm not alone…
everyone in my house loves it too.
For a quick and delicious treat, I whipped up a batch of coconut fudge and topped them with some of my toasted coconut I shared with you a few weeks ago. Click here for the how to!
I'm not the biggest white chocolate fan,
but oh wow if you add coconut to it, it's LOVE!
This fudge is creamy and delicious and I added chopped sweetened coconut to it, and then that crunchy toasted coconut on top, it's well nothing short of FABULOUS!
After all coconut is KING around here.
Coconut Fudge
Ingredients
3 cups white candy melts (the better quality candy you use the better the taste) I use Merkins or Guittard
14 oz sweetened condensed milk
7 oz marshmallow cream
1/2 oz vanilla extract
1/2 oz coconut emulsion (or extract)
1/2-3/4 cup sweetened coconut (chopped fine)
1/4 cup toasted coconut
Instructions
In medium saucepan heat white candy melts and sweetened condensed milk, heat on medium heat until candy is completely melted.
Remove from heat, stir in marshmallow cream, extracts and regular coconut.
Pour into an 8x8 pan lined with parchment or into individual plastic cups like I did and top with toasted coconut.
Chill until fudge s set up. Typically an hour or two.
Cut and serve if in an 8x8 pan. Place lids on top if it's in individual cups.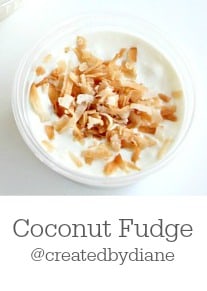 Other coconut items you may enjoy:
Coconut Chicken with Pineapple Guacamole