Whipped Chocolate Ganache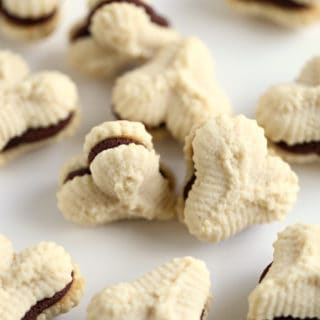 1/2 cup heavy cream
1 cups dark chocolate chips (I use Ghirardelli 60% Chocolate Chips)
Heat heavy cream until you see little bubbles (either on the stove or in the microwave)
Place chocolate in a bowl, pour heated heavy cream over the chocolate let sit for a few minutes.
The heavy cream will start to melt the chocolate, then start mixing, until the chocolate is all melted and smooth and glossy.
Allow the chocolate ganache to cool completely (either on the counter or in the fridge) if the ganache is soft, place it in the fridge for up to 30 minutes if you cooled it on the counter.
Whip the ganache with a mixer until it's fluffy.
Place ganache in a piping bag with a large round tip.
Pipe onto completely cooled cookies to create cookie sandwiches.
Ganache is so versatile, (whipped or regular ganache) you can use it as a filling, or on top of a cake or whipped ganache can be used as a filling for cakes and cupcakes or as a frosting.
Recipe by
Created by Diane
at https://www.createdby-diane.com/2019/05/spritz-cookies-with-whipped-chocolate-ganache.html