These Pineapple Cookies with Pineapple Filling Sandwich cookies are extra tasty… and extra special when they're homemade.   
Filled cookies are so much fun, aren't they!
Well, my mother requested a pineapple cookie recipe.
Very unique, but I was up to the challenge.
The first couple of batches were a learning experience.
They weren't filled, and I topped each cookie with pineapple jam.
While they tasted good, I didn't like the presentation they were delicious though. The jam had actually spread out too much and "melted" off each cookie.
I'm glad I persisted because I came up with this filled version that is just heavenly.
These are a simple cut-out cookie made with pineapple flavor. If you can't find it in a store nearby you can order Pineapple Extract on Amazon Here.
You can use any shape cookie cutter, but I chose this round shape with the pretty scalloped edge.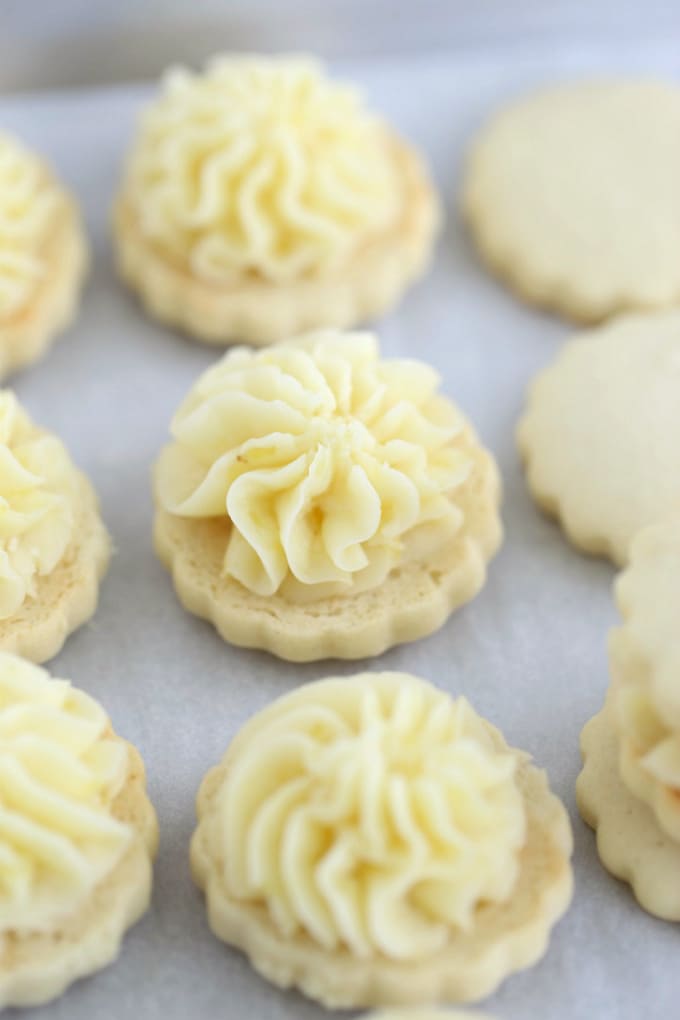 Now let's get to the fun part of this cookie, which is the filling!
I wanted a distinct pineapple-y flavor filling to complement the cookies, but already tried jam and that didn't work. So I added the jam to frosting and Wow, it's the perfect filling for these cookies in terms of both taste and presentation.
You can simply spread a bit of the frosting between the two cookies, but I piped mine on with a frosting tip for that extra-special touch.
These look like something out of a bakery and taste even better. And I love the unique flavor. My friend even declared these cookies one of her top favorite cooNeedless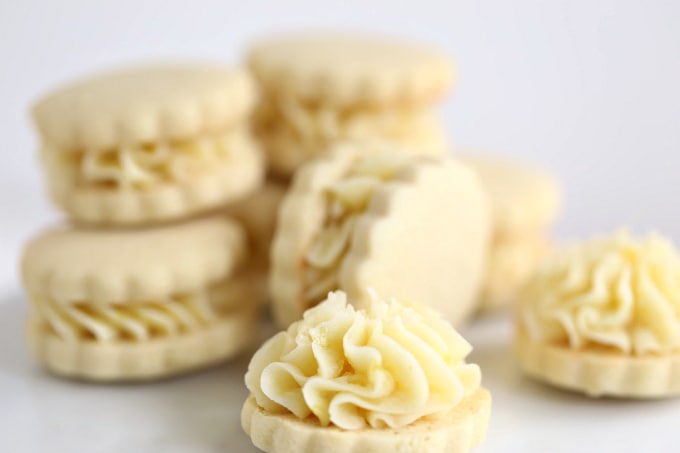 Needless to say, my mother was very pleased with the results. Yes, I had to make a double batch so there would be enough to go around for my family, too!
PINEAPPLE JAM RECIPE LINK to add to the frosting
Pineapple Sandwich Cookies
Serves:
48 cookies, 24 sandwich cookies
Ingredients
1 cup butter
1 1/2 cups powdered sugar
1 egg
1 teaspoon vanilla extract
2 teaspoon pineapple extract
3 cups flour
2 teaspoons baking powder
1/2 teaspoon salt
Instructions
Beat butter with powdered sugar and blend well.
Mix in egg and extracts, then add in flour, baking powder, and salt.
Blend on medium until the dough is well combined.
Roll cookie dough out 1/4" thick and cut with desired cookie cutter.
Bake at 400 degrees for 7-8 minutes, the bottoms of the cookies will be lightly golden the tops will stay light in color.
Allow cookies to completely cool on baking sheet.
Pineapple frosting
Ingredients
1/2 cup butter
4 cups powdered sugar
2 tablespoons heavy cream (milk can be substituted)
1/3 cup pineapple jam (my homemade pineapple jam recipe here)
Instructions
In mixer bowl beat butter with powdered sugar.
Add in heavy cream until it's smooth and mix in pineapple jam.
Frosting should be smooth and silky.
Place frosting into a piping bag fitted with a large closed star tip (I used a 2D tip) and pipe the frosting onto 1/2 of the cookies and top with the other 1/2 of the cookies.
Chill the cookies filled with frosting for the frosting to set up firm.