Oh my goodness, this chicken has such a fantastic flavor, it's sticky… in a really good way, has a sweet and spicy caramelized sauce that coats the chicken and it is completely irresistible!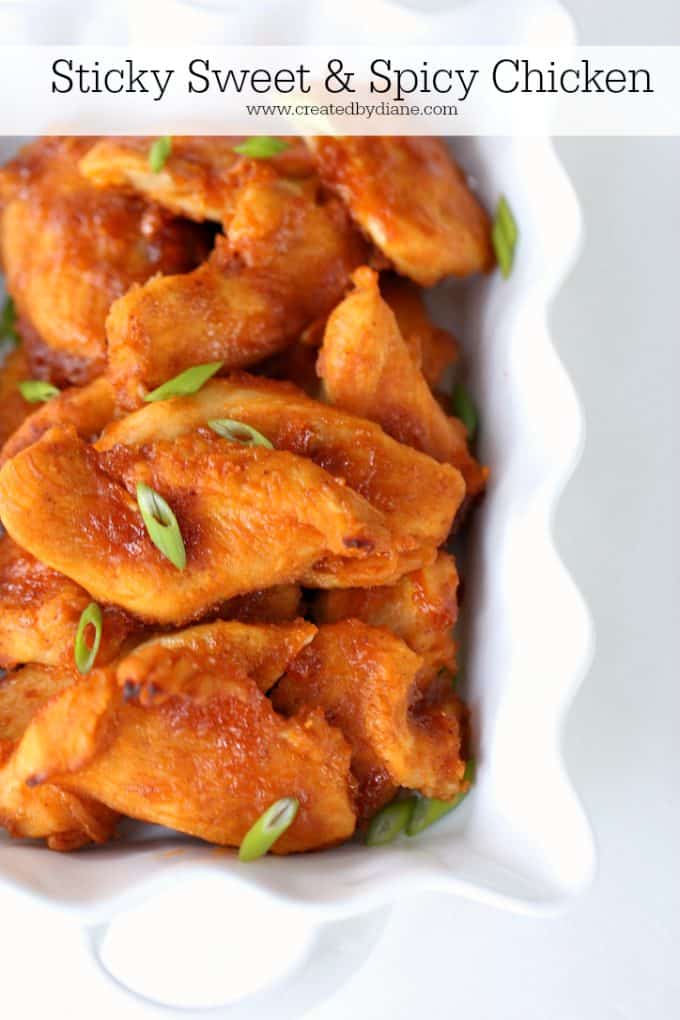 As soon as the tray comes out of the oven,
forks just seem to gravitate into the chicken and some will go missing…
trust me, it may seem odd, but everyone will be grabbing a fork and you'll have missing chicken!
Be sure to make plenty,  it's great leftover too.
I placed the 2lbs of chicken on one baking sheet and didn't overlap it so that the sauce could be baked over the chicken wonderfully.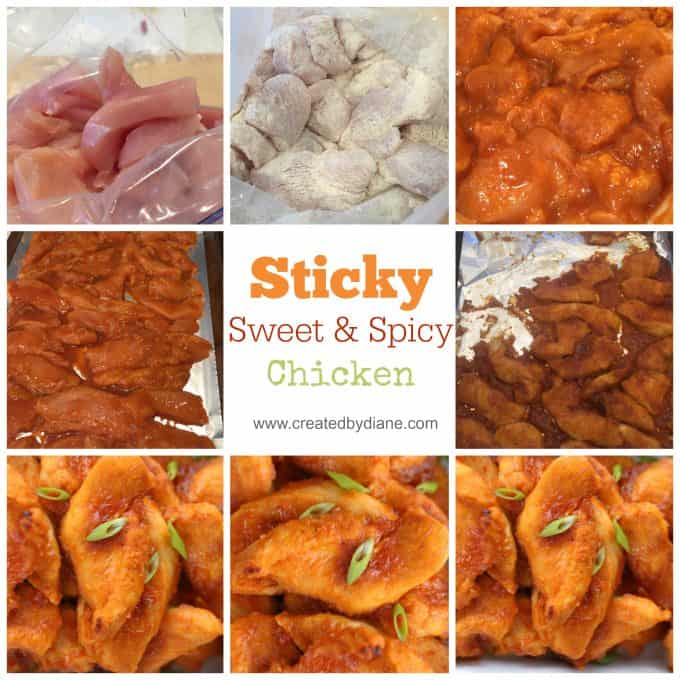 Place boneless skinless chicken strips into a gallon bag, add the flour and coat the chicken.
Then add the brown sugar, hot sauce, paprika, garlic, ginger, and salt. Mix again.
Spread the chicken on a foil-lined baking sheet and bake for 25-30 minutes.
Serve on a fork, like my teens seem to think is the best way to devour it, or over rice, on a sandwich or with a salad or vegetable. It's delicious.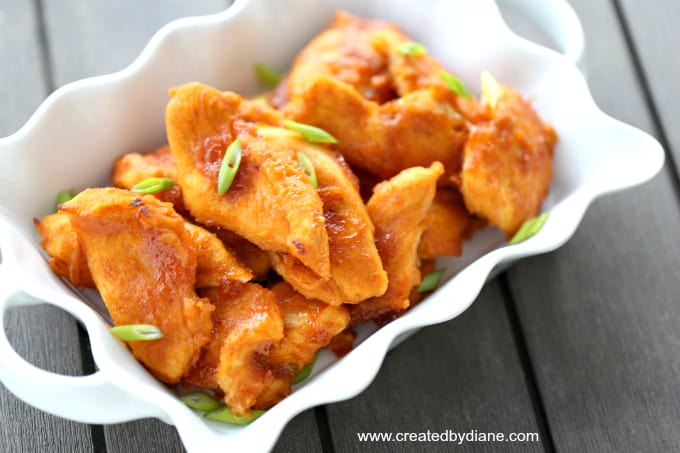 This is the chicken that will be requested again and again, it's so yummy! Perfect for dinner, or to snack on, great on game days too.
Sticky Sweet and Spicy Chicken
Ingredients
2 lbs boneless skinless chicken breasts cut into strips
1/2 cup flour
1-1/2 cups brown sugar
1/2 cup Franks hot sauce (Buffalo Style)
1 teaspoon paprika
1/2 teaspoon dry garlic powder
1/2 teaspoon dry ginger
1/2 teaspoon salt
Instructions
Preheat oven to 425°
In a gallon plastic bag add flour and strips of chicken, close bag, and mix so flour coats chicken completely.
Open the bag then add the brown sugar, hot sauce, paprika, garlic, ginger, and salt.
Squish the mixture to coat the chicken completely.
Line a baking sheet with foil (I use easy release foil) the sugary sauce will caramelize on the pan and this makes it easy to clean up.
Bake 25-30 minutes until the internal temperature of the chicken is 165°
Serve this chicken with rice, in a sandwich, over a salad or with a veggie for a complete meal. My teens just eat it off a fork! There is hardly time to put it on a plate.
If you like this or any other recipe on Created by Diane be sure to share the post with the ones you love. You can click on the "share" buttons on the top and the bottom of each post, you can share it on social media or in an email.
~Sign up for email updates and GET delicious recipes delivered right to you! Plus get my free e-cookbook too.
Thanks ~Diane