Crispy and heartwarming, that is exactly what these cookies taste like!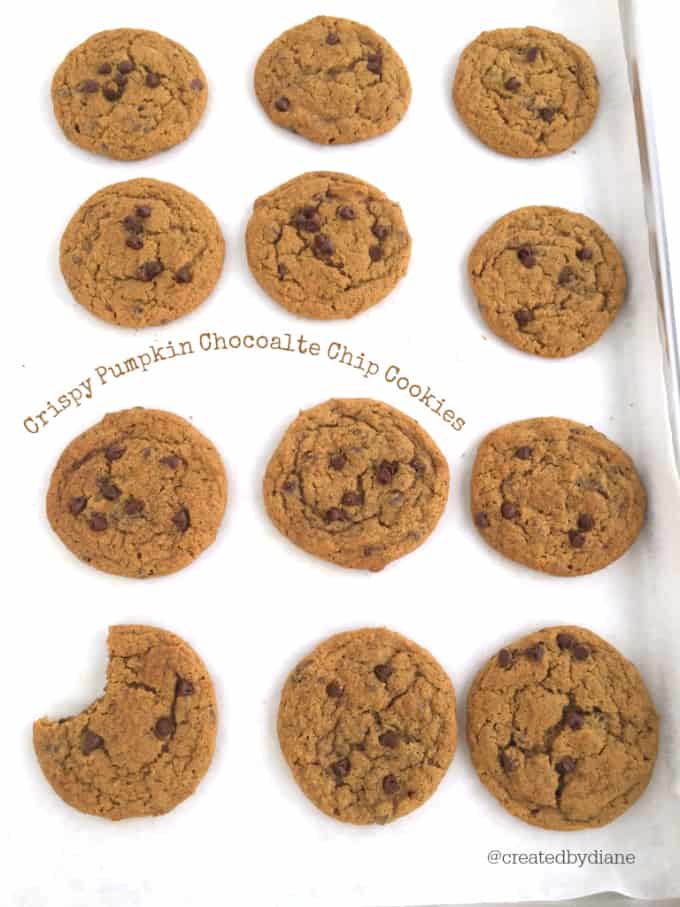 I have eaten MANY pumpkin cookies, and I don't prefer when they are really gooey or cakey, I like them more crispy.
If you like a crispy edge and chewy center, these are THE perfect combo.
I love the pumpkin flavor, it really kicks chocolate chip cookies into a fun comfy cookie PERFECT for the cooler weather.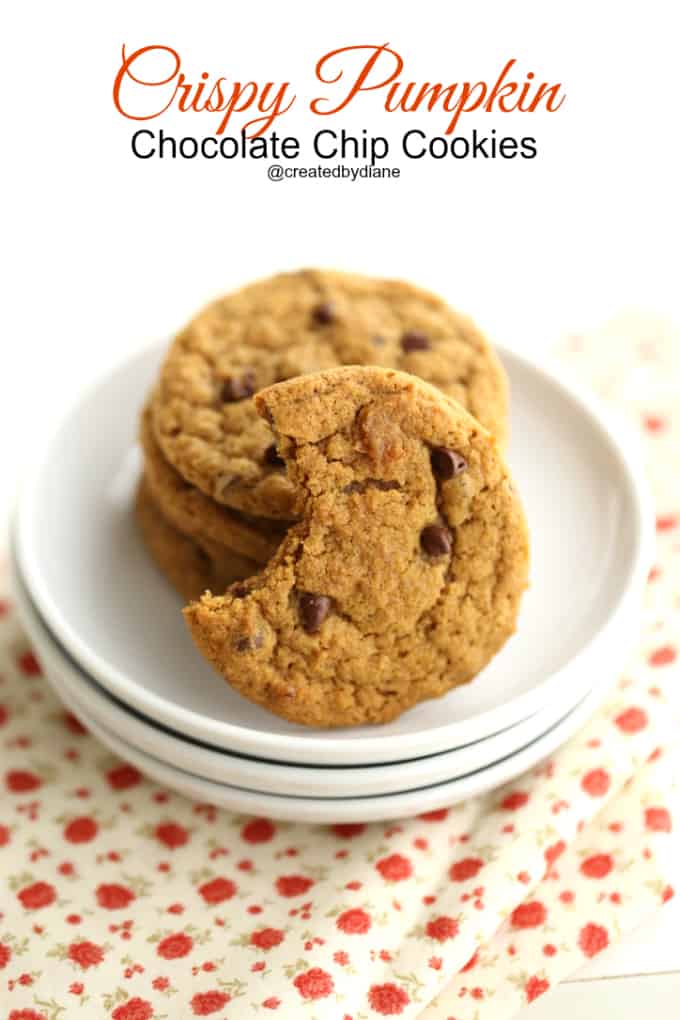 Mmmm… nothing better than walking into the kitchen and seeing a plate of these Pumpkin Chocolate Chip Cookies. My family DEVOURED them!
Now if you're like me you like pumpkin all year long and I always stock up on canned pumpkin puree, there was a pumpkin shortage a few years back, not sure if it was a marketing thing or for real, I was still able to get it in the stores, and my friends and I would talk about how fall and winter baking just wouldn't be the same without PUMPKIN!
I'm happy to say I have cans of it in my pantry all year long!
Click here to see more of my pumpkin recipes:
Crispy Pumpkin Chocolate Chip Cookies
Deliciously crispy pumpkin chocolate chip cookies, the perfect fall flavor with the added sweetness of chocolate chips, winning combo!
Author:
Diane Schmidt, Created by Diane
Ingredients
1/2 cup butter (melted)
1/2 cup sugar
1/2 cup brown sugar
1 egg yolk
1 teaspoon vanilla
1/3 cup canned pumpkin
2 teaspoons pumpkin pie spice
1 teaspoon baking soda
1 1/2 cups flour
3/4 cup mini chocolate chips
Instructions
Preheat oven to 350°
In a large bowl whisk sugar with butter and egg yolk.
Add in vanilla, pumpkin, pumpkin pie spice, and baking soda.
Stir in flour until well mixed.
Then stir in chocolate chips.
On a lined baking sheets place 2 tablespoon size cookie dough scoops. Don't overcrowd the trays, allow space for spreading between cookies. You'll need at least 2 baking sheets.
Place cookie dough sheets in the fridge for 20 minutes.
Then bake the cookies for 10 minutes, they will continue to bake as they cool on the baking sheets, don't remove them until they are cooled.
(for larger cookeis scoop 3 tablespoon size and bake for 15 minutes.)
If you like this or any other recipe on Created by Diane be sure to share the post with the ones you love. You can click on the "share" buttons on the top and the bottom of each post, you can share it on social media or in an email.
~Sign up for email updates and GET delicious recipes delivered right to you! Plus get my free e-cookbook too.
Thanks ~Diane