Pumpkin Season is upon us and I just had to make something yummy that included pumpkin.  
 Pumpkin Alfredo Sauce
Don't miss one delicious recipe from Created by Diane and get my FREE e-cookbook click here!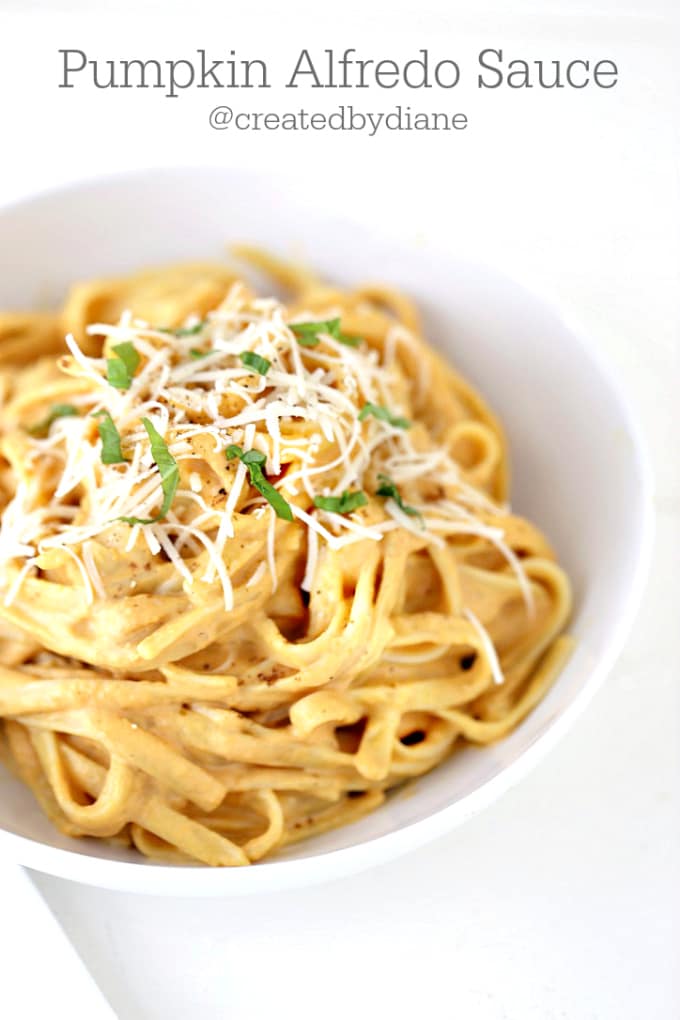 This creamy delicious pasta is a true Fall favorite!
If you are looking for a quick and easy dinner that's flavorful and fun this is it.
The combination of the sweetness of the pumpkin combined with the saltiness of the cheese is what I love about this most.
If you don't prefer things on the sweet side, I give you a great option to adjust the sauce to you liking.
If you're  a pumpkin love add this to your must make list now! And if you have a non-pumpkin lover in the house this may surprise them, it surprised mine, they love it.
Two things I know for sure, as soon as summer ends I stock up on plenty of pumpkin. And since I'm a pasta lover at heart I have lots of boxes of pasta at all times (don't tell me I'm the only one who piles their cart full of pasta when they go shopping)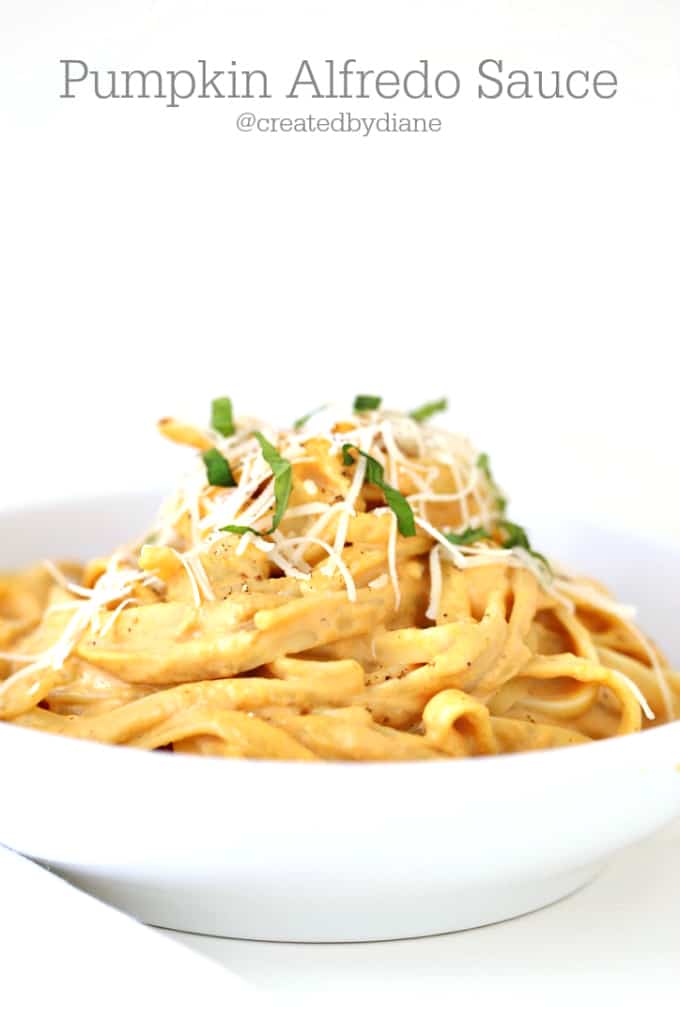 This is one of those meals that more often than not I have everything I need on hand at all times.  I bake a lot and seem to always have heavy cream if you don't any milk will do. But heavy cream is my preference. If you use skim milk add in little more butter to enhance the flavor.
This is perfect as the weather cools off and you need a hot meal quick. You can cozy up on the couch with a blanket and a good movie with this one!
If you don't like sweeter things, add in some marinara sauce it will balance the sweetness of the pumpkin. I enjoy it both ways and if you like it spicy add in some crushed red pepper.
Pumpkin Alfredo Sauce
Ingredients
1 tablespoon butter
1 tablespoon garlic paste or minced garlic
1 cup pumpkin puree
1/4 cup marinara sauce (optional)
1 cup heavy cream
1/2 cup milk
1/4 cup parmesan cheese
1/2 teaspoon salt
1/8 teaspoon black pepper
*garnish, additional parmesan cheese, basil, grated nutmeg
Instructions
In a medium saucepan heat butter with garlic.
Add in pumpkin puree, marinara sauce, and heavy cream, milk, and whisk until smooth.
When sauce comes to a boil over medium heat stir in parmesan cheese, salt and pepper.
If you prefer it cheesier add an additional 1/4 cup parmesan cheese.
If you don't prefer your sauce too sweet, add in 1/4 cup marinara sauce.
Stir over 1 lb cooked pasta and garnish with additional cheese, basil, and nutmeg.