Oh my goodness, you will want to grab some jars quickly and whip up this recipe. You'll love how quick it is!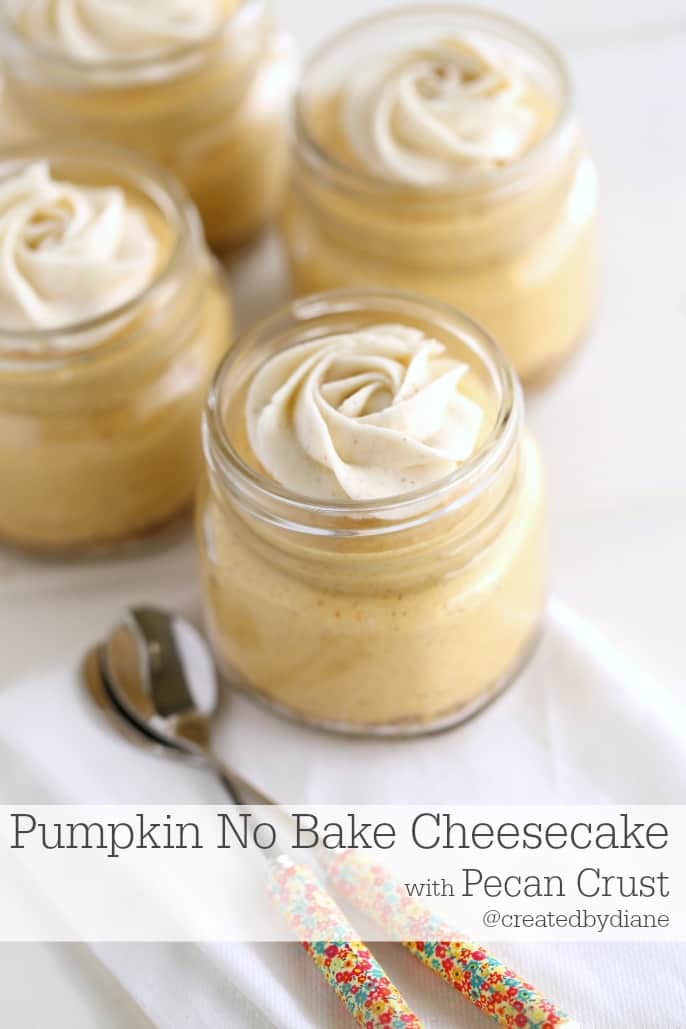 Pumpkin No Bake Cheesecake with Pecan Crust
Don't miss a single recipe created by Diane, sign up for email updates
and get every delicious recipe delivered to your inbox. Plus get my FREE e-cookbook. Click here.
Trust me, if you love pumpkin…
you'll love this.
If you love cheesecake, you'll love this.
The crust is so incredible, you can even make a double batch and layer it within the cheesecake.
Yes, it's that delicious!
Now, the really interesting thing is I gave of these to a non-pumpkin lover (I'm not sure how that is possible, but it's true) and they LOVED it and they told me to hurry up and post it so they can make it!
I do think some people relate pumpkin to "pumpkin pie" and there are OH SO many more delicious recipes made with pumpkin that don't taste like pumpkin pie at all. Take a look at my PUMPKIN E-book for more great pumpkin recipes.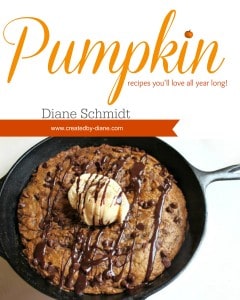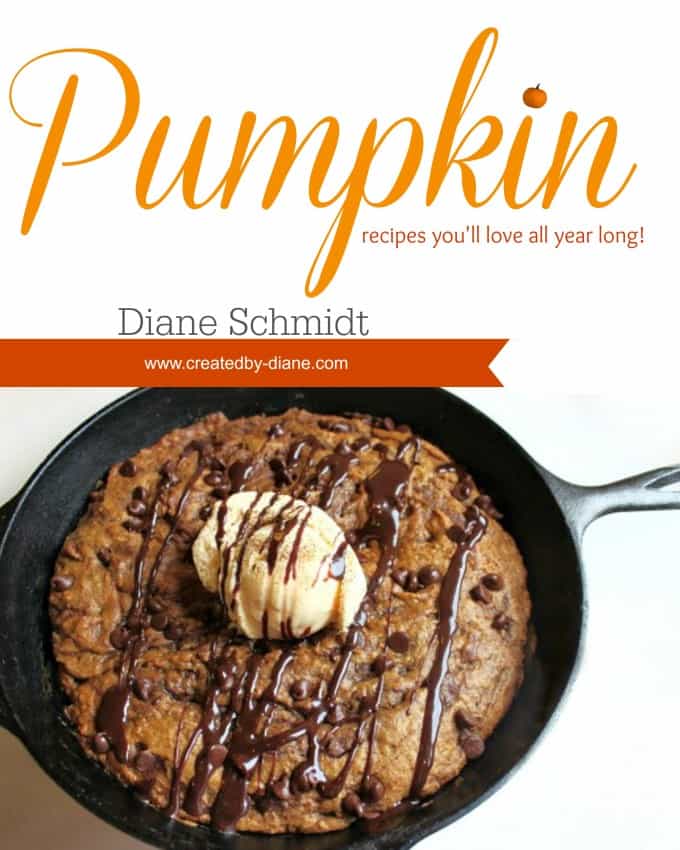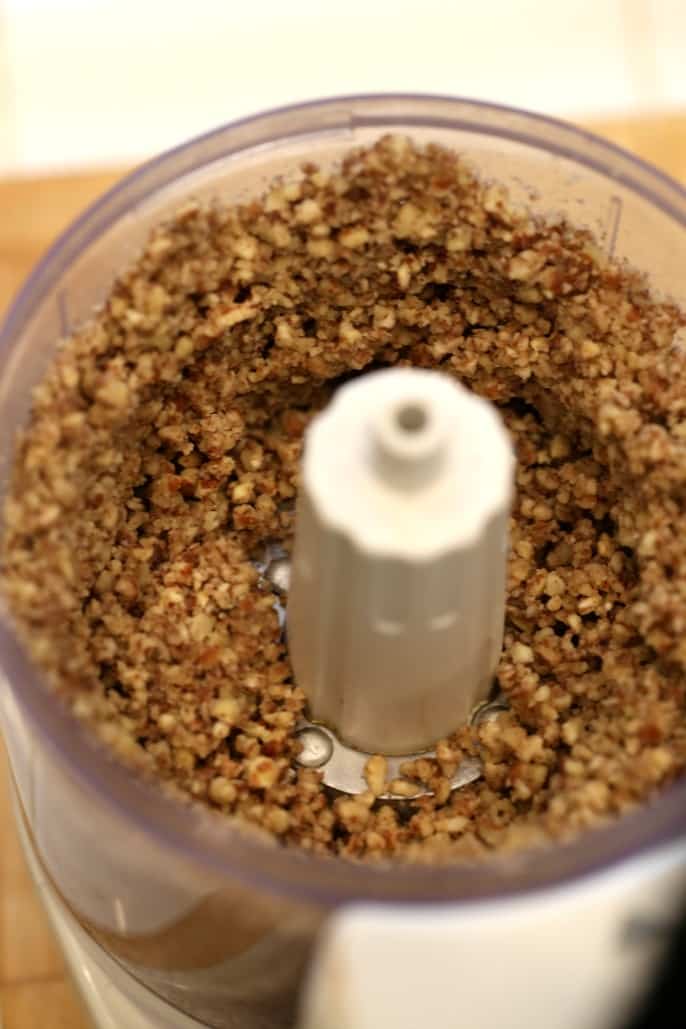 In the bottoms of the jars is this delicious crust. It's a mixture of pecans and graham crackers crumbs. It's irresistible!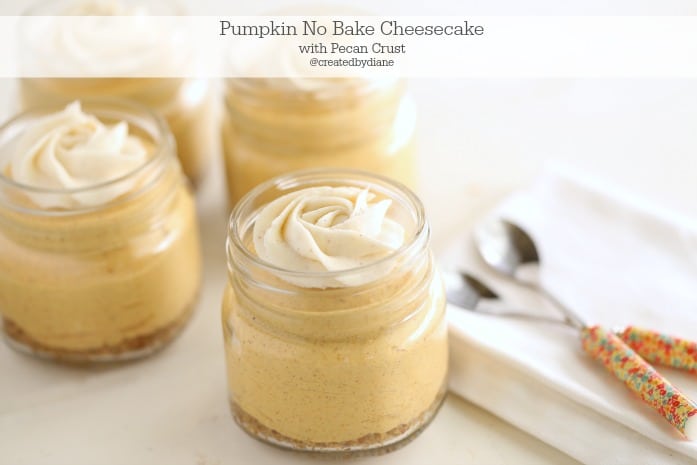 Spoonful after spoonful of creamy delicious cheesecake with the fantastic flavor of pumpkin and the pecan crust is wonderful. Alternatively, you can use graham cracker crumbs only or use crushed gingersnap cookies. I made a batch with gingersnap cookies and they were delicious too. But really I love nuts! Go figure, some days I'm a little nuts myself 🙂
No matter what you make them, they will be devoured.
These were made in 8 oz jars. This recipe makes 4. This is a generous serving. If you prefer a smaller serving size. They can be made in 4 oz jars or cups. This recipe can be easily doubled to accommodate more servings as well.
I piped buttercream frosting mixed with pumpkin pie spice on top of the cheesecakes. The lids fit on top nicely without messing up the rose design. You can see how I pipe the rose shape and buttercream recipe here.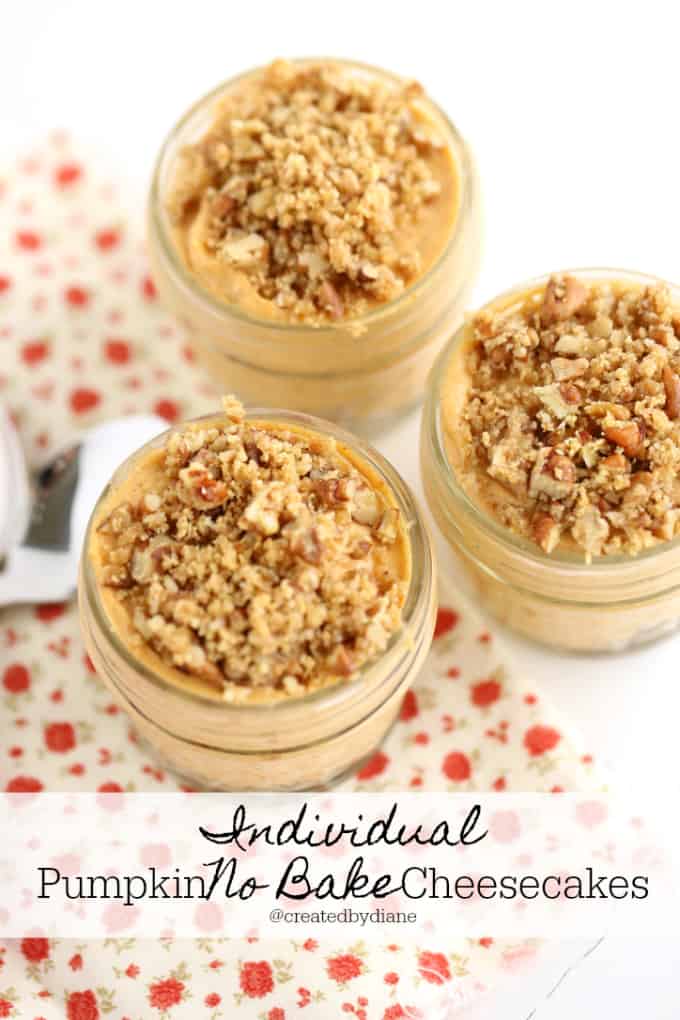 These have the "crust" put on TOP!!!! They taste fantastic and each time you dunk your spoon into the cheesecake you're sure to get some of the nuts and graham cracker mixture.
The choice is yours how you'd like to serve them either way they taste great!

Pumpkin No Bake Cheesecake with Pecan Crust
Ingredients
Crust:
1/2 cup pecans
1/4 cup graham cracker crumbs
1 tablespoon butter
filling:
2-8pz packages cream cheese (room temperature)
1 cup pumpkin puree
2/3 cup sugar
1/4 cup heavy cream
2 1/2 teaspoon pumpkin pie spice
Instructions
In food processor grind nuts, then add in graham cracker crumbs and butter and grind until fully blended.
Place 2 tablespoons in the bottom of each jar.
With a mixer and the wire whisk attachment, whip cream cheese until smooth and creamy.
Then mix in the pumpkin puree.
Add in sugar and mix well.
Next pour in heavy cream and whip on high until well mixed and fluffy.
Mix in pumpkin pie spice.
Place mixture in a gallon plastic bag to fill jars without a mess.
Fill jars with pumpkin cheesecake mixture.
Top with frosting or whipped cream.
Refrigerate for at least 1 hour.
Notes
I used buttercream frosting with a small amount of pumpkin pie spice added and piped the rose with a 2D tip. The lids fit on the jars with the frosting.