A delicious bowl of soup could change your whole day!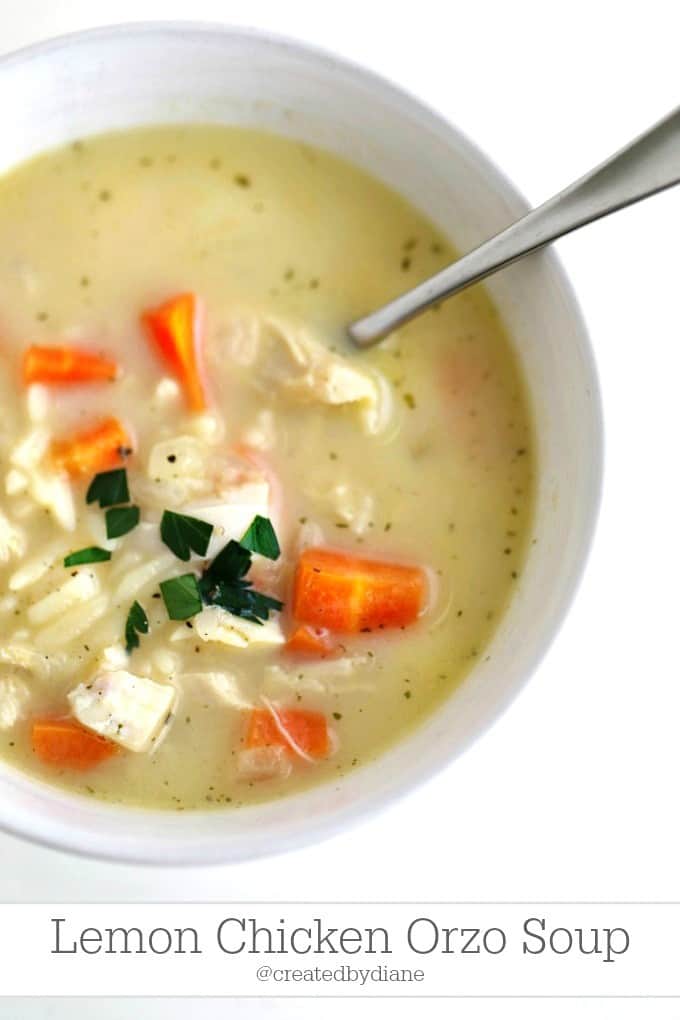 I believe it.
Now this soup is something really special.
I've made it many times and finally made it irresistible.
It's lemony without being overly lemony.
It's familiar like chicken soup, but oh so much more.
It is one of my go-to soups and I think you're going to LOVE it.
I love all kinds of soup! Don't forget to check out my
Don't forget to check out my Soup Ebook, there are 20 great recipes click here for the info.
Lemon Chicken Orzo Soup
Ingredients
6 cups chicken broth
2 cups diced cooked chicken
2 Meyer lemons (2/3 cups juice)
2 teaspoons garlic
1/2 cup chopped onion
2 medium diced carrots
2 egg yolks
6 oz. orzo
salt and pepper to taste
Instructions
In a 4 quart saucepan saute onion, carrot with garlic and a tablespoon of oil.
Add in chicken broth and orzo bring to a boil.
Time 9 minutes.
Remove a cup of broth and whisk egg yolks into it and slowly add mixture to soup while stirring.
Add in lemon juice and chicken.
Cook 2 more minutes.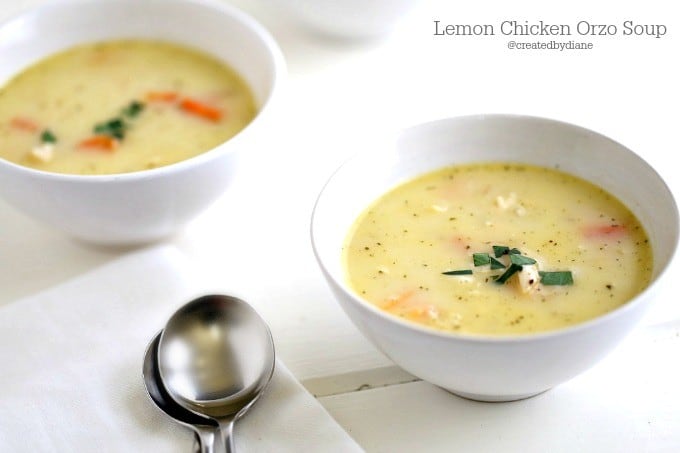 This soup is so delicious, perfect anytime.
I did hear it snowed again in the East Coast and although I miss the pretty white scenery, I wouldn't give up the 88 degree day we had today here in Southern California for a shovel!
Thanks so much for stopping by to see this recipe!
Sharing this post is appreciated and encouraged. Use the share buttons at the top and bottom of the post, there are many options to all your favorite social media channels and you can also email it to a friend. Print out the recipe to enjoy it on your next kitchen adventure. Please don't copy and paste the full post, it's prohibited without written consent from me. Recipes including wording and photographs are Copyright of createdby-diane.com.
Please enjoy this recipe and click here to sign up for email updates to receive recipes in your inbox.
~Diane