This is a great cold salad that is full of great flavor!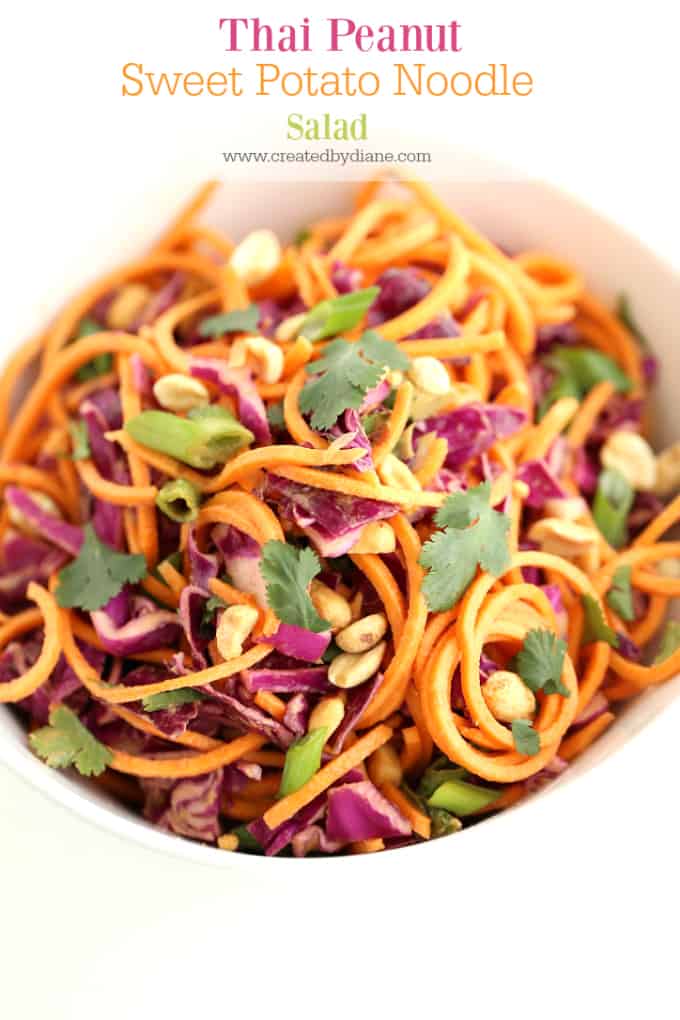 I just LOVE Thai peanut noodles, here is my original Thai Peanut Noodle Recipe.
But I've been eating low carb lately and wanted something without pasta.
Sweet potato to the rescue!
Eating a raw sweet potato may seem odd if you haven't tried it and I think eating a big diced chunk seems less appealing,
but when you cut the sweet potato with a spiral cutter, you won't believe it's a sweet potato.
I have loved sweet potatoes for as long as I can remember… baked, or sauteed with butter, salt, and pepper is my favorite.
And I have a couple more sweet potato recipes you might want to try:
This is the spiral cutter I have I bought it at least 4 years ago and use all the time, I love it. It's easy to use and cleans up quickly. It makes eating healthy and low carb a breeze!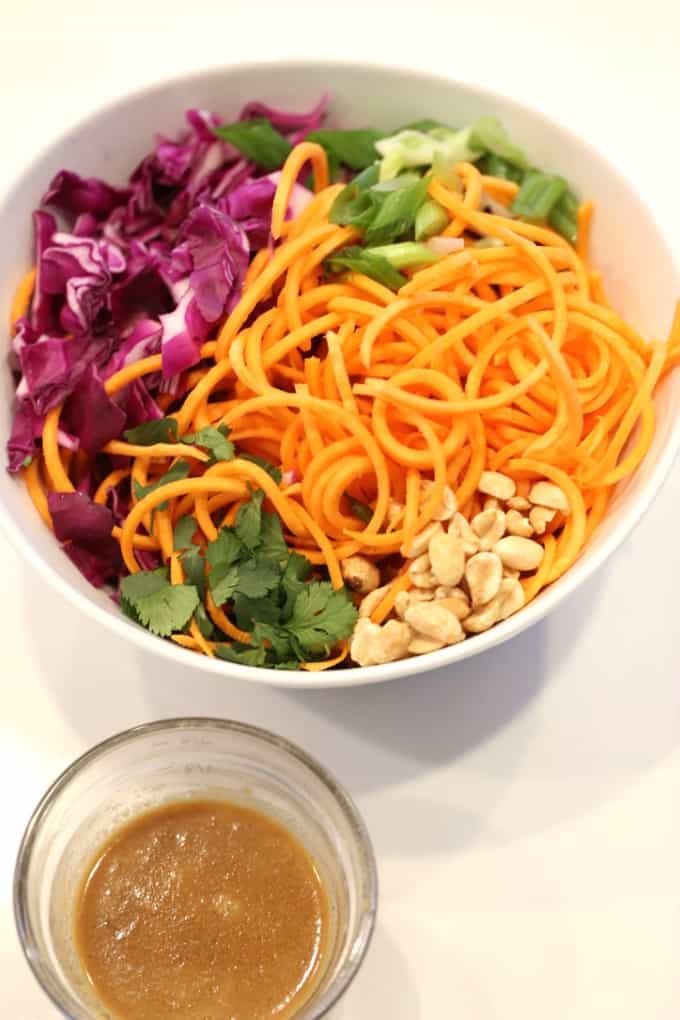 Now, this is a bowl of healthy if I ever saw one. I'm not the biggest fan of salads, I don't find eating lettuce satisfying, but give me all the VEGGIES and I'm happy.
This is nice and crunchy and tastes fantastic and is full of great flavor and is ridiculously pretty too!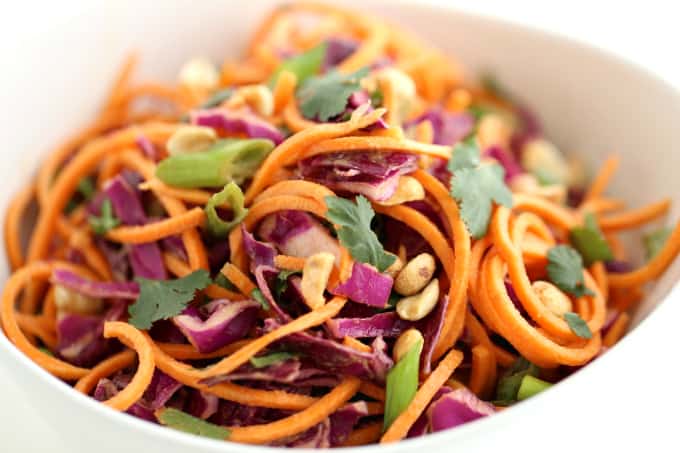 This is the Thai Peanut Sauce I make when I want to have it in the fridge all week or to use on many meals.
Below is a different recipe I use with fewer ingredients when I'm just making one bowl for myself.
If you like nice large bowls to serve food in these are wonderful!
Thai Peanut Sweet Potato Noodle Salad
Ingredients
1 medium sweet potato
1/2 cup sliced purple cabbage
1 green onion
2 tablespoons peanuts
2 tablespoons cilantro
sauce
1 tablespoon peanut butter
2 teaspoons soy sauce (or soy sauce alternative like Bragg Aminos)
1 tablespoon rice wine vinegar
1 tablespoon fresh lime juice
(or all vinegar or all lime juice)
if you like it spicy add a couple drops chili oil
Instructions
Mix sauce ingredients together with a fork or small whisk.
Spiral cut the sweet potato (or use a julienne peeler to create thin sting like pieces)
sliced purple cabbage, green onion, and cilantro.
Add all ingredients to a bowl, toss with sauce and top with peanuts.
Makes 1 large serving or 2 small servings.