Many recipes call for buttermilk if you don't have any on hand this is a great substitute. It only takes a minute to make and will give the same great tangy flavor that buttermilk does in recipes.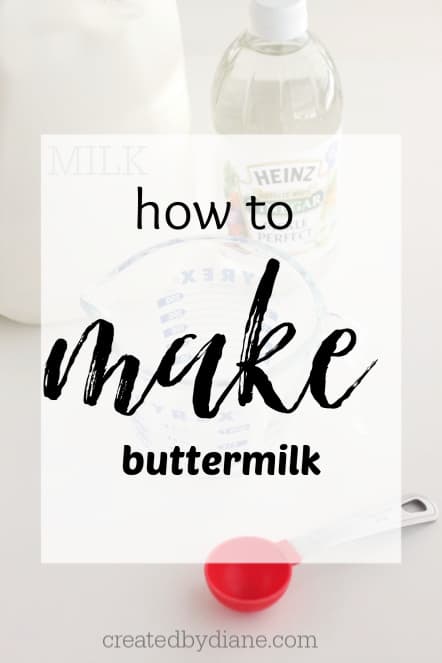 Making your own buttermilk is easier than you think! This simple homemade buttermilk recipe requires only two ingredients and is ready in minutes.
It never fails. I'll choose a recipe that I want to make and it calls for buttermilk, which I almost never have. I definitely don't want to make a trip to the store for just one ingredient,
so I make my own!
Homemade buttermilk is so easy and it can be used in any recipe that calls for buttermilk.
With just two ingredients I am able to make a buttermilk substitute,
milk and vinegar is all it takes,
and a little time.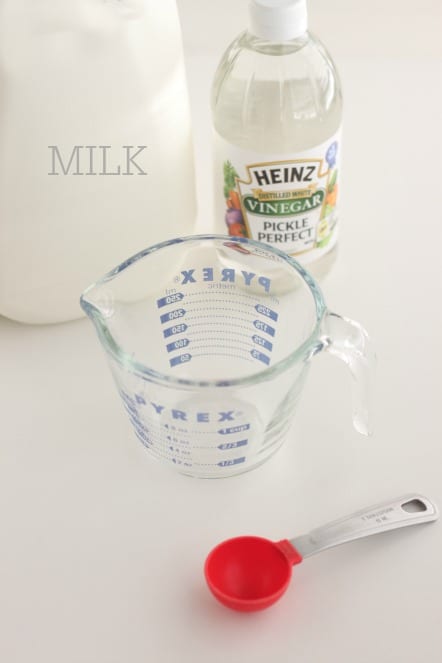 Mix 2 tablespoons of vinegar into a cup of milk, wait about 10 minutes and you will have a buttermilk substitute.
(I've tried a teaspoon or two, but it didn't seem like actual buttermilk, but 2 tablespoons is very similar)
How Do I Make My Own Buttermilk?
To make your own buttermilk, simply mix two tablespoons of vinegar into one cup of milk, cream or half and half. Wait a few minutes for it to thicken. Your buttermilk is now ready to use in any recipe.
What Can I Use Instead of Vinegar to Make Buttermilk?
If you do not have vinegar, two tablespoons of lemon juice can be used as a substitute.
What Kind of Milk Should I Use to Make My Own Buttermilk?
I prefer to use heavy cream if I have it – it makes thick buttermilk that is identical to what I'd buy at the store. I realize that most people don't have heavy cream on hand, so I've tried this recipe with all kinds of milk. While I prefer whole milk, 2% or skim works just fine too. Heavy cream works great, it's thick like buttermilk and I usually have heavy cream on hand with all the baking I do.
How Can I Make My Homemade Buttermilk Thicker?
If the buttermilk you made isn't thick enough to your liking, try using room temperature milk, as I have found that it gets a lot thicker. Another option is to let it sit for just a bit longer. You could also heat the milk in the microwave for about 15 seconds.
What Do I Do If My Homemade Buttermilk Starts to Curdle?
A few minutes after stirring in the vinegar, you may notice your buttermilk starting to curdle. This is just the vinegar working it's magic and is perfectly normal!  Continue to let it sit and you will end up with a thick and tangy tasting milk. Just like store-bought buttermilk!
I've added more than 1 tablespoon of vinegar or lemon juice which everyone else says is a good amount with great results, so don't skimp. I really like 2 tablespoons added. And if the milk is at room temperature it seems to get thicker, so if you are really looking for a substitute for store-bought buttermilk, use room temperature milk, or heat it for 15 seconds in the microwave, then add the vinegar and WOW… thick buttermilk.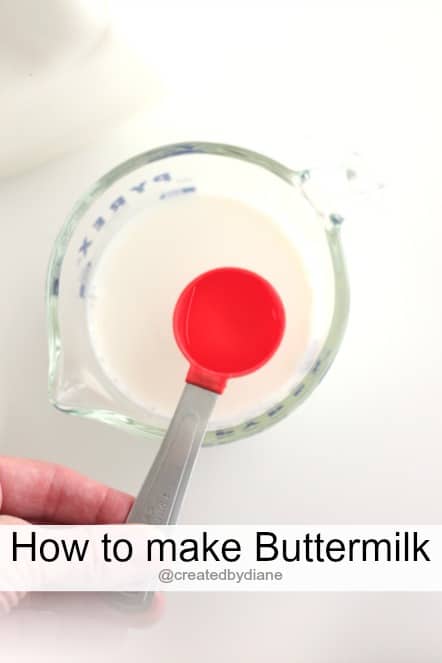 You can use this buttermilk in my
What type of vinegar is used?
I use white distilled vinegar. Another option is to use lemon juice. Both are acidic enough to make the milk turn to buttermilk. Use a little more than the recommended amount in this recipe if needed to "curdle" the milk.
*I've used this substitute version of buttermilk in many recipes, like biscuits, pancakes, cornbread, sauces, and so many other recipes. I found that the flavor is so similar it's hard to tell the difference, and since vinegar tenderizes items it's similar, but when I want authentic buttermilk results, especially in buttermilk biscuits I do prefer the real buttermilk, but as mentioned made some in a pinch with milk and vinegar with great results.
The buttermilk I typically use is reduced fat buttermilk and it's so thick, I've even tried making a thicker substitute with vinegar and heavy cream which need up with really good results. So if you are baking cakes, cupcakes, biscuits, and such and looking for it to be even more similar to real buttermilk, use heavy cream or half heavy cream and half milk so it's just as thick as buttermilk, then add in the vinegar.
Buttermilk is typically thick and creamy, this recipe can be made with milk, heavy cream, or half and half depending on how thick you'd like your buttermilk to be. All will work well in many recipes no matter what type of milk you choose to use.
How to make Buttermilk
This tip on how to make buttermilk out of milk and vinegar is great as a substitute for real buttermilk in recipes.
Author:
Diane Schmidt Created by Diane
Ingredients
1 cup milk, heavy cream, or half and half
1-2 tablespoons vinegar (white distilled vinegar) or lemon juice
Instructions
Mix vinegar into milk and let it sit for 5-10 minutes, I do find 10 minutes does quite better.
It will curdle a little bit, that is the vinegar doing its magic on the milk.
The result will be tangy-tasting milk, just like buttermilk.
I've been adding more vinegar than 1 tablespoon and it's been great, and if the milk is at room temperature or heated in the microwave for 15 seconds it's thicker. Great for a real substitute in recipes.
I will have a couple of recipes coming up using buttermilk and wanted to show you how easy it is to make if you don't have any on hand