Lemon Cookies with an easy to ice Lemon Icing and fun sprinkles will make these look like they are ready for a party even if you're just going to enjoy them yourself!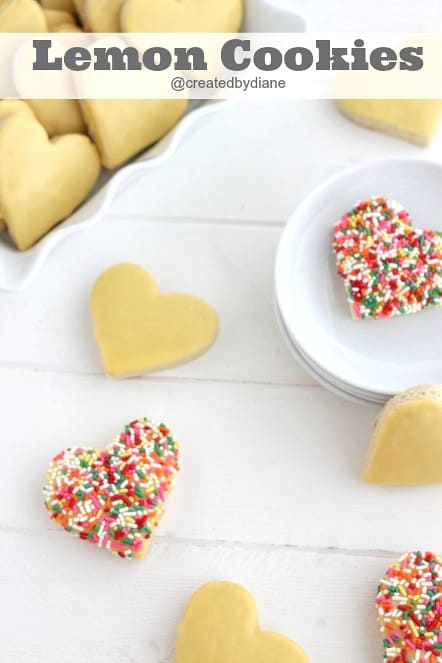 What is it about lemon cookies that makes them so irresistible?
I don't know, but I keep baking up batches trying to find out.
These Lemon Italian Cookies are not to overly sweet, but topped with a lemon glaze icing that dries silky smooth and of course I just had to top some with sprinkles.
I just LOVE colored jimmies, or sprinkles or what ever you call them. I just call them pretty!
I just love all those pretty colors stuck on top of these cookies.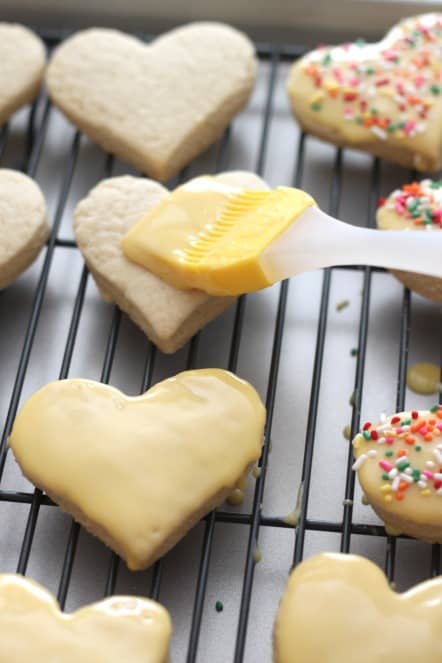 There are many ways to ice cookies. I show you how to do one here. Today I brushed the glaze icing on with a silicone brush and let the excess drip down the sides, kind of like donuts.
Placing a cooling rack in a baking sheet will help keep all the messy drips in one place as well as the sprinkles. Easy clean up is a plus.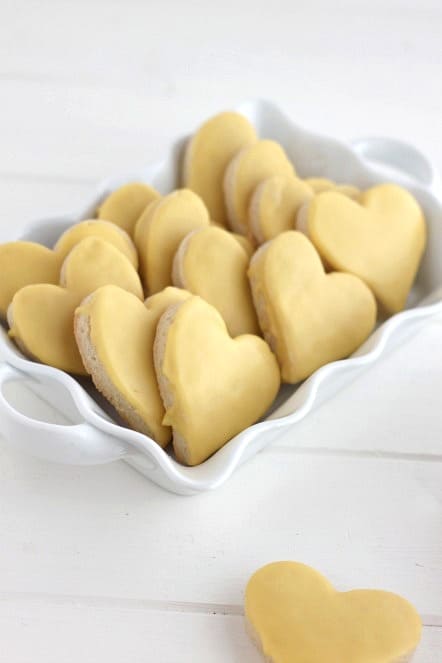 Having the icing drip down the sides was a more rustic look than the perfectly piped edges I usually try for. But some days it's all about getting some delicious treats finished quickly and easily. Believe me these looked impressive all stacked up.
I love the pretty yellow color on these, but of course they would be equally delicious in any color you'd prefer. If you don't add coloring to the glaze icing it will have a slightly white, slightly transparent look. Like glazed donuts.
Glaze icing dries smooth and pretty, give the icing plenty of time to dry before stacking or packaging the cookies.
If you want to add sprinkles to the cookies, place sprinkles in a shallow dish and dip the iced cookies into the sprinkles then let them dry. Brush on the icing and dip them right into the sprinkles before the icing sets up or the sprinkles won't stick very well.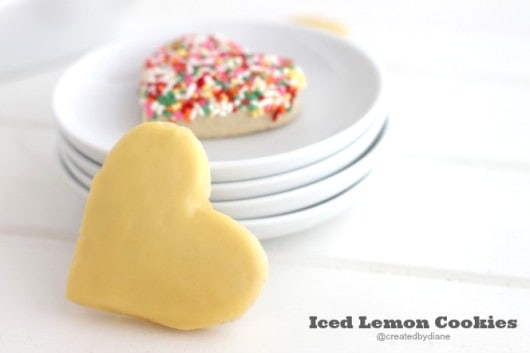 Of course adding sprinkles is really fun too.
Lemon Italian Cookies with Lemon Icing
Ingredients
3 eggs
3/4 cup butter, melted and cooled
3 cups flour
3/4 cup sugar
1 teaspoon baking powder
1 teaspoon vanilla
1 tablespoon lemon baking emulsion or lemon extract
Instructions
Mix melted cooled butter with eggs in small bowl.
In a medium bowl mix flour, sugar and baking powder.
Stir egg mixture into flour mixture and add flavors.
Mix completely.
Let dough sit for 5 minutes, roll out 1/4 of the dough on a lightly floured surface or between wax paper sheets.
Dough should be shiny and smooth, if it's too floppy add a little flour at a time until it's consistency is workable and cuts nice and smooth with cookie cutter.
Cut out desired shapes.
Bake cookies on a lined parchment cookie sheet at 350 degrees for 12-18 minutes (depending on thickness) or until they are firm and bottom is almost golden.
I rolled these cookies 1/2 inch thick.
Lemon Glaze Icing
Ingredients
2 cup powdered sugar
4-8 tablespoons water
1 tablespoon corn syrup
2 teaspoons lemon baking emulsion or lemon extract
1 drip egg yellow color
Instructions
mix powdered sugar with 4 tablespoons water and corn syrup along with lemon flavor and color.
Add more water as needed so the icing is thin enough to spread over cookies but thick enough to be able to leave a nice thickness on the top of the cookie without it all running off.
I spread the icing over these cookies with a silicone brush and allowed it to drip down the sides.
If you like sprinkles on your cookies dip the freshly iced cookies into a dish of sprinkles so they will stick and dry on the cookies at the icing dries.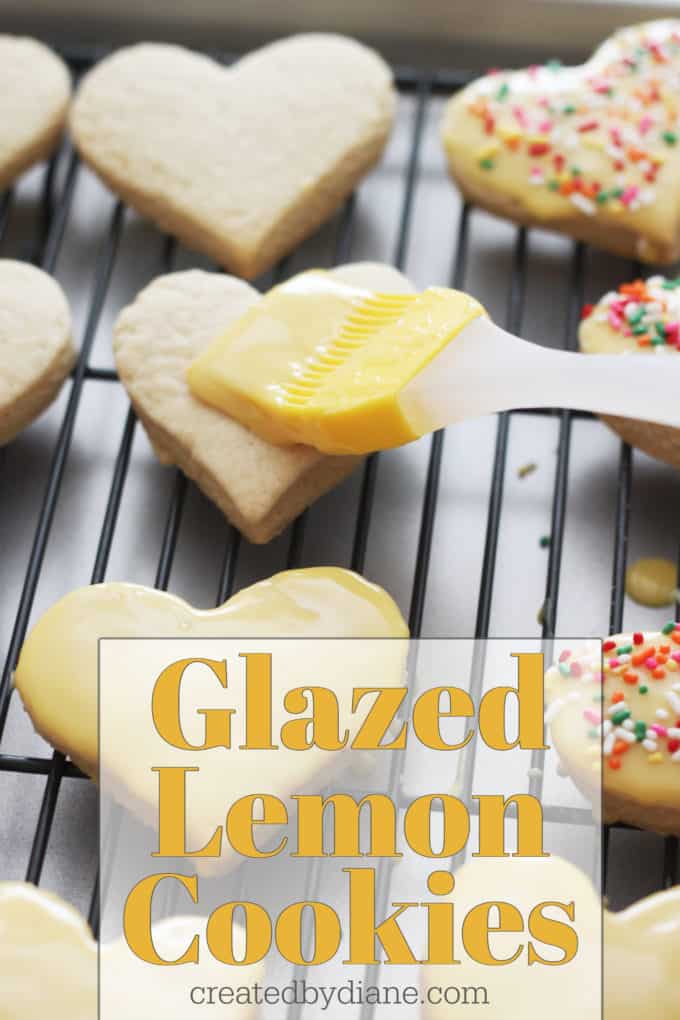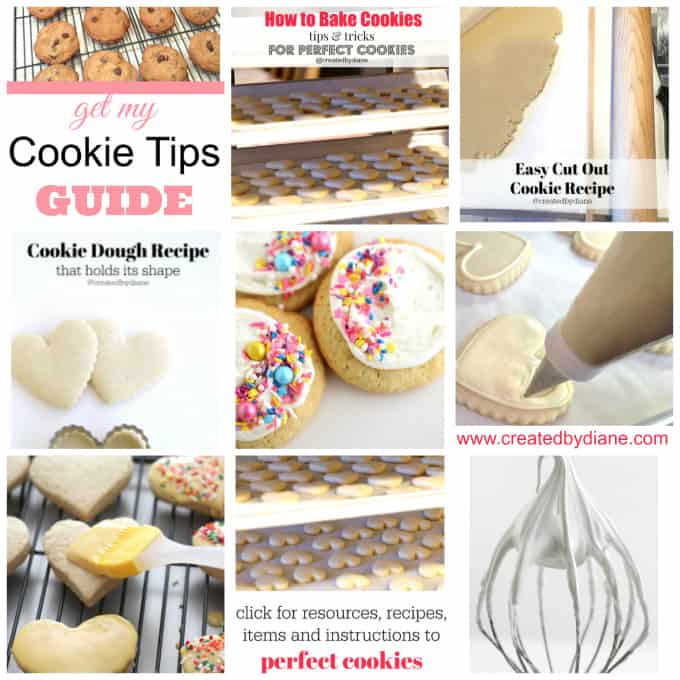 LOTS of info on baking cookies here: