Chocolate Chip Cookies are by far everyone's favorite cookie and this cake is made with piles of them, to create the most amazing chocolate chip cookie cake.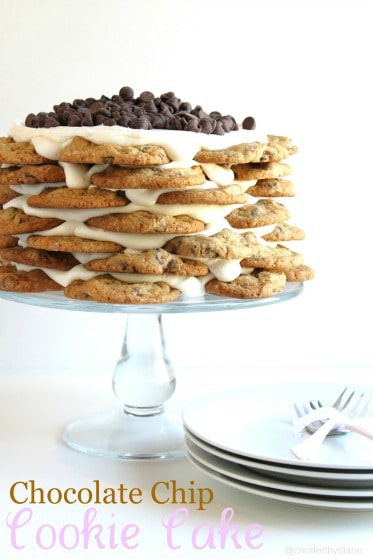 Chocolate Chip Cookie Cake
Don't miss one delicious recipe and get my FREE e-cookbook
This is for all the Chocolate Chip Cookie LOVERS!!!
Well, I think that just about covers everyone…
doesn't it? Who doesn't like chocolate chip cookies?
Well if you don't I wouldn't TELL ANYONE, we will all think you are CRAZY!!!
This fun cookie cake is easy and fun…..and DE-LICIOUS!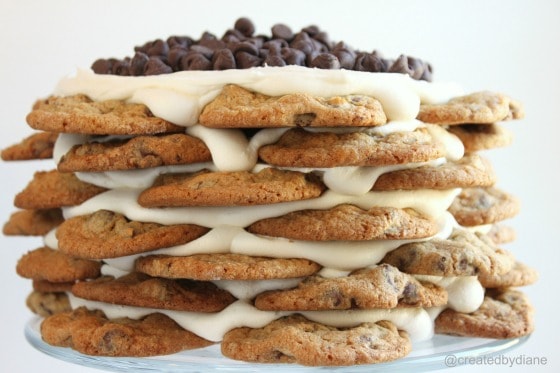 I just loved the look on my son's face when he caught the first look at this…
he loves chocolate chip cookies and asked me to make some for him this week…
and well TODAY just happens to be his birthday,
so yesterday I baked up a double batch of Toll House cookies and began assembly on this beauty.
Needless to say, he thinks it is just about the BEST BIRTHDAY CAKE…EVER!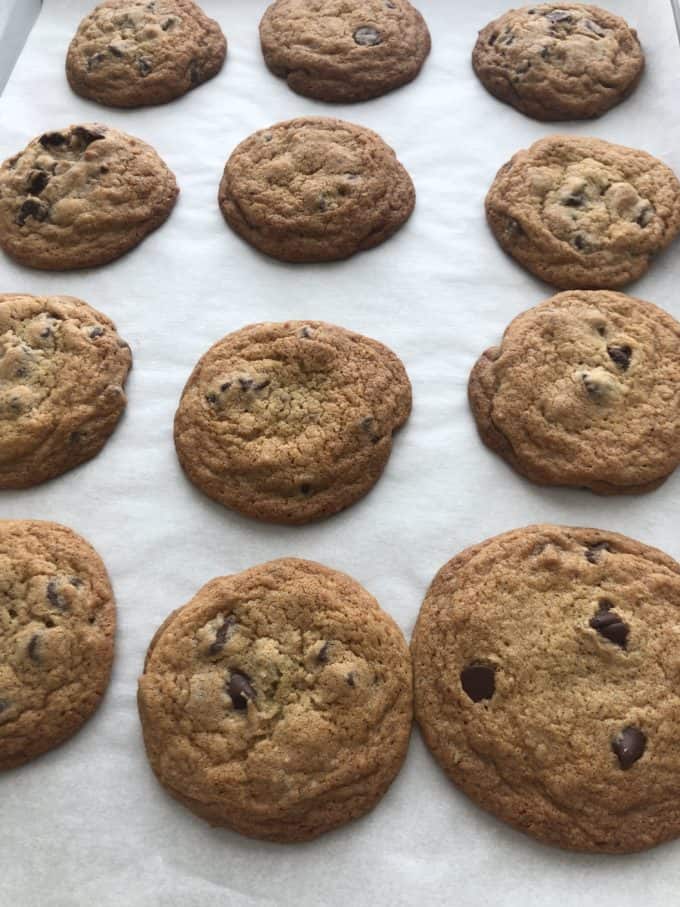 To assemble the cake I started with 8 cookies in a circle and one in the center,
as I stacked and alternated with piping the icing in a ring on top of the circle of the cookie
and completely covering the center cookies it allowed me to press the cookies into each other
so they would stay in place and there would be icing falling in the spaces between the cookies.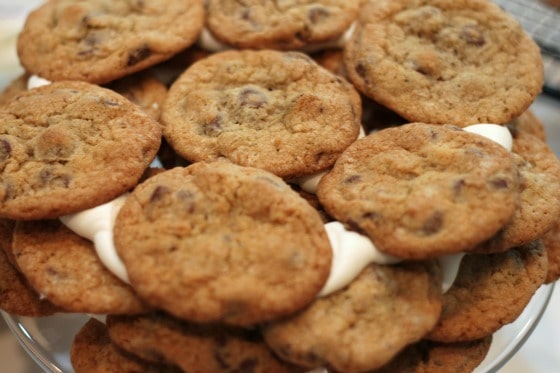 After two rows I used 7 cookies.
You can certainly adjust this number of cookies depending on their sizes.
You don't have to worry about the spaces that don' t have icing, with this many cookie and icing,
everyone will get plenty of yummy goodness.
I baked all my cookies using a two-tablespoon scoop, they were about 3 inches each.
I think this icing worked out PERFECTLY, it was soft enough to drop between the cookies
but was firm enough to hold up all the weight of the cookies with no problem.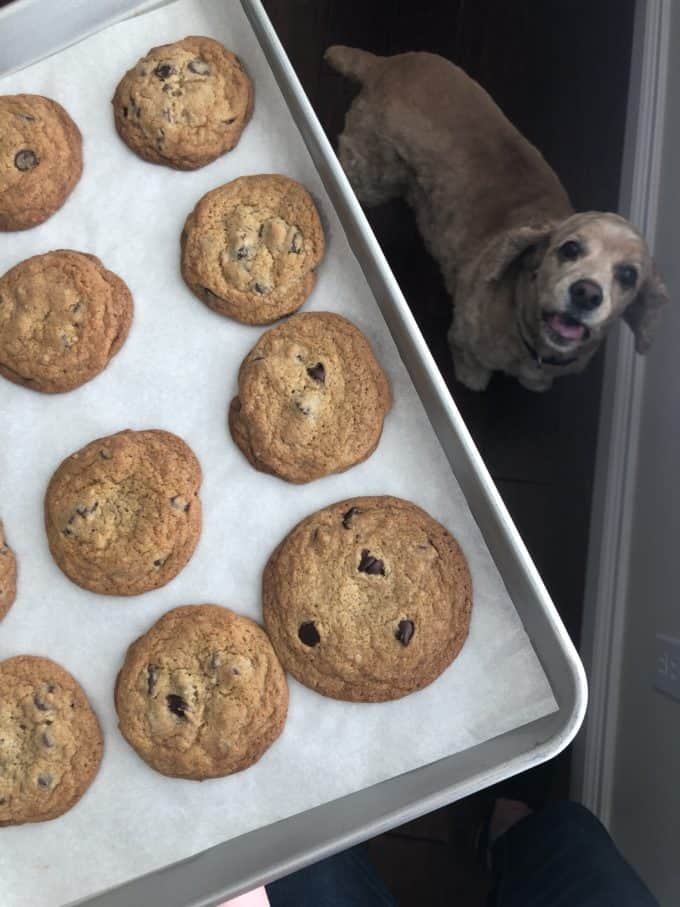 Be sure to check out my dogs Instagram… you'll find him @sweetcharliedog CLICK HERE to check it out.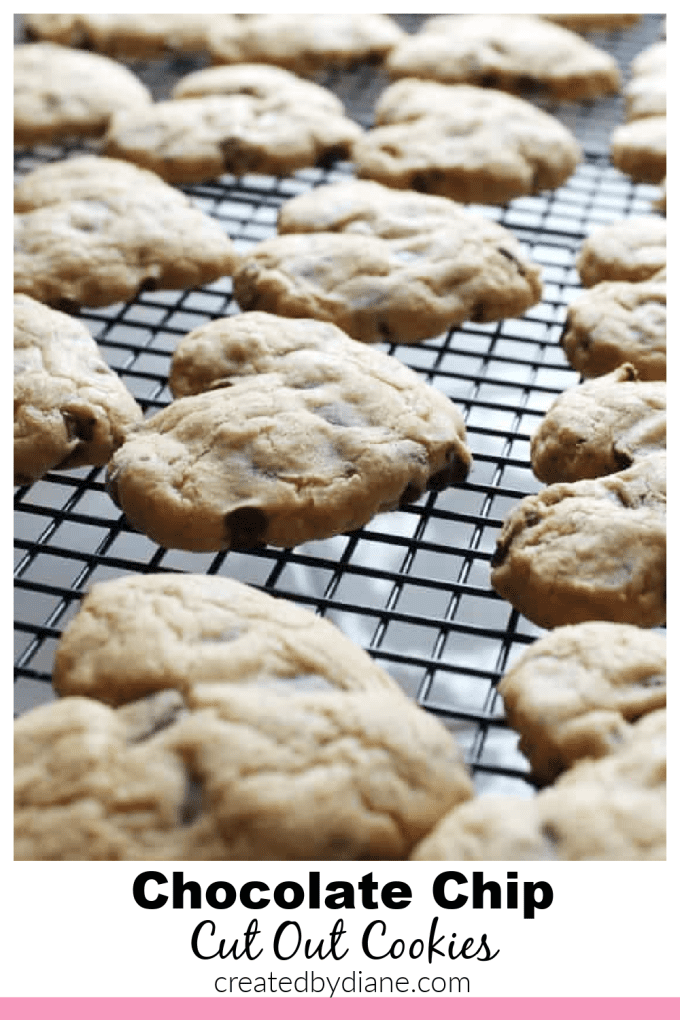 Don't miss seeing these fun chocolate chip cut-out cookies.
Toll House Chocolate Chip Cookie Recipe
a cookie cake for the chocolate chip cookie lover in all of us, the perfect birthday cake for the non-cake lover. Fun and filled with frosting to create a layered cookie cake everyone will love.
Author:
Diane Schmidt, Created by Diane
Recipe type:
dessert, cookies, cake
Ingredients
2 1/4 cups all-purpose flour
1 teaspoon baking soda
1 teaspoon salt
1 cup (2 sticks) butter, softened
3/4 cup granulated sugar
3/4 cup packed brown sugar
1-2 teaspoon vanilla extract
2 large eggs
2 cups Nestlé Toll House Semi-Sweet Chocolate Morsels
Instructions
Preheat oven to 375°F.
In a large bowl beat butter, granulated sugar, brown sugar, and vanilla extract until creamy.
Add eggs, one at a time mix well after each addition.
Gradually add flour, baking soda, and salt.
Stir in chocolate chips.
Drop by rounded tablespoon onto parchment-lined baking sheets.
Bake for 9 to 11 minutes or until golden brown.
Cool on baking sheets for 2 minutes; remove to wire racks to cool completely.
Chocolate Chip Cookie Cake
Creamy Buttercream Frosting
Ingredients
1 cup butter
1 cup shortening
5 cups powdered sugar
1 teaspoon vanilla extract
8 drops white food coloring
1/3 cup heavy cream
Instructions
Beat butter and shortening, add sugar, vanilla, coloring, and cream, and mix until smooth and creamy.
Place in a piping bag with a round tip. I used a 2A tip, it allowed just the right amount of frosting to come out without it piling up too high.
Place the cake in the fridge overnight so the cookies soften with the frosting to make it easier to cut.
Notes
I made this cake a day ahead 6 dozen chocolate chip cookies baked crisp, so they hold up to the frosting. They will soften up when refrigerated. 3/4 cup chocolate chips for the top I used Nestlé Toll House Cookie Recipe for the cookies
I really can't think of any day where this cake wouldn't be perfect for.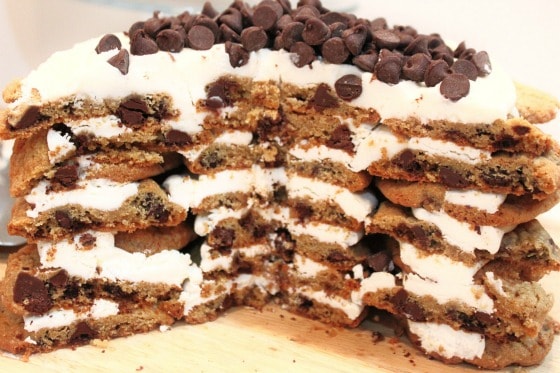 Here is what the cake looked like when I sliced it.
Next time I make one I would spread the icing evenly across the layers so there were no gaps and to keep the layers more even.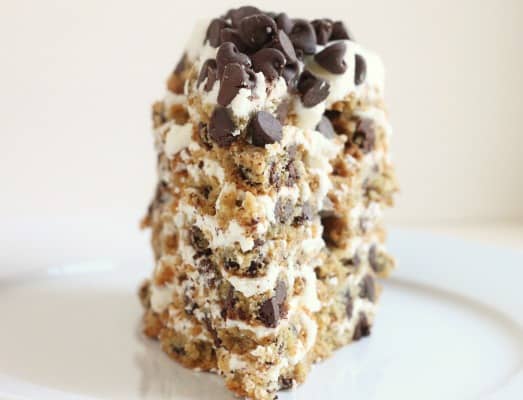 Now that is a slice of cake!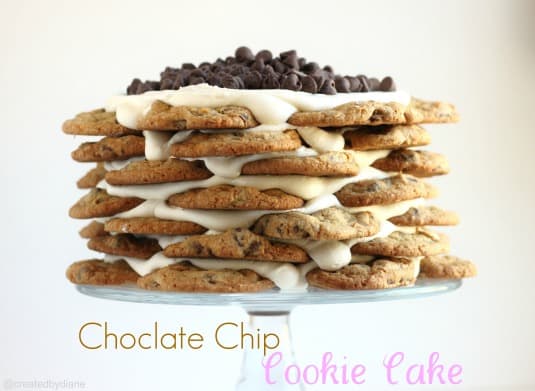 adapted from Martha Stewart
Other Cookie Cakes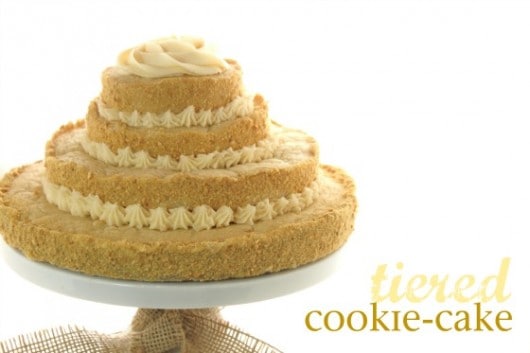 Tiered Cookie Cake