Snickerdoodle Cookies are full of delicious cinnamon and sugar flavor and always a welcome treat!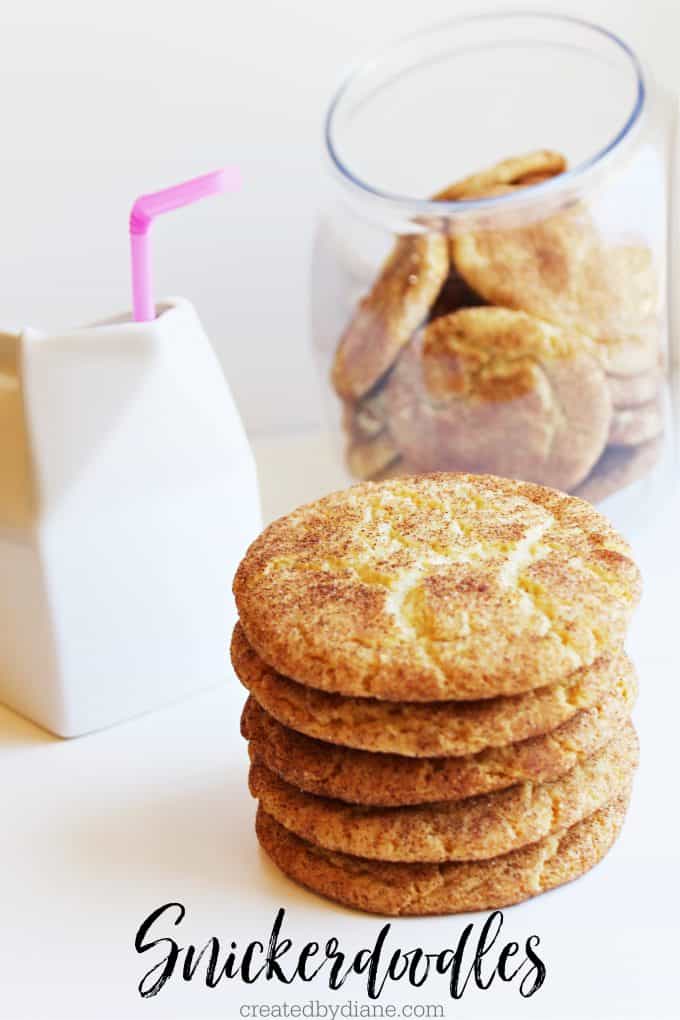 Snickerdoodles reminds me of my brother.
They were his favorite when we were kids and they remain to be his favorite cookies now. I don't get to see my brother often, I sure miss him. If we lived closer, I would make these as often as he liked, along with all his other favorites.
Yep, you can tell. I'm missing him! Isn't it funny how that happens! I just sat down to start this post and now find myself missing him even more than usual. His favorite dinner is chicken and dumplings, the type with the biscuit type of dumplings, not the noodle type. I learned about the noodle type from him recently, when I was visiting him he said he ordered it out and got someone that did not resemble his childhood favorite dinner, so I make him a batch of my favorite chicken and dumplings and he was happy! His other favorite dinner is baked ziti, and I make it every time I visit.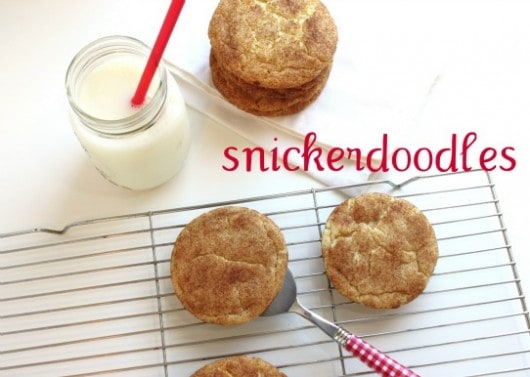 I've had this recipe for years, I'm so glad my mom gave it to me.
Snickerdoodles are a favorite of my family too…and this recipe makes a lot of cookies.
This recipe can be cut in half if you don't really like lots of cookies, ha ha ha!!! But why not make them all and share.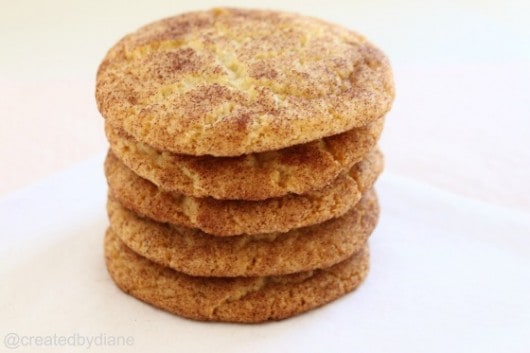 Really do you know anyone who wouldn't want some of these? Not me, everyone seems to love…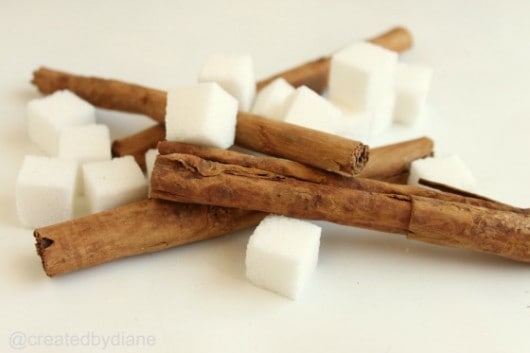 cinnamon and sugar….besides what's not to LOVE about it.
Even as a kid toast with cinnamon and sugar was the fastest way to get your sugar fix, right?
Or was that just me?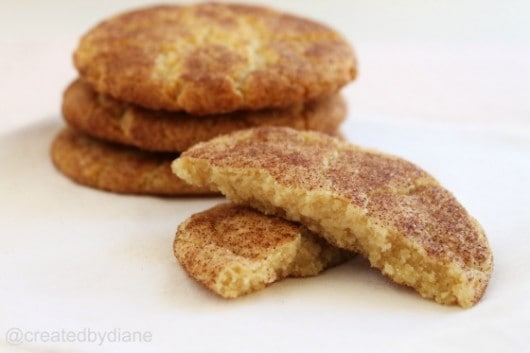 Don't overbake the cookies, they will be hard and dried out. Take the cookies out when they aren't gooey, and the bottoms are firm, as they cool on the cookie sheet for a few minutes they will continue to firm up and the slight puffiness will deflate leaving you with a nice chewy cookie.
There really is NOTHING worse than a cookie that is as hard as a rock from being overbaked. Well burnt is worse I guess. My point is…
check the cookies, at the minimum time of 8 minutes
and then check them each minute after that.
This is not the time to start mopping the floors or doing laundry. This is the time to get out the cooling racks and pour a glass of milk!

Snickerdoodle Cookies
Ingredients
1 cup butter
1 cup shortening
3 cups sugar
4 eggs
51/2 cups flour
4 teaspoons cream of tartar
2 teaspoons baking soda
1/2 teaspoon salt
additional
6 tablespoons sugar
6 teaspoons cinnamon
Instructions
Mix butter, shortening, sugar, then add eggs.
Add flour, cream of tartar, salt and baking soda.
Scoop cookie dough into small balls (one and two tablespoon sizes cook nicely shown are two tablespoon sized cookies)
Mix cinnamon and sugar together in a bowl.
Roll balls in cinnamon sugar mixture.
Bake at 350 degrees for 8-10 minutes.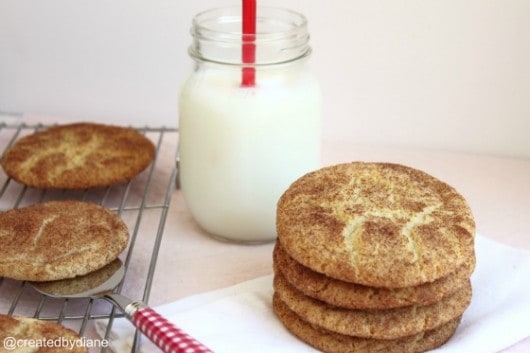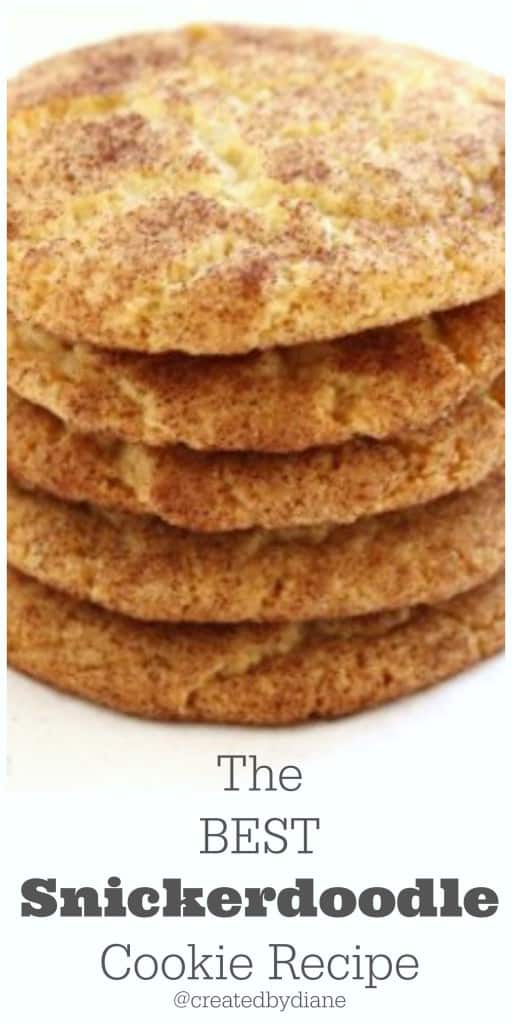 More Cinnamon Favorites: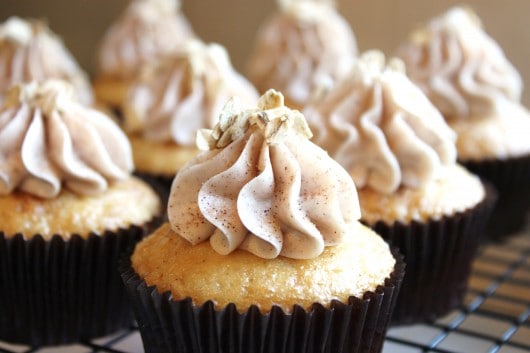 Oatmeal Cupcakes with Cinnamon Sugar Frosting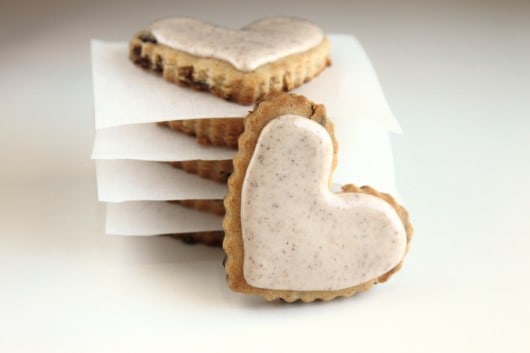 Cinnamon Raisin Cut Out Cookies