Hershey's Cookie Cake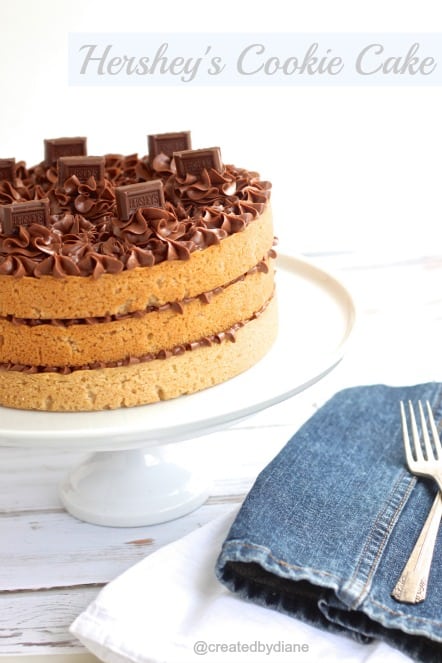 This week my phone has been ringing off the hook,
really I can't seem to set it down for more than a minute sand it's ringing again.
Mind you the calls are of NO interest to me, how on earth did I get on some obnoxious calling list and someone….
PLEASE tell me how do I get off of it!
I register with the do not call registry what seems like every 30 days, really!
This borders on harassment. Yes, it is harassment. I usually just don't answer it, but the ringing and ringing is driving me nuts!
House phone, cell phone, it's just crazy….crazy I tell you.
After 8 calls yesterday I give up.
Makes me think of giving up the land line.
Do you still have a land line phone?
Have you given it up yet?
I hear a lot of people don't have one anymore.
Maybe I should just use an airhorn when I pick it up….I think that'll get them to stop calling me.
So this week, chocolate is NEEDED….layers and layers of chocolate, yep that will be just what I NEED to survive this week.
Cookies, frosting, cookies, frosting, cookie, frosting, sounds like a really good solution to life's little annoyances!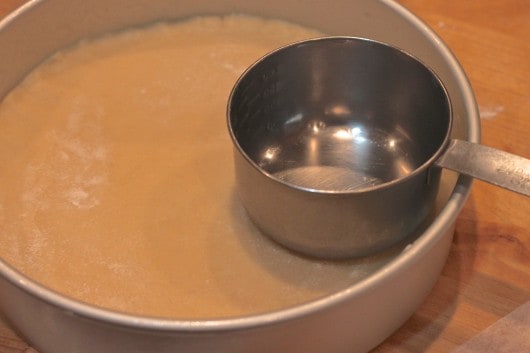 I pressed the cookie dough into parchment lined 8″ cake pans with the back of my measuring cup to make the dough smooth, so they would bake evenly.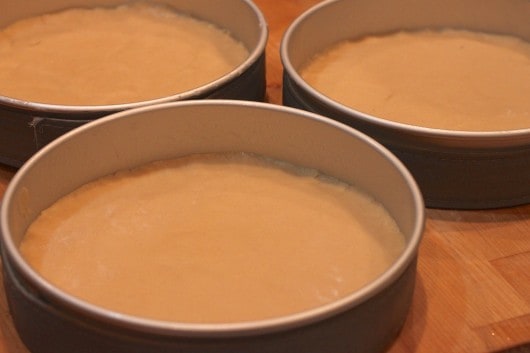 Once all three were done, they were ready to go into the oven.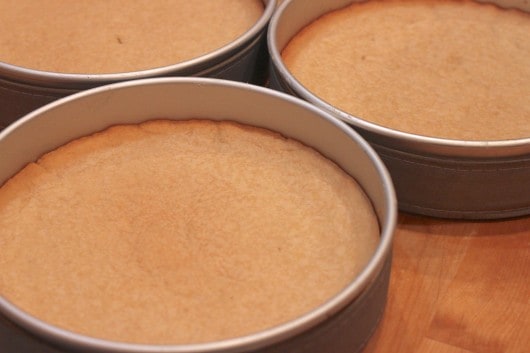 I baked them until they were lightly golden.
These photos were taken at night, I like baking at night, there are no interruptions, no solicitor calls then!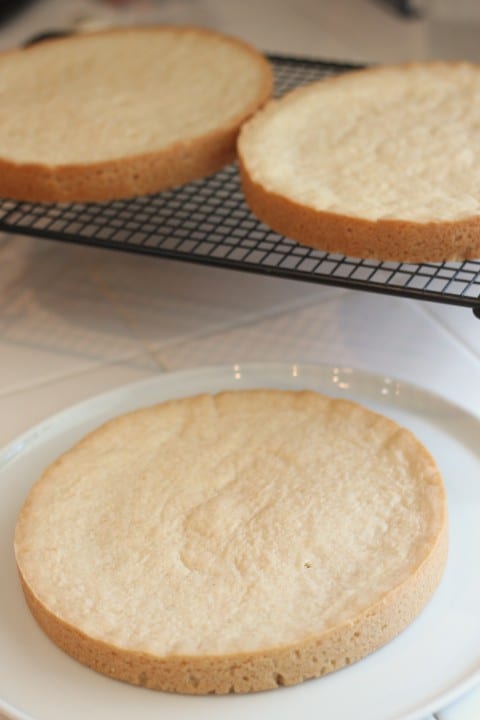 I often break up the baking and decorating into separate days.
It gives me time to clean up all the dishes and decorate the cake in the morning and then let it set up in the fridge until later.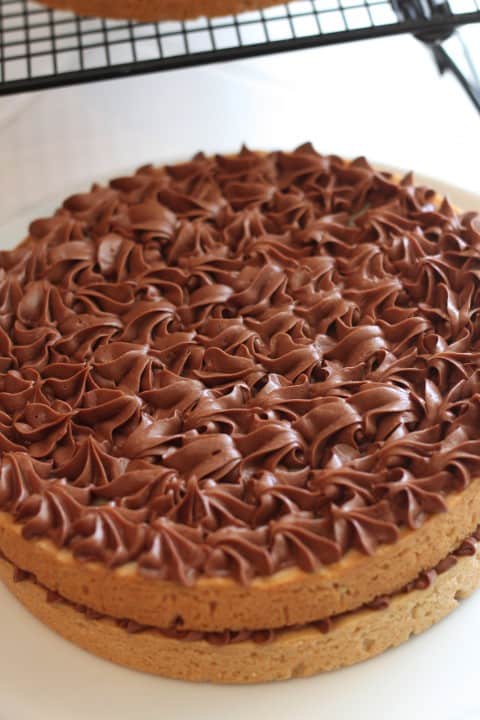 well later…..that is if you aren't eating this for breakfast, which I really think just may be in order this week!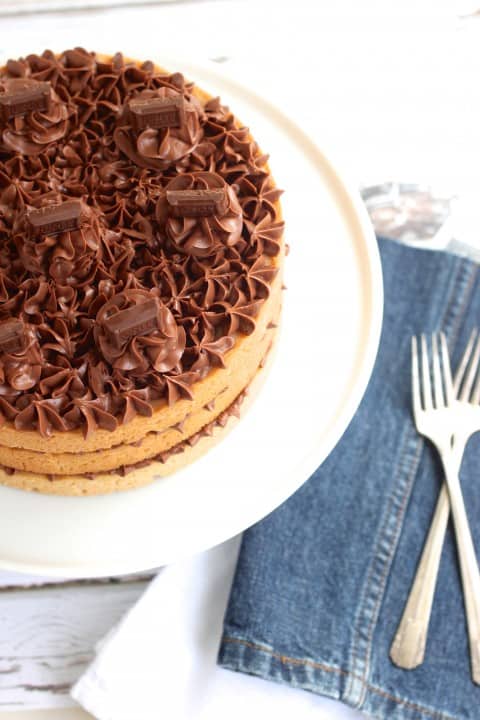 Hershey's Cookie Cake
Ingredients
2- 21 oz. packages Betty Crocker Sugar Cookie Mix (plus ingredients to prepare)
1 1/2 cups flour
2-10 oz. containers Hershey's Milk Chocolate Frosting
1 cup powdered sugar
Hershey candy bars for garnish
Instructions
Prepare cookie dough according to package and add in additional flour.
Line 3 8" cake pans with parchment paper on the bottom and spray a baking spray on it and around sides.
Press 1/3 of the dough into each pan evenly to 1/2 inch thick.
Bake at 375 degrees for 20 minutes, or until cookie is fully cooked.
Allow cookies to cool in pan, then turn over to remove from pans.
Peel off parchment paper.
Stir frosting with powdered sugar so it's a little more firm and doesn't squish out in between the layers of cookies and place into a piping bag fitted with a star tip, and pipe frosting onto each cookie, layering them as you go.
Put Hershey's candy bars into the frosting and let the frosting set up in the fridge for at least an hour.
Just be sure to remove cake 30 minutes before serving so it will slice nicely.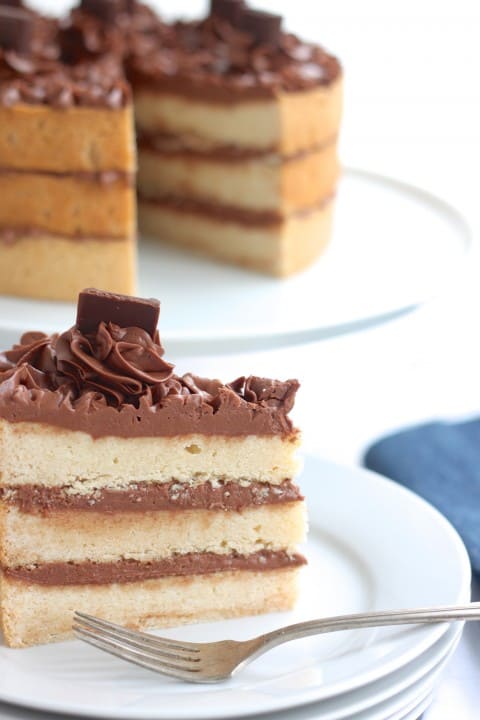 I love cookie cakes.
This one is a crowd pleaser.
Hershey's Chocolate Frosting…. yea this new frosting of theirs is pretty addictive!
More Cookie Cakes:
Peanut Butter and Jelly Cookie Cakes
Mini Chocolate Chip Cookie Cake

I was compensated for this post, all opinions are my own.