tiered cookie cake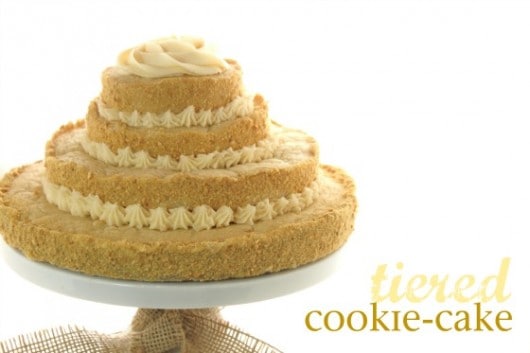 Cookies are so amazing!
They come in all shapes and sizes and flavors and colors, designs, and decorated in ways I never knew possible.
I wanted to make another cookie cake after the one I made last week.
This time I wanted it tiered.
You see there has been lots of discussion on this with a group of baking friends.
I just knew this was the time to give it a try.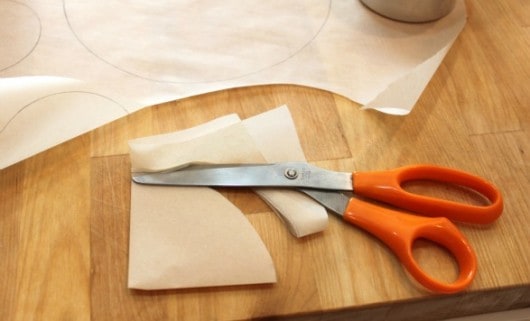 I cut parchment for each of the 4 pans I used. 3 1/2," 4:, 6 1/2″, and 8″. I traced the outside edge of the pans then folded the circles in fourths to cut them accurately.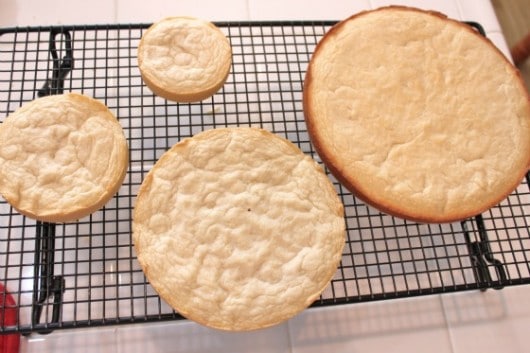 The cookies came out of the pan very easily after they cooled. The far right rear of my oven is hotter and that is where I placed the 8″ pan hoping it would just cook a little faster, not actually brown. But it did. No real problem, I was going to decorate the edges of the cookies with graham cracker crumbs.

Ingredients
1 cup salted butter
1 1/2 cups powdered sugar
1 egg
2 teaspoon vanilla extract
2 1/2 cups all purpose flour
2 teaspoons baking powder
1 teaspoon salt
*1/2 cup graham cracker crumbs for rolling edges of cookie into.
Instructions
Cream together butter and powdered sugar.
Mix in egg and vanilla.
Add flour, baking powder, and salt.
Mix until the dough forms a ball.
Place dough in each parchment lined pan so that it's about 1/2" thick.
Bake at 400° for 7-9 minutes for the smaller cookies and up to 12 minutes for the larger two.
Notes
*buttercream frsoting one cup butter two tablespoons heavy cream three cups powdered sugar one drop ivory food coloring two teaspoons vanilla extract Beat butter, add rest of ingredients and mix until smooth.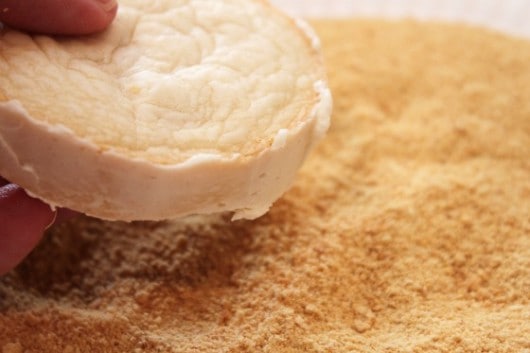 I spread a thin amount of buttercream icing on the edges of the cookies and rolled them in graham cracker crumbs.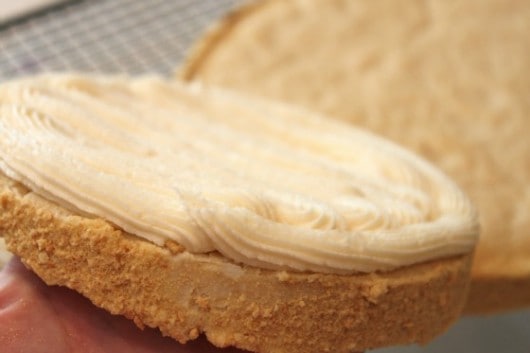 then on the bottom of each of the smaller cookies I piped frosting so each cookie would sit on top of one another using a 4B tip.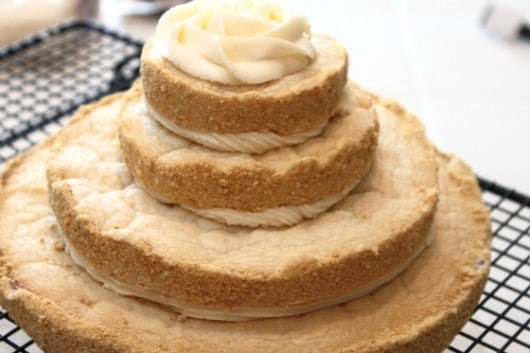 I pipe a rose on the top. I just love how simple and pretty the rose looks on top of a cake. I've done it with my red velvet cake too. Here is my video on How to pipe a rose. I added a little star tip edging using a #18 tip around each layer to finish them off.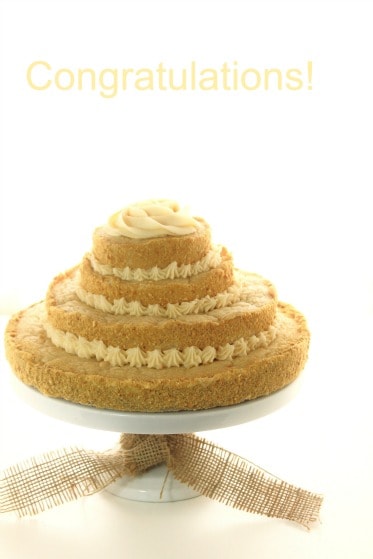 VIOLA!
There are so many wonderfully creative, talented and friendly people I've met through blogging and although I haven't met them all in person doesn't mean they are any less a friend.
Today I'd like to send my Congratulations to Samantha of  Flour De Lis,  (Flour De Lis on facebook) She is getting married and some wonderful bakers had the idea to give her a virtual shower. I wish her many years of happiness. Anyone who can have such a positive outlook and smile on their face deserves it. She got run over by a car two weeks before their wedding, they should be blessed with many, many years of happiness don't you think?