This Banana Bread Pudding is just one more reason to stock up on bananas!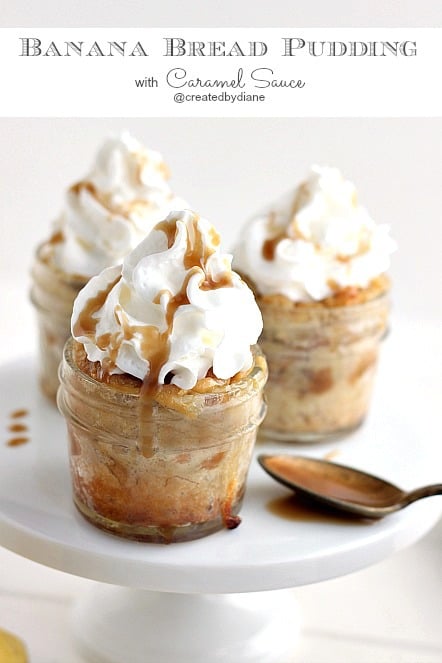 There seem to be many reasons to stock up on bananas,
I recently read they are good for so many things.. that the new saying sould be
a banana a day keeps the doctor away.
So, I'm doing my due diligence and going to help you out…
of course my help with be topped with whipped cream and caramel sauce,
that's how it's done around here!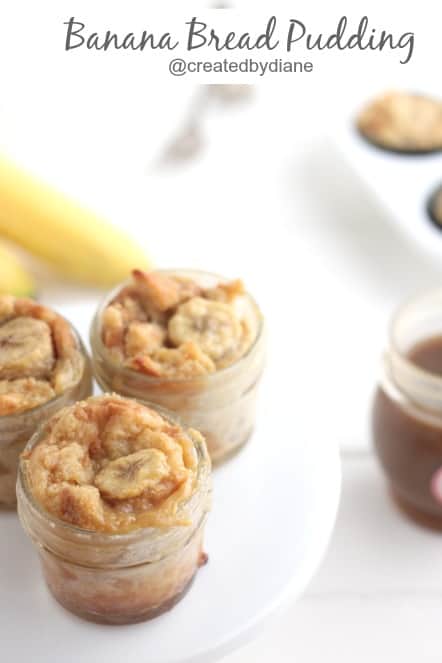 I baked some of the banana bread puddings in glass jars,
what a fun serving container they made.
The lids will press down the filling a bit, but you can take them practically anywhere.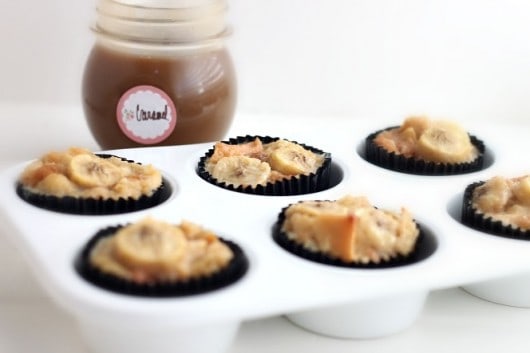 Others I baked in a cupcake pan with liners.
I love them topped with whipped cream and CARAMEL SAUCE Click here for that recipe.
They would be great topped with ice cream too.
What is it about a warm dessert with cold ice cream….it's just perfect together!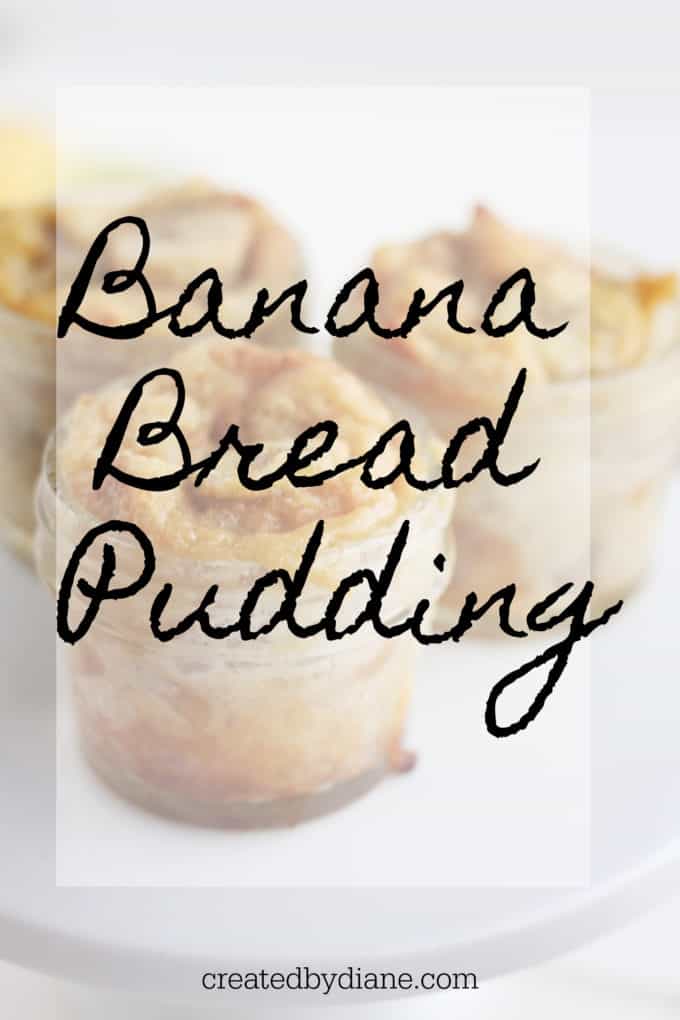 Banana Bread Pudding with Caramel Sauce
Ingredients
12 oz French bread
2 cups whole milk
3 eggs
3/4 cup brown sugar
1/4 cup melted butter
1 teaspoon vanilla extract
1/2 teaspoon banana extract
3 bananas
Instructions
I baked some of these in 4 oz glass jars, which is great for on the go, or to bring to someone. I've also baked them in a cupcake pan.
For easy release butter the sides and bottoms of the cupcake pan or use cupcake liners, this is unnecessary if you are serving it in glass jars.
Cut bread into 1 1/2 inch squares. If the bread is really soft, toasting it on a pan at 350 for 3-5 minutes will result in a slightly more dense dessert and not as flimsy and soft. If your bread is slightly firm, you can skip toasting it.
In medium bowl whisk milk, eggs, sugar, butter and flavors.
place the bread into mixture and stir gently
allow the bread to soak up the egg mixture about 5 minutes.
slice bananas, stir in 2 of the bananas, and use the third banana to add to the tops of the mixture after you portion if out.
Glass Jars (fill glass 4 oz jars 3/4 full, place a baking sheet underneath to catch any drips that may spill over)
place 3 tablespoons into each cupcake portioned area and pour remaining egg mixture over tops (do not overfill the cupcake pan or it will spill over, place a baking sheet under the cupcake pan if you think it might, to prevent a mess in your oven)
Bake at 350 degrees for 25-30 minutes or until toothpick comes out clean.
Serve with whipped cream and carmel sauce or ice cream.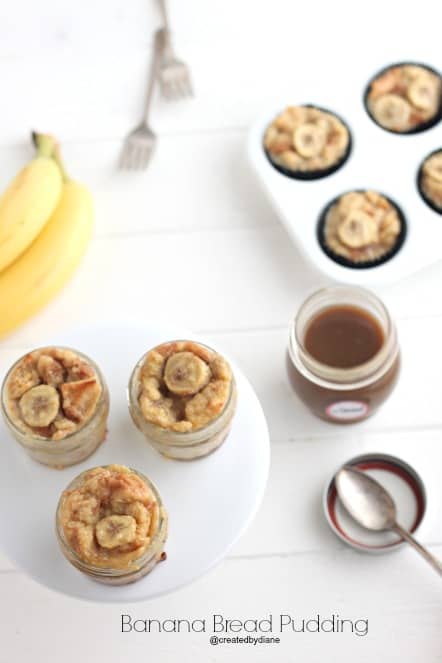 And they are really delicious for breakfast too!