There is something so wonderful when you are served warm bread and spreadable butter, and believe me when I tell you. This is the things to make on the spur of the moment, when planning a simple snack, or for a nice dinner party to have ready when guests arrive.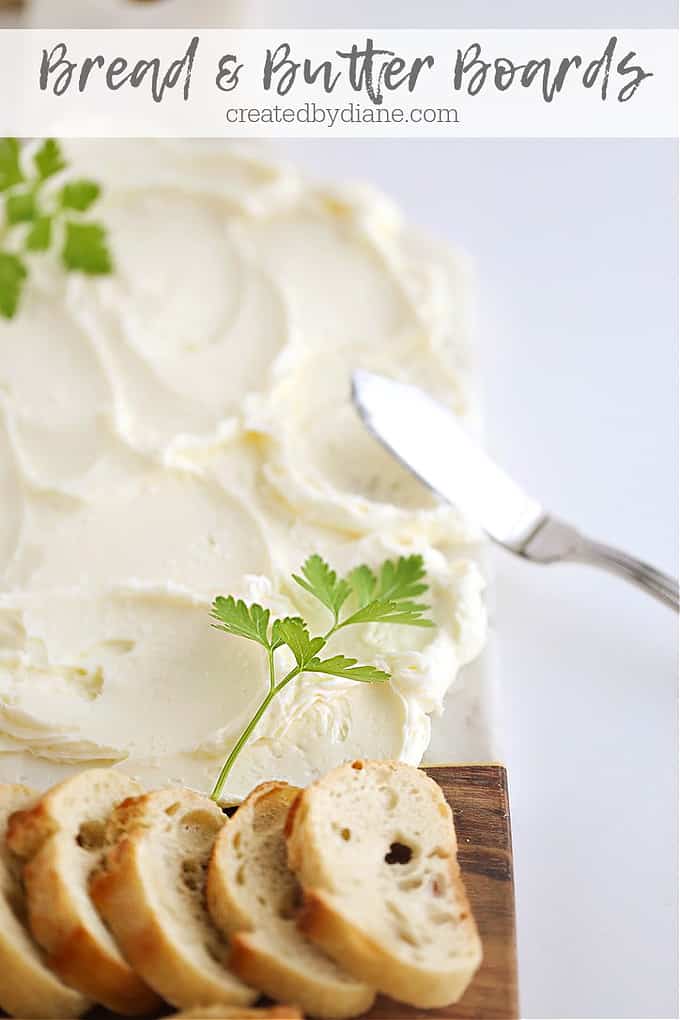 I'm sharing with you some great butter board ideas…
I know I'm not the only one who loves when they arrive at a restaurant and soon after the drinks are served, a nice warm basket of bread and butter arrives.
I find it irresistible, and I'm not the only one!
I've made a few butter boards and it's amazing how simple and easy they are to whip together and how QUICKLY it gets devoured.
Bread options
there are plenty of great options, I used a crusty baguette, sliced thin, which made them toast quickly and easily. I lined them on a pizza screen so each side was toasted under the broiler for 1-2 minutes. 
Firm bread works nicely, and Hawaiian sweet rolls are a great soft option. Pick up some bread sticks or make your own bread with some of my recipes for rustic artisan bread, French bread, or loaves of regular bread white/wheat.
Crackers, scones, and muffins are also great options to serve with a butter board.
If you're a low-carb eater, opt to add some raw or roasted vegetables like asparagus, cooked sweet potato spears,  cooked chicken pieces, or low-carb bread.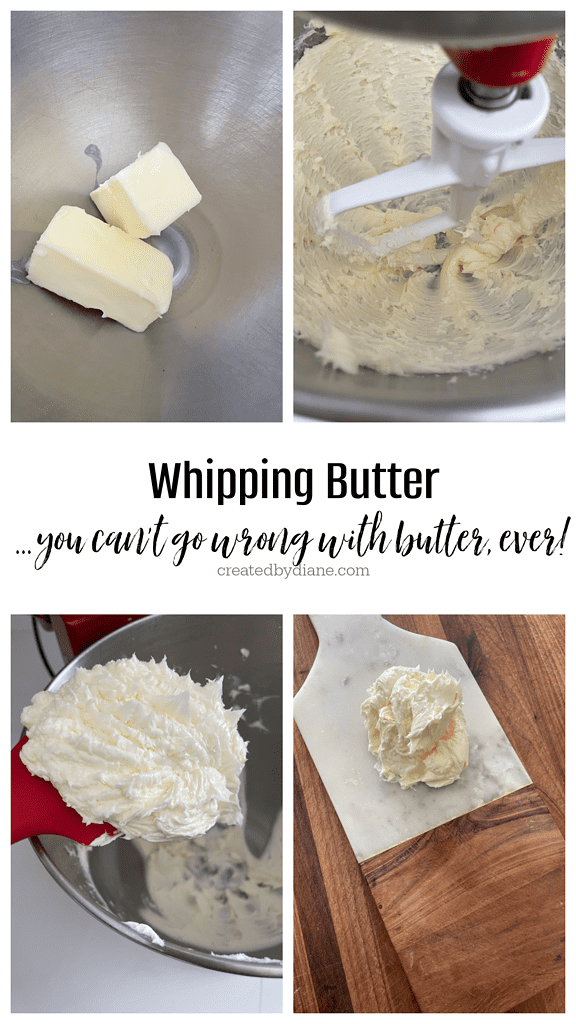 let's talk butter
there is nothing worse than ice-cold butter served with bread, it practically tears the bread apart if you try to spread it, or it won't spread but lump up.
You can use unsalted butter and add the amount of salt you'd like or if you have a favorite salted butter go ahead and use that. You can use regular butter or opt for a fancier Irish butter or a high butter fat content European style butter like Plugra which is available in grocery stores.
Spread the whipped butter onto a board, use a small offset spatula or the back of a spoon to make it swirl a bit.
I love the half wood half marble board, but as you know any board will work. I found 2 similar boards this one is a great price, and I found this one as well. I found mine at a local store. Here is another cute board too.
Spreading the butter on the marble will keep it cool so it'll taste great and not be too warm or melt.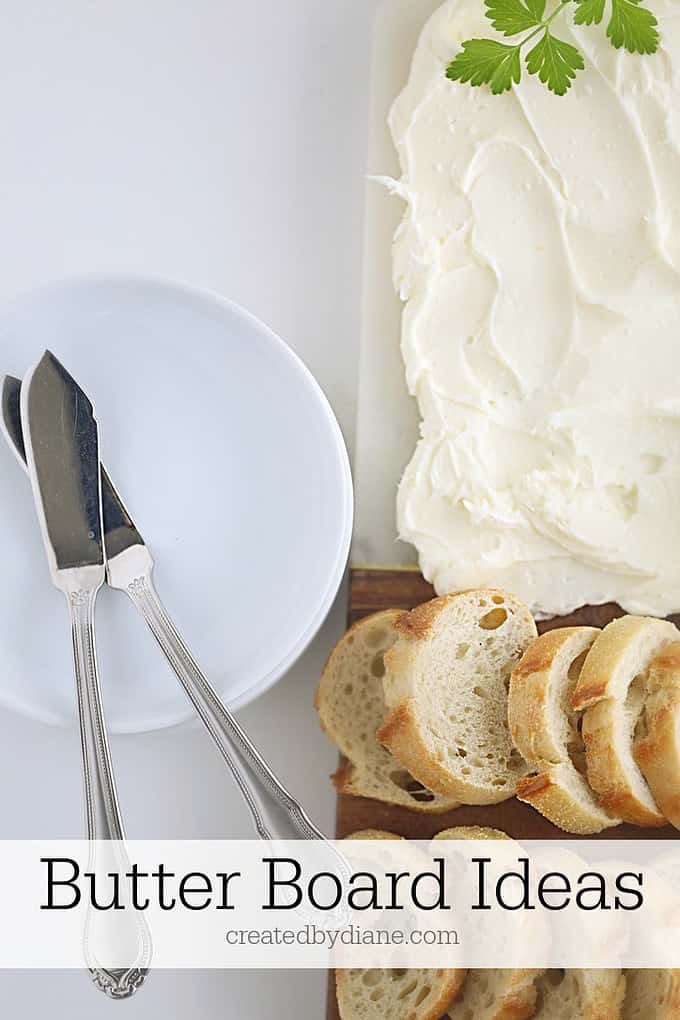 Then top it with salt…
 being salty…
whether you're using salted butter or unsalted you can add salt to your liking, but which type of salt you add will certainly change the flavor. I prefer coarse kosher salt or Maldon flake sea salt, table salt has an off flavor from the additives so choosing an alternative is optimal. pink Himalayan salt is another nice option. Salted butter is most preferred when serving it with bread.
Whipping room temperature butter (slightly cool, not soft) you can whip it by hand if you prefer, or use a mixer and whip it until it's smooth and creamy and light in texture.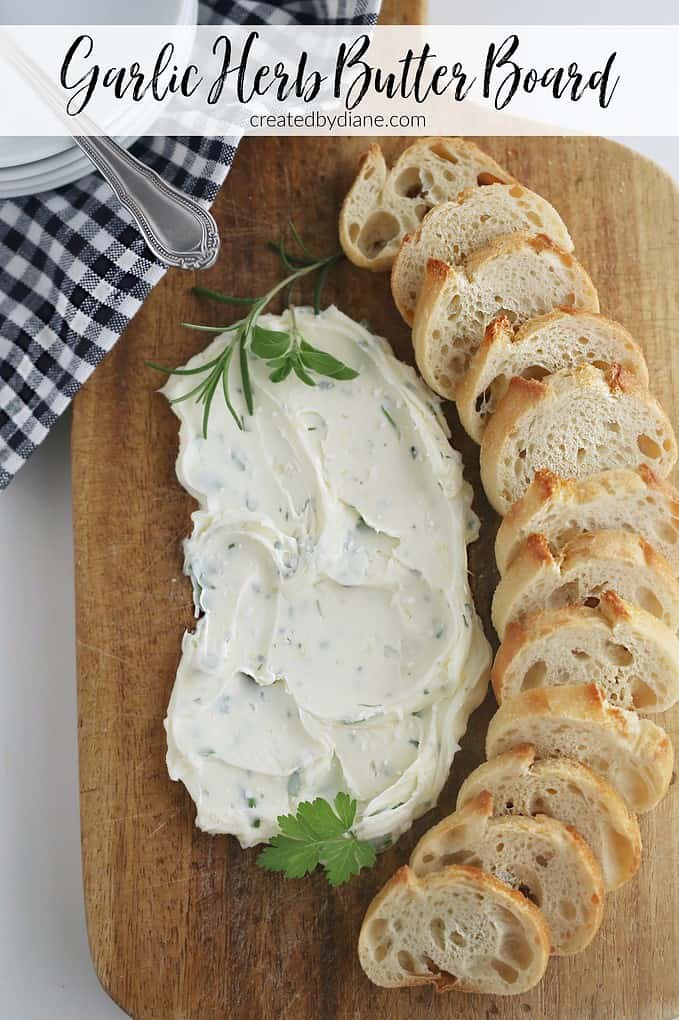 One of my favorite flavored compound butter is garlic herb butter. I added fresh chopped parsley, oregano, and rosemary. For the garlic, use which you like the flavor of best. I minced fresh garlic and heated it in a pan with a teaspoon of butter until it was warmed and lightly golden. Raw garlic will have quite a bite, so heating it will release the flavor and mellow the bite a bit. It can be microwaved to heat it as well. You can use garlic powder or granulated garlic, but I prefer fresh roasted garlic for the best flavor. 
Whip the butter, then add in the garlic and herbs, spread on board then sprinkle with salt.
What are ways to increase the flavor of compound butter to make for butter boards, the flavors will have a chance to develop as they sit, or make the butter ahead of time, then bring to room temperature and whip it up before serving.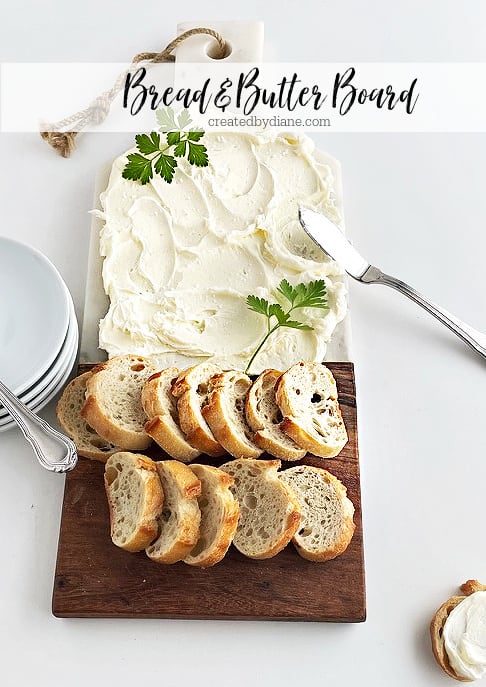 Sweet options: chocolate, honey, strawberries, or other berries, cinnamon. Lightly heat honey, strawberries, or similar berries and press berries through a strainer to remove pulp/seeds. Warm honey will mix easily in room-temperature butter. Melt chocolate or cocoa powder can be added with sugar for a fun dessert spread.
Savory options: honey with sriracha, onions (raw, cooked, milk green onions, chives) parmesan cheese, lemon dill, or lemon pepper.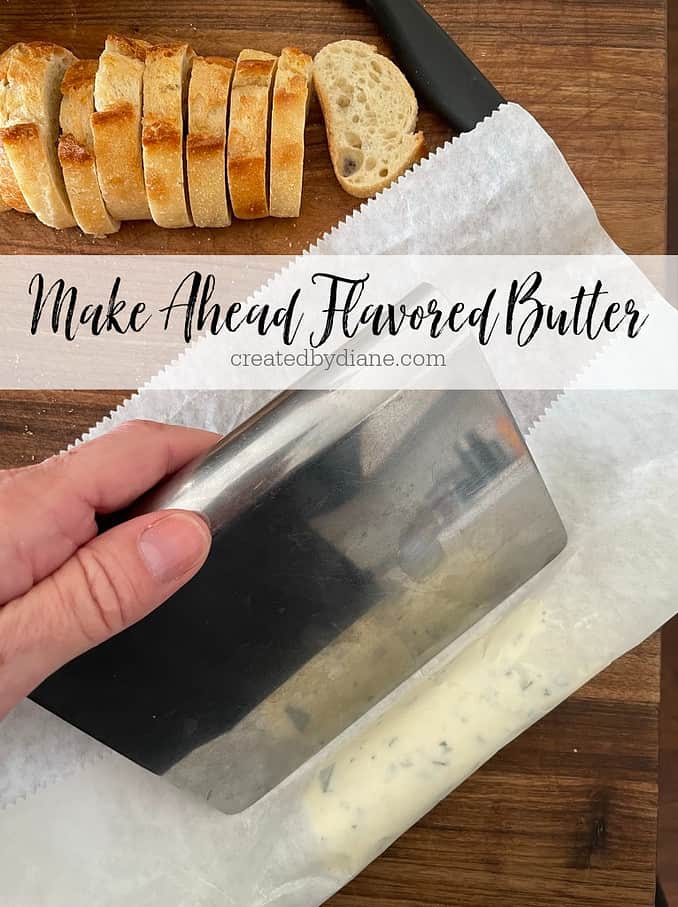 If you want to make the butter ahead of time, bring butter to room temperature, then add in the flavors you want, like the garlic and herbs, then place it on a piece of wax paper or parchment paper and use a bench scraper to press the butter into a log and refrigerate it. Allow it to come to room temperature then whip it creamy, then spread on the board and you're ready to serve it.
Do you have to whip the butter?
No, you can just let it come to room temperature and spread it, I just prefer it whipped, it's lighter and helps spread it without using too much… not that there can ever be too much butter, Really!
Sometimes the simple items are the best… I'll have more bread-and-butter recipe ideas for you soon.
I have some recipes for Orange Honey Butter, Blackberry Butter, and Gingerbread Butter for you to try!
Bread and Butter Board
bread and butter the perfect duo, add in your favorite flavor to make it your perfect bread and butter board.
Author:
Diane Schmidt, Created by Diane
Ingredients
Butter- serving suggestion: 1 stick butter, 1/2 cup, 1/4 lb, 8 tablespoons for every 1 lb of bread
salt (coarse kosher salt, Maldon flake salt, Himalayan pink salt)
fresh tastes best, remember that when choosing flavors like garlic and herbs.
sweet options: chocolate, honey, cinnamon, strawberries or other berries.
Savory options: honey with sriracha, onions (raw, cooked, milk green onions, chives) parmesan cheese, lemon dill, or lemon pepper.
Instructions
Whip room temperature butter until smooth and creamy adn light in texture.
Mix in the flavors or simply add salt to taste.
Slice and toast bread for added flavor and texture. Place on a baking sheet or pizza screen, and turn half way to avoid a soft side.
Serve with vegetables like roasted asparagus, cooked sweet potato spears, crackers, scones, muffins, pita, and tortillas.
Notes
1 pound of butter = 2 cups of butter = 4 sticks= 32 tablespoons