You will love that you can take these Margarita Scones with you anywhere you'd like because you won't need to hide it in a paper bag and look like you are sneaking around with some unlawful substance you're not supposed to have on the street.   
Whip these out with pride… they are so yummy!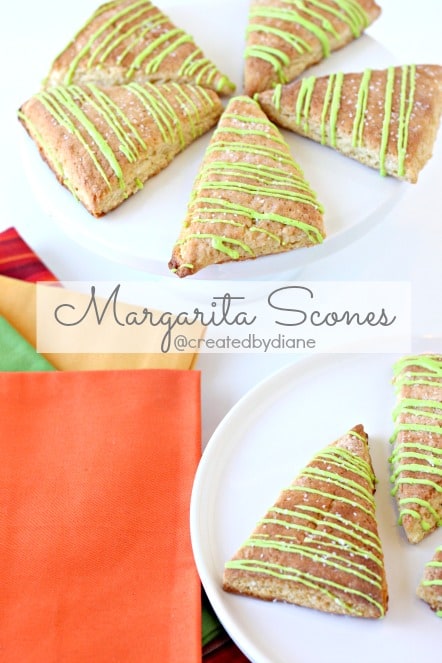 Margaritas are my favorite drink!
I do often wish I could walk around with one, it must be that delicious lime taste along with the salt. I have mentioned before how much I love salt, right?
These scones are the perfect combination of all the wonderful taste of a great Margarita.
If you like lemon scones,these will give you a run for your money!
I didn't forget one of the best part of eating scones, it's curd….if you have lemon scones, lemon curd is delicious.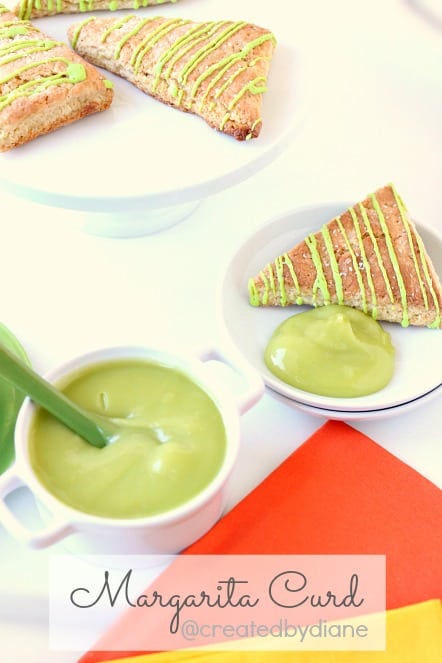 For these Margarita Scones Margarita Curd was a must have.
Fruit Curd is so delicious, scones are almost naked with out them! It's like pudding so if you haven't had any yet…. look out you're bound to lick it off the spoon and enjoy.
Margaritas are a classic flavor that you'll now enjoy in a whole new way!
Everyday Cranberry Margaritas! great all year long, but look like a holiday treat!
Margarita cupcakes a truly great baked treat!
Margarita Scones
Ingredients
2 cups flour
1/2 cup sugar
3 teaspoons baking powder
1 teaspoon coarse Salt
1/2 cup ice cold butter, cut into small pieces
4 drops Lorann's lime oil
2 drops Lorann's lemon oil
1/4 cup margarita mix (I used the mix with alcohol in it, you can use the mix without if you prefer)
1/4 cup heavy cream
2 eggs
Instructions
In medium bowl, mix flour, sugar, baking powder and salt.
Cut in cold butter with a pastry cutter until it resembles coarse crumbs.
Mix Margarita mix and heavy cream with lime and orange oil along with eggs.
Blend the wet ingredients into the dry ingredients until it's just combined.
Roll out dough onto lightly floured surface (I roll out the dough onto floured wax paper sheets)
Cut dough into desired shape
Place scones onto parchment lined baking sheet
Bake at 400 degrees for 10 minutes.
Margarita Curd
Ingredients
1 cup Margarita Mix (I used the mix with alcohol in it, you can use the mix without if you prefer)
1 cup sugar
1/2 lime, juiced
5 egg yolks
8 tablespoons butter
1 drop leaf green coloring
Instructions
Place margarita mix, lime juice along with sugar into medium sauce pan, heat until it simmers (tiny bubbles on the outside edge of saucepan).
Add butter and heat until melted.
Mix egg yolks in medium bowl with whisk.
Add in coloring
Take saucepan off heat and slowly pour mixture into egg yolks mixing continually so the eggs don't scramble.
Return mixture to saucepan and heat for one more minute or until the mixture coats the back of a spoon.
Lime Icing
Ingredients
1 cup powdered sugar
4 drops lime oil
2 drops neon green coloring
2 teaspoons water
1 tablespoon corn syrup
1 drop leaf green coloring
1 drop lemon yellow coloring
2 tablespoons coarse salt for tops of scones
Instructions
Mix all ingredients until smooth and drizzle over cooled scones, shake coarse salt on top of scones.
Allow icing to dry completely before stacking.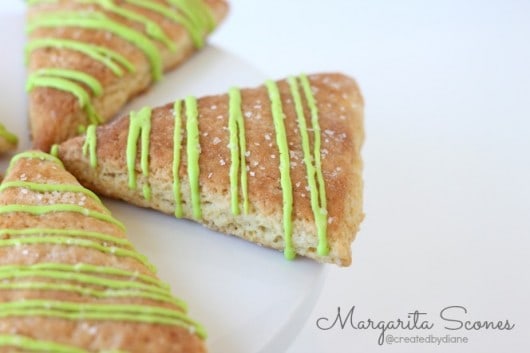 So you can see how this will be much easier than trying to carry a drink with you all day that will  spill on a moments notice!
So we have covered public intoxication and nakedness today, kind of out of the realm of normal here. But fun none the less.